April 20, 2007
Freaky Fug Friday: The Pussycat Dolls
In life, there are few things to me as freaky as finding that the Pussycat Dolls don't look that bad. They are the queens of needing to remove about five or six elements from their outfits in order to reach the right balance. They also often dress like an alien army from the planet Rack.
But, dammit, I'm developing a soft spot for the Dolls, due entirely to my fascination with the screaming, dancing, finger-pointing, bad singing, and arguments over who gets to perform on the giant swing -- not to mention insistences that songs like "Don't 'Cha and "Bleep" are odes to empowerment -- that happen on the televisual crack The Pussycat Dolls Present: The Search To Add Another Body To Its Already Enormous Group Of Bland, Interchangeable People. That doesn't mean their music doesn't make the baby Jesus cry, but it does mean that -- so help me -- I don't think they look that bad here.
These are girls who could stand to go a little simpler now and then, or else we're so blinded by the insanity that we never bother to remember their faces. Don't get me wrong -- they're the Pussycat Dolls, and I know this means they're always going to be a little bit Vegas, a lot of metallic sheen, and a dash of Not From This Galaxy. I understand that they have a sartorial mandate. But it's working for them better than usual in this pic. Of course, Pouty Person On Left might find that tiny skirt a little difficult to maneuver if she wants to, say, scratch her ankle, or indeed lean very gently in any direction. Faux Carrie Underwood looks pretty cute, though. Nicole's dress is hot. The redhead's LBD has a kinky fur trim at the bottom that gives it a nifty edge. The fabric of the gold thing on the far right looks kind of cheap and uncomfortable, which probably means it would cost $20,000 at Barney's, but Nameless Girl (seriously, the show tries to convince us they have personalities, but even the contestants clearly forget the names of anyone who isn't Nicole about two seconds after they've heard them) is working it okay.
I am a trifle concerned about That Other Doll. You know the one. Whoever did her makeup clearly has a fetish for people who eat the entirety of a Mini Babybel cheese, then use the halves of the red casing to make hilarious wax lips. Not that I've done that. Well, not today. But outside the confines of a Safe Place, like one's living room, it's not very fair to her to do that to her face. The whole effect reminds me of a scene from Spaceballs where our heroes get captured after a spectacular dive through closing doors, but then it's revealed that they're actually still safe because it was their stunt doubles who were captured, and they're all complete schmoes -- like the person in the wedding dress, who is not in fact Daphne Zuniga, but rather a squat man with a mustache and stringy hair. That's kind of how I feel here -- like Sixth Doll is somebody's bad stunt double (because the real Doll is fleeing Robin Antin's evil empire as fast as her stilettos can carry her), and they just hoped we wouldn't notice the bad fake, since we don't recognize half these people on a regular basis anyway.
But all in all, when you consider what these people wear most of the rest of the time, at least 70 percent of this photo is a step in a good direction. I'm not sure where the seventh Doll is going to go, though -- we don't really have room for one. Maybe she can stand in the back and jump up when the flash goes off? Or maybe they'll greenlight a second season of the show documenting the process of the new Doll mud-wrestling the old ones one by one -- while singing, of course -- to determine whose spot she takes.
Posted by Heather at 12:55 PM in Freaky Fug Friday | Permalink
August 11, 2006
Freaky Fug Friday: Kristen Bell
Much to the consternation of Veronica Mars fans, we here at GFY have been frustrated more than once by Kristen Bell's clothes. Unfortunately, the girl has a history of dressing like either a frump with no sense of occasion, or an old lady.
Such expressions are often met with upset e-mails from the show's supporters instructing us that we can criticize anyone we like, anyone at all, except Bell. She is apparently supposed to be exempt -- something about how every episode of Veronica Mars was massaged by God himself, largely as a reward for their devotion but also because he got bored of Gilmore Girls and One Tree Hill and he's trying to show those ungrateful hacks how it's done. There's usually also something about how Bell's hair is spun by angels out of gold dust and puppy fur.
And while no one is untouchable to us here, we do occasionally like to throw a well-deserved bone to people who do things well, or at least better. That's the key here: better. Everyone has his or her day, and this is Kristen's, for all you Bell lovers out there.
There's elements of this I don't like: the bizarre strings of pearls strapped to her shirt and flapping around aimlessly, for one; also, there's the slightly high-waisted skirt, which is tough to pull off. And I'm not sure about the pattern.
But you know what? She sort of is pulling it off. She looks cute and happy; she looks her age, but without the trendy trappings of trash that so often adorn other young actresses. She is being herself without sweating about being noticed. And, as a woman, I know that is really hard to wear something that rises that far over the hips and have it be flattering, especially when you have a shorter torso, when it risks chopping you weirdly in half. But instead, this complements her wee waist and the curve of her hip.
So, yeah, I'm wondering a bit why her accessories needed to be stapled to her top. Still, while this might not be a giant leap forward, I do think that her making these elements work for her -- as in, when I saw the photo first, I saw her, and not the clothes -- is an important baby step.
Posted by Heather at 06:48 AM in Freaky Fug Friday, Kristen Bell | Permalink
July 07, 2006
Freaky Fug Friday: Mischa Barton
Having just marveled at the ruffled fuggery of Ms. Barton, it would seem like overkill to feature her again; however, being as it's a Friday and that's the day of the week on which we're most likely to be gripped by invincible good spirits, we've decided to show you the other side of the Barton coin. The side that doesn't dress like she goes around chipping chewing gum off the sidewalk so she doesn't have to pay for her own.
Full disclosure: This dress isn't my absolute favorite thing, as the floaty pieces of tulle look a little bit like the birds taped the garment together in a mad rush to get Cinderella ball-ready, and didn't really think about whether that would hold all night. It looks a little unfinished.
However, she looks gorgeous. The color should probably wash her out, but instead, she's wearing that gown and not letting it wear her. Somehow your eye is drawn less to the bizarre contours of the dress and more to her lovely skin and striking eyes. Her makeup is flawless -- youthful and understated, yet unobtrusively dramatic in the right places. And Mischa has managed to find a strapless gown that neither hoists The Girls up into her neck, nor leaves them dribbling helplessly toward her navel. It flatters them, it accentuates the curve of her waist... all in all, it's a nice glimpse at Mischa Barton the way we prefer to see her, and it reminds me that I often forget how very pretty she is because I'm blinded by whatever crazy ensemble she's sporting. This, however, is classy, elegant, and adult.
Now if only she had a nice, regularly showered guy squiring her around town.
Baby steps.
Posted by Heather at 05:51 PM in Freaky Fug Friday, Mischa Barton/The O.C. gang | Permalink
February 24, 2006
Freaky Fug Friday: Bai Ling (No, Really)
So, something is going on with Bai Ling. My suspicion is that the actual Bai Ling has been abducted by aliens and replaced with a clone. Either that, or one of her 19 personalities decided that February is the month that she keeps her lady bits delicately under wraps, because otherwise, there's just no explanation for what's been happening with the usually trashtastic Ms Ling's wardrobe.
Allow me to illustrate. This is the last thing Ms. Ling wore in January: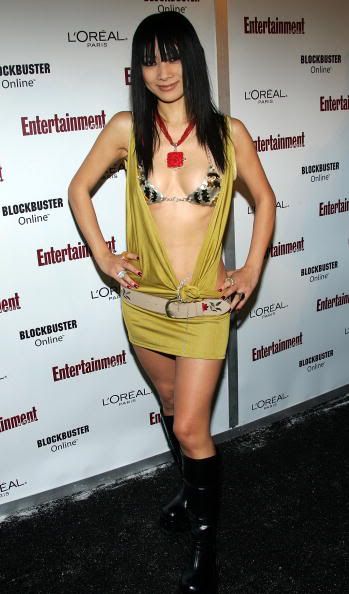 Business as usual right? And when I say "business," you know the business I mean. I believe it's the oldest one in the book.
But look at her February outfits!
My best friend Jennifer wore this to prom in 1993, except in green. That's not a joke. She really did. But that said, it's still pretty. And, hell, we can't see her bra, right? So who am I to make a Kurt Cobain Is Dead And So Is Taffeta joke?
February Outfit Number 2: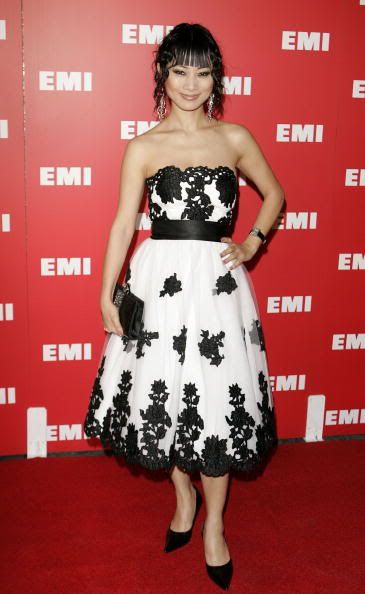 Holy moley. I can't believe this one. It's actually cute. I would actually wear it. And it's on BAI LING! BAI LING! You know, she's wearing the same shoes. I wonder if she had to escape from a housefire that destroyed all her belongings, except for those shoes, and has now been living with a friend who doesn't dress like a whore, and borrowing her clothes.
And finally, February Outfit Number 3:
The neon "Hooters" sign behind her is ironic, seeing as we haven't seen hers in a month. This is classy, sophisticated, interesting, sort of Faye Dunaway in Chinatown of her. (I can't believe I just wrote that about Bai Ling) I actually take issue with her shoes because they're too staid. What is HAPPENING in the world? Is this one of the seven signs of the Apocolypse? Is she going to ride into the next movie premiere in a swatch of silk on the back of one of the Four Horsemen?
I'm a little scared.
Posted by Jessica at 01:37 PM in Bai Ling, Freaky Fug Friday | Permalink
February 10, 2006
Grammy Freaky Fug Friday: India.Arie
I thought India.Arie looked lovely at the Grammy's, and here within the snug, safe confines of Freaky Fug Friday -- where a girl's cold heart can warm up a tad without fear of it being permanent -- I'm not afraid to admit it.
Apparently, her mother made this dress, and not long before the event. What a wonderful job she did for her daughter -- hopefully she'll get some business out of it, if she wants it, because certainly she could do a great service to other starlets and musicians who don't know the half of how to dress themselves.
I mean, look at her: She glows. The dress hugs her bust and gently cuddles her curves without pinching anything, exaggerating things to bizarre proportions, and the detailing is both interesting and graceful without being over the top. The neckline flatters her and doesn't look like -- or look like it feels like -- a harness. She matched it with low-key earrings, a gold bracelet, and that's all she needed.
[Okay, so there are colorful bangles and two odd, massive slab rings, too, and they don't look like they go with this outfit -- but I'm willing to overlook that because your eyes still go to the dress long before they go to either of those things -- indeed, if you can tear them off her face and body in the first place.]
In all: bravo, Mama.Arie, for enhancing your daughter's lovely, healthy body, and proving that women who look like women -- and not like they just snapped off a tree trunk -- are the real idols.
Posted by Heather at 03:15 PM in Freaky Fug Friday, Grammys | Permalink
December 02, 2005
Freaky Fug Friday: La Lohan
We here at GFY have a bit of a love-hate-love relationship with Lindsay Lohan. We love The Parent Trap (don't look at us like that), we liked Mean Girls, we adored the red hair, and frankly, we loved that she got Aaron Carter ripped away from her by Hilary Duff because, well, she was better off without that squirrely tick. We even secretly enjoyed her crazy Wilmer Valderrama obsession, breakup, and subsequent awkward club-hopping snafus. And we not-so-secretly cheered her on when she delivered big-fat-flip-off after big-fat-flip-off to her rageaholic father.
But we hated the emaciation, the blond hair, Confessions of a Teenage Drama Queen, the blond hair, Herbie: Fully Loaded, Not To Be Confused With Our Star, Who Is TOTALLY PROFESSIONAL AND CLEAN And Not At ALL Loaded And Has The Perfect-Sized Chest, We Swear On Our Lives, and the self-congratulatory PR trips to coffee shops with Nicole Richie where they'd pretend to eat food for the paparazzi so that people would stop blaming their dramatic and potentially tragic weight losses on either anorexia or cocaine. And we love to hate her music career.
Essentially, though, everything in the "hate" column was born of affection -- a fondness for things like her endearingly blunt interviews, because even when we thought maybe they were stuffed full of lies she at least mimicked disarming candor, and for the fact that she's a talented actress even if she is a pretty mixed-up 19-year old. In sum, she's an oddly rootable kid, despite not being able to drive worth a damn. [But we won't worry about her vehicular idiocy until she gives her keys to whatever boozed-up Greek shipping heir du jour she can pull out from under a rock.]
With all that in mind, then, this photo encouraged us immensely:
Lindsay, congratulations. You look chic in that delicious coat, and the dark hair looks fantastic on you. Never, ever go blonde again, even if the part seems to demand it. That only worsened that sickly-looking phase you went through.
We are also thrilled to see that you have rediscovered food a little:
You look slender but not bony, toned but not devoid of body fat. The collarbone no longer threatens to pierce through the skin; the chin you dieted away (a la Nicole) seems to have returned. Okay, so the dress pancakes your chest a little, and I don't think those are the right shoes for the ensemble, but generally you have a nice clean line and you look charming -- it's all pretty flattering.
But most important is the fact that you are, little by little, allowing some meat back on your bones and into your sandwiches. And, the dark hair is brilliant, even if you only did it for your role in Bobby. Keep it. Although, I still miss the Mean Girls red and wish you'd go back to it -- you've never looked better than in that movie -- but this, I can live with; this at least doesn't wash you out. You look striking, instead of strung-out. Work it. Do not let another jug of bleach near your head unless it's a necessary means to an auburn end.
Still, a final plea: If you really are dating Jared Leto, he of the stringy hair and the tendency to appear as if personal hygiene is a foreign concept to him, then ... please consider workin' it somewhere other than on his particular lap. You're young. Go get your groove on with somebody who's, say, in his twenties -- or who is at least pretending to be in his twenties (Heath Ledger, I have my eye on you, pal). Stay away from the brooders (and the Bruces) and go have some fun. Go find one of those boys on Supernatural and frolic yourself silly.
Posted by Heather at 11:32 AM in Freaky Fug Friday, Lindsay Lohan | Permalink
August 12, 2005
Freaky Fug Friday: Salma Hayek

[Photo by Daily Celeb.]
You might think we'd have something scathing to say about the randomness of tying a luxe red ribbon around a dress that seems to have nothing to do with either red or ribbons. And generally, you might be right about that -- we might have wondered for whom she is intending herself to be a gift, or what tugging on the ribbon tail might undo; we even might have attempted a Tony Orlando and Dawn joke about oak trees, but I hope we'd have deleted that one five seconds after writing it.
The thing is, though, whenever we sat down for a nice, cathartic textual shredding of Ms. Hayek's ribbon, we came up dry. Why? Well... we had to throw up our hands. Salma Hayek is hot, people. Super hot. And sometimes, God help us, the hot just wins.
For one thing -- and I'm sorry to be crude, but it must be said -- that woman's rack is fantastic. And she knows it, and so she dresses it to the nines and works it in a way nobody else has mastered. No quadra-boob, no pancakes, no nip-slips, no teardrops dripping their way to her knees as she prances... I have serious melon envy when I see her on the red carpet. Also, the skirt's a good length, her skin is glowing, and her shoes match the dress without ever crossing into twee territory. She even works that damn ribbon -- to her credit, even though it at first seems superfluous, the bow looks like it's given the dress some shape, in the form of a gently nipped, curvy waistline it might otherwise have lacked.
So as much as we'd prefer her to leave the gift wrap at home -- that fetish should be a woman's own private kingdom -- we can't really fug Salma in earnest. We give. She's gorgeous. She improves what she's wearing. Long may the days of our lives run like sand through her hourglass.
Looking ahead, as we frantically try to scrub the tar from our blackened hearts, we may flip the script every so often and spotlight somebody who managed to get things right. It's our Freaky Fug Friday feature, so named because nothing is more alarming than putting on your usual bitch pants and noticing that they're streaked with benevolence. Fortunately, it doesn't happen often... but every once in a while, you have to show the home runs so you can appreciate how sad the strikeouts really are.
Posted by Heather at 06:30 AM in Freaky Fug Friday | Permalink