April 08, 2008
Fug Madness 2008: Your Champion
After roughly 1.1 million total votes throughout the ten days of Fug Madness, we finally have a champion.
There were upsets (who knew Brittany Murphy had legs in this thing?), there were Cinderellas (sweet Peldon, if anyone is likely to take that as a cue to wear actual glass slippers around town, it's you), and there was agita and tears and regret from all the supporters of favorite fuggers who fell victim to our eventual finalists. Tough to say if it's heartening or tragic for Chloe Sevigny that her supporters were so vocal in bemoaning her absence from the final game; her fair-and-square loss in the Elite Eight proves that, just as in basketball, what you've achieved before doesn't matter if you don't bring it on the day. Remember her fate this time next year, Chloephiles -- your votes do count.
And yesterday, 69 percent of them counted in favor of our first-ever Fug Madness champion. From the brutal Charo bracket, past challengers like Tara Reid and Sevigny, Phoebe Price and Mary-Kate Olsen, comes your glorious champion --our very own version of the four horsemen of the apocalypse but with about 24 personalities instead of four steeds.
Yes: BAI LING.

[Photo: Splash News]
Whether you are crying over spilled Sevigny or had your money on Sharon Stone, at the end of the day, it's impossible to deny that the title sits well on Bai's semi-nude shoulders. Her fug reigns supreme because it is supreme; she certainly worked hard for it, and worked it hard. The best part is how she's standing there all defiant, like, "What, lensmonkey? Are you not used to lace bodystockings and turbans? Well, when Madonna is elected president in 2020 and this becomes our National Guard uniform, you will not be so SMIRKY, you sad shutter-clown."
Well, except, it's Bai Ling, so that would come out sounding more like, "Loving darling, I am moving through light in the haze of......what? Dancing with sweat to celebrate, all hail, and salute the singing future of clouds. Do you fallow me? HELLO!"
Congratulations to her, and to runner-up Victoria Beckham, who scored the unlikely upset of a devastatingly strong and Peldon-killing Sharon Stone. You all fugged hard, and we look forward to what you can achieve in a comeback campaign in Fug Madness 2009.
And for those of our readers who love an incredibly cheesy (and slightly grainy) post-tournament tribute reel, we've prepared a video treat, replete with all the intentionally ridiculous special-effects we can muster on a dime budget:
Okay, so part of that is a bit of an inside joke for fans of actual March Madness, BUT, we promise, you don't have to care about basketball to appreciate the power of some campy editing and heartfelt vocal fromage. And this is the best of the best, in that regard -- the awesomely terrible musical equivalent of shoving your face into a table-sized wheel of cheddar. If you feel like you're overdosing, make sure you get as far as Courtney Peldon before you flee. You won't be sorry. (Well, you might be, but we doubt it.)

Thanks to all of you for indulging this crazy whim of ours, for voting like crazy, and for providing us with such witty, amusing, delicious comments. Our readers rule, and now, so does Bai.
Posted by H & J at 11:04 AM in Fug Madness | Permalink | Comments (230)
April 07, 2008
Fug Madness 2008: Final Game
We can hardly believe this final game is here! And what a game it is: a beloved, nearly always semi-naked, multiple-personalitied performer/blogger of great awesomeness versus an erstwhile Spice Girl and lover of Beckham, spray tans, high heels, sunglasses and overall ferociousness.
(2) BAI LING vs. (1) VICTORIA "POSH SPICE" BECKHAM
Oh, BAI. Your archive gives us such great joy. Who can forgot this triad of deliciousness? Who can remain hard-hearted when faced with visual evidence of a great love affair with a Chewbacca in high-water pants? Who can look upon this and not feel certain that all is right in the world of fug?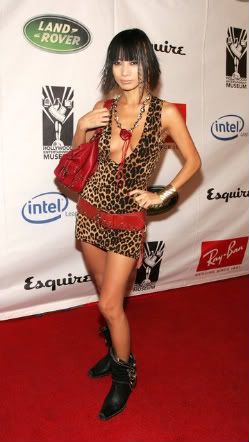 That is what Rock of Love With Bret Michaels would wear if it woke up and realized it was actually a person rather than a television show. This is also rather fetching: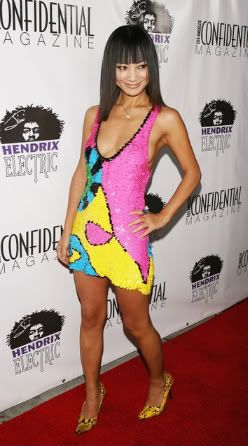 It's like what you'd look like if you decided to dress as a pinata for Halloween, as costumed by Trashy Lingerie. And in many ways, Bai IS a Pinata of Fug: loud; extremely colorful; possibly sweet inside (we don't know!); fun at parties; takes a ton of hits but won't give in; full of surprises; potentially not the classiest addition to an event; possibly dangerous; maybe partially constructed using chicken wire; and spends a lot of time hanging from the rafters.
And then there's Maude. By which we mean Posh, who is just like Maude in scowling expressions and trail-blazing fierceness, if slightly more excessive in her displays of cleavage.
Victoria is taped into that thing masterfully, and is so spit-shined and burnished, she might as well pull a few shifts at Madame Tussaud's when her own wax mannequin needs to take a mental-health day. And she clung to those hair extensions far beyond their expiration date, bless her; I've seen better manes on my old My Little Pony collection, and those poor things have been lying on top of each other in a box for twenty years.

And, akin to Bai, our girl Vicky isn't afraid of animal print.

It's just WRONG when Victoria Beckham wears something that's two parts Bai Ling and two parts Courtney freakin' Peldon. This isn't worthy of one who is so committed to the very priciest fuggery, and Posh is nothing if not prepared to invest in her art. Off the rack is one thing; off the top of the "FETISH SAFETY: WATERPROOF, FIREPROOF" bin at Biff's Ho Palace is another. Not cool, Spicefrau. Not cool.
Posted by H & J at 09:00 AM in Fug Madness | Permalink | Comments (441)
April 04, 2008
Fug Madness 2008: Your Finalists
It's been nine days of matches and more than one million votes -- be kind to your tired mouse-clicking fingers this weekend -- and now, we're down to two brackets, two contestants. Bjork flew home, tragically not actually taking the real Paris Hilton with her; if Cher could turn back time, if she could find a way, she'd make all her friends vote for Sharon so she'd stay.
But it's too late. The votes are in, and your final game is:
(2) BAI LING vs. (1) VICTORIA "POSH SPICE" BECKHAM
Bai captured the Charo bracket and then trampled over Paris Hilton with 73 percent of the vote, knocking the Bjork bracket into the next galaxy and putting her one game closer to winning this whole thing. Posh knocked back an impressive challenger in Sharon Stone, notching 52 percent of your support -- a majority almost as slim as she is.
We've had so much fun watching this shake down; thanks for all your votes -- a million of them equals a LOT of fugpinions -- and for keeping the comments so amusing and on-topic and smart.
The final game tips off on Monday morning. Bring beer.
Posted by H & J at 09:03 AM in Fug Madness | Permalink
April 03, 2008
Fug Madness 2008: Final Four, Game Two
(3) PARIS HILTON vs. (2) BAI LING
As we've mentioned before, it seems unseemly to credit Paris Hilton with winning anything, so let's just say that she is the only one who snuck out of Bjork's intrabracketary spaceship before it took off again for the home planet.
In a way, though, it's fitting that Paris and Bai should meet up at such a pivotal stage: Both attempt to act every now and then, both are fond of dressing for what we will politely call "maximum impact," both are best known for something unrelated to having an actual skill, and both have tried singing (Paris on her album; Bai on VH-1's But Can They Sing?; if you have our book, you know there is a photo of her from this performing in nothing but a rhinestone bikini).
They're also both deranged:
And you know what else? They're both DERANGED:
We've tried throughout this tournament to use never-before-fugged pictures whenever possible, even if they're old, to illustrate a person's body of work -- and these pics give that phrase a very special meaning. Sure, it's been at least four years since these two dressed like extras from the Ice Sexcapades, but frankly, like sands through the hourglass, so are the fugs of our lives. Fame is fleeting but a fug is forever. And, of course, fug is a battlefield.
Which brings us back to wondering which one of these bozos deserves to advance to the finals. In Paris's favor, she has at least parlayed Being Famous For Looking Tacky And Acting Vapid into a career where she is paid actual money in exchange for accomplishing things -- like putting her name on a perfume or treating people badly on TV, or panting into a microphone and letting them use Pro Tools to make it a song.
Whereas Bai Ling has actually acted in things that don't have words like "hottie" and "wax" and "National Lampoon" in the title, and might actually possess a few incredibly sweet personalities kicking around in there... if we could get past the fact that all of them want you to be as aware of her nipples as possible. In addition to an incredible array of fug, she also has a priceless blog (!!!!) on which she writes things like -- and a big ol' "[sic]" to all of this -- "My name is Samantha, sexy godess, Take me with you any where...on the train, on the plane, on the wall, on a pink cloud... on your big palms..." Sounds like the basis for a freakin' great outfit to us.
But this is a tough one -- truthfully, the best arguments here for them are:
1) Paris is... Paris.
2) Bai is... Bai.
How to choose?
Posted by H & J at 10:00 AM in Fug Madness | Permalink | Comments (295)
Fug Madness 2008: Final Four, Game One
(2) SHARON "RAPID BEAVER" STONE vs (1) VICTORIA "POSH SPICE" BECKHAM

The final four! It's here at last! It's almost time to cue "One Shining Moment" over a touching montage of, like, Courtney Peldon kicking Lohan in the nads or Tilda Swinton and K-Fed sharing a tender-yet-creepy post-game embrace.
As for this particular game, we must be frank: we love these two. If they were to start showing up places looking even vaguely normal on a regular basis, we would be bereft. We are the Mark Darcy to their Bridget Jones: We love them just as they are, even if what they are is totally nutrageous. They are delicious, glamorous divas and you best believe they have their eyes on you: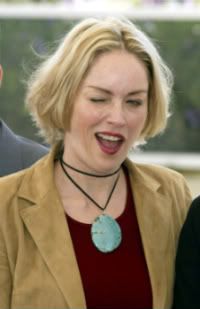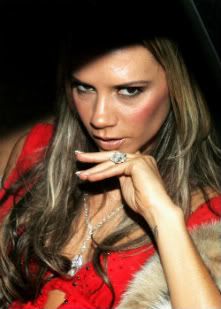 One of them plans to kill you with merely one well-placed acrylic toenail and the other one will just very, very awkwardly seduce you. Guess who is who?!
Now, you've surely already perused Sharon's archive, as well as Posh's. Their choices haunt your dreams, their abuses of their stellar genetic material has had you racked with sobs on more than on occasion. You love them, you hate them, you love to hate them, you hate to love them, you love to love them -- who are we to judge you? But you feel about them, and you feel strongly. Let's take a wee peek at some NEVER SEEN BEFORE fugs before we head into the voting booths, shall we?

Have you perhaps forgotten the unfortunate time Posh decided she was a hip-hop artist (no, I'm not making that up. She really decided that, for about six weeks)?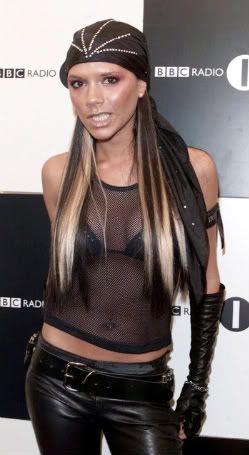 What about...uh, I'm not entirely sure how to classify this?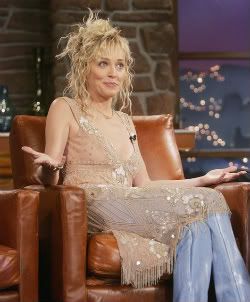 Other than, of course, as being AWESOME.
Which they both are... you know, in a way.
Posted by H & J at 09:00 AM in Fug Madness | Permalink | Comments (280)
April 02, 2008
Fug Madness 2008: Your Final Four
And then there were four: On Thursday, the champions of the brackets will get together and play a sweaty, violent game of two-on-two basketball for the right to win a lifetime supply of caftans. Press-on nails will be a-flyin'. We're so excited!
Once that's done, then there's the Fug Madness polls, in which the Cher champion will face off against the Madonna winner, with Bjork and Charo's respective victors clashing next. Those victors will duke it out on Monday for the crown. It's going to be so intense that we're using any spare minutes in the day to meditate, stretch, dry out our livers, and check in on how David Silver is coping with his drug addiction over on SoapNet.

By request, here's a filled-out bracket for people who are just returning from vacation and want to download a filled-in, the-story-so-far bracket that shows how we got from 65 to 4 (although clicking on our Fug Madness archive and reading through is probably more fun): Download Fug_Madness_bracket_finalfour.jpg
Now, here are you bracket winners.
WINNER: (2) SHARON STONE
It had gotten to the point where we thought it couldn't be done. Tiny little 5-foot-nothing (or so we assume) Courtney Peldon turned into the giantess of this competition, laying waste to every higher seed that stood in her way. But she was no match for the pure, unbridled, nutty flavor of a hot cup of Sharon Stone. When you wear a rat's paw pinned to your jacket, you trump spangled bra tops -- or at least, that's what we're assuming the lesson is here. We also quite sincerely hope Sharon DOES take Courtney under her wing, because maybe they could bust this thing wide open in 2009 by competing as a pair. Somebody please get on arranging that.
Sharon will next compete against the winner of the Madonna bracket, who is...
WINNER: (1) VICTORIA "POSH SPICE" BECKHAM
With 62 percent of the vote, Posh dispatched Beyonce in a battle of sorta-kinda one-named people who surely aspire to be as memorable as the ones for whom we've named the brackets. We are giddy with anticipation at her next contest -- Posh? Sharon Stone? Together? Will EITHER of them come out alive?
PERSON WHO EMERGED AHEAD OF EVERYONE ELSE: (3) PARIS HILTON
Sigh. I'm morally opposed to calling Paris a "winner," or a "champion," so I'd prefer to make it sound like the Bjork Bracket is something she just sort of made her way out of, like leaving Hyde on a Friday night and throwing a few elbows to make sure you get to the paparazzi before anyone else does. Mischa Barton really should've trained harder; she could only drum up support from 30 percent of you, so Paris coasted to this victory without even really breaking a sweat. However, she should prepare to perspire like a South Florida deluge on Thursday, because guess who she gets next?
WINNER: (2) BAI LING

This may have been one of our most dramatic competitions yet, and I don't mean that in the douchey, Bachelor-style, "Most Dramatic Rose Ceremony Ever, For Real This Time, We Swear, You Are Going To Pass Out And Hit Your Head On The Coffee Table From All The Drama and The Roses And The Ceremony" way. This one was a corker, for real: Bai was winning by a percent. Then she wasn't. Then Chloe was up by THREE percent and it was all looking very grim indeed, until about an hour after lunch time, at which point all the Bai Ling fans snapped out of their food comas and voted like crazy. She squeaked through with a 51 percent mandate.
We're agonizing already and it's not even Final Four day yet.
Posted by H & J at 09:00 AM in Fug Madness | Permalink | Comments (147)
April 01, 2008
Fug Madness 2008: Madonna, "Elite Eight" round
(1) POSH vs. (6) BEYONCE

Beyonce has had it rough here -- it's been an endless string of divas for her, from Kylie Minogue to Helena Bonham Carter (who isn't so much a diva as a Derelicte devotee, but whatever -- in terms of TALENT, she has as much right to be a diva as any of these people if not more) to Sienna Miller, who frankly, would probably like you to think she's a diva but who is more accurately a sheep in Kate Moss's clothing. And now she gets Victoria Beckham. It's got everyone buzzing. Unless that's just a side effect of having had water trapped in my ear for two days.
These two women really aren't so different. Beyonce, for example, isn't averse to wearing dresses that barely rein in her assets -- or, what we lovingly refer to as "Pulling a Posh" -- and Victoria is wildly unafraid of hot pants.
Beyonce's grocery shelf may not be as squished and crammed, but the effect is the same: One false move and the melons will go flying. As for Posh, well, she could well be the daughter Tina Knowles never had, if you don't count the two she does.
And at times -- inexplicable, ill-advised, presumably hung-over times -- these women both prairie it up in garish style...
... and then look a tiny bit ashamed of it. Beyonce is all, "Yeah, I drew the short straw, so I let the other Destiny's Child girls wear little sundresses and I'm dressed like I'm about to dress like I'm frigging Laura Ingalls going to the prom in something her blind sister Mary picked out for her."
And, I mean, Victoria, you accessorize like a champion -- David is the best thing you could wear with any of your batty outfits -- but wearing a see-through lace undergarment with the curtains you ripped down from your country home in England is not the way to look gentle and genteel. It's what you (specifically YOU) wear if you want to say, "Last night I finished off four bottles of champagne by myself while I was burning copies of Rebecca Loos' newspaper interviews and I've been up all morning heaving into the toilet, so we're just going to be here for a few minutes and then David's taking me out for greasy fish and chips and then I'm going to sleep for two days and wake up with amnesia. Okay? Great."
These two are magic. They're both people whom we feel drag queens must LOVE to impersonate on Halloween, or just for fun on a random Wednesday. It's heart-wrenching to think they won't both move on (not as tough as what's going down in the Charo bracket, but still emotionally challenging), so vote carefully.
Posted by H & J at 11:00 AM in Fug Madness | Permalink | Comments (191)
Fug Madness 2008: Charo, "Elite Eight" Round
(1) CHLOE SEVIGNY vs. (2) BAI LING
Holy cannoli. How can one choose between these two? Between them, they've handily destroyed the likes of Tara Reid AND Mary-Kate Olsen, but as much as we'd like them to both somehow emerge from this match winners, there can be BUT ONE.
But which one?
Princess Catsuit McCigarette?: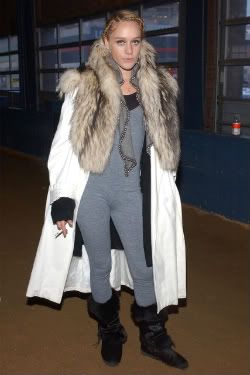 Lady Underpants?: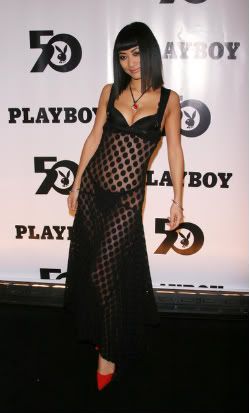 Or these two?
Duchess Necktie of the Wedges?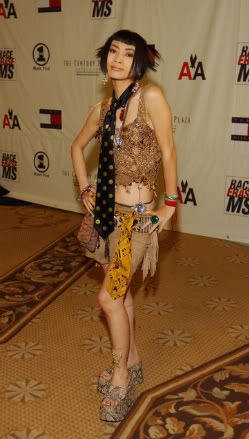 Or Lady Sparkle Legwarmers?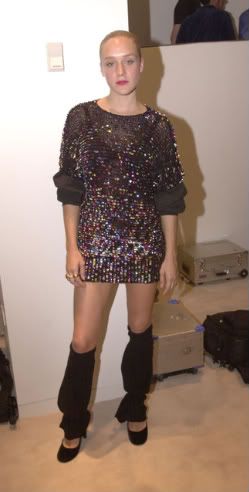 Such radically different flavors! Chloe like a Thin Mint: dark, serious, sometimes you take a bite and it's amazing, and other times it hasn't fully thawed from the freezer just yet and you chip a tooth. Whereas Bai Ling is your Samoa: she's chewy! She's crunchy! She's multi-colored! She's (coco)nuts!
Posted by H & J at 10:00 AM in Fug Madness | Permalink | Comments (586)
March 31, 2008
Fug Madness 2008: Bjork, "Elite Eight" Round
(1) MISCHA BARTON vs. (3) PARIS HILTON
Oh, these two. These two wacky kids. They've shared so much: boys, booths at Hyde, a dramatic ping-ponging back and forth from looking like Crazy on a Hanger and Hey! Kind of Pretty. Like so: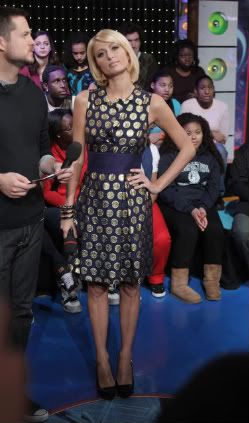 Bored. But cute! (I like polka dots.)
But then...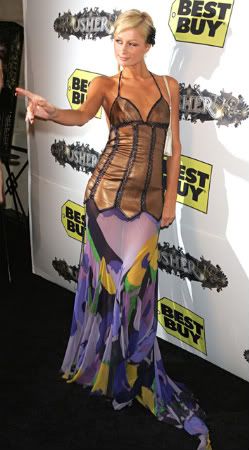 Yeah. I hope she's pointing at whomever sold her this mismatched monstrosity and saying, "YOU! I AM COMING FOR YOU. I LOOK LIKE A BAD AFTERNOON WITH FASHION PLATES." But she's probably just picking that evening's escort out of the crowd.
And then there's Cooper. Looking at her photos, I was struck -- as I often am with her -- by how truly pretty she is. And she often looks very pretty indeed: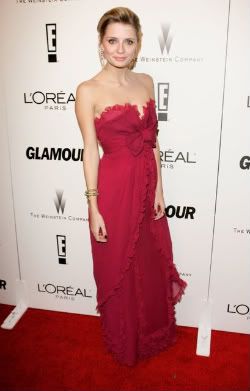 And then again, sometimes not: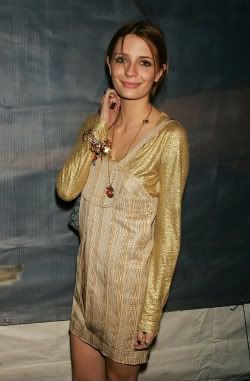 WTF, sugarplum? This isn't the first time I've seen this -- it's in the book -- but I find it as reminiscent of a first grader as costumed by ABBA as I did then. God, the shared, life-long doubles tennis match between Fine and Fug between these two is giving me a terrible crick in the neck.

Posted by H & J at 10:00 AM in Fug Madness | Permalink | Comments (120)
Fug Madness 2008: Cher, "Elite Eight" round
(2) SHARON STONE vs. (16) COURTNEY PELDON

This could've been the matchup that reunited Sharon Stone with her would-be protege, Lindsay Lohan. Instead, she gets a sartorially deranged munchkin whom we've decided we want Sharon to adopt. Why? Do you even need to ask?
Sharon would be all, "THAT'S DRAMATIC, CHUTNEY, AND THE RED BRA STRAP IS AN INSPIRED CHOICE. BUT IF YOU INSIST ON WEARING PANTIES, YOU SHOULD STAY AWAY FROM ONES THAT LOOK LIKE A SUNBURN."
Also, pink should be deployed very carefully, and on special occasions. Like this one:
When this little gem from last summer popped up, I shouted -- despite being alone at the time -- "HOW DID I MISS THIS THE FIRST TIME?" This outfit perfectly encapsulates the dichotomy of Sharon Stone. On the one hand, she organized this event in aid of giving old designer gowns to disadvantaged girls for their proms, which is lovely and awesome and typical of her philanthropic spirit. On the OTHER hand: a) she wore this to the event, which was b) in public, despite how this has the aura of a woman who keeps her old formal dresses in a trunk in the attic and occasionally gets them out, and sits around the house reading and eating lunch just for an excuse to wear it again and prove it still fits and that She's Still Got It; and c) appears to have made herself Prom Queen, all for tucking a white Hanes shirt into a taffeta skirt she might well have ripped off from Gwyneth Paltrow the year she won for Shakespeare In Love -- and in fact, biting her OWN idea of wearing Gap shirts with formalwear, which Sharon did to more unusual effect in 1996.
I adore these two. Courtney Peldon presumably doesn't HAVE any better options, or doesn't understand them. Sharon Stone, though, is SHARON STONE. She CAN be fabulous; she just chooses to be crazy. And while I respect that on some levels, I also feel like she should pay a penalty to someone for taking that DNA for granted.
Maybe that penalty is adopting Courtney Peldon, for real. I'm sure Brown and her parents would miss her, but it's not like they can't communicate or go shopping once in a while. It's too perfect. Don't you want to see Sharon Stone and Courtney Peldon out on the town together ALL THE TIME now. laughing and chatting and learning from each other? "OKAY, CORDY," Sharon would say. "THE FIRST STEP TO BEING FABULOUS IS BACKCOMBING YOUR HAIR AND THEN STANDING IN A WIND TUNNEL." Then Peldon would go, "What if I just crimp it again?" And Sharon would be all, "THAT'S TERRIFIC, PANTIES. THIS IS GOING TO BE A BEAUTIFUL FRIENDSHIP. PASS ME MY BOA."
Posted by H & J at 09:00 AM in Fug Madness | Permalink | Comments (154)