March 31, 2008
Fug Madness 2008: Elite Eight Emerges
Despite all our Hot Technical-Difficulties Action on Friday, we managed to whittle the field down to the Elite Eight -- or, "Round 4," if you prefer. It was rife with drama, typos, and memory lapses (like when we said, "Click here to download the bracket again," and then forgot to attach the bracket), but such is Bracketology Madness. You start, your brain gets scrambled along the way, and it spits you out after the final game feeling exhilarated while also craving a really long nap.
For REAL this time: If you haven't downloaded the bracket and you'd like to here it is: Download Fug_Madness_2008_bracket.pdf
Now I present: The Fug Madness 2008 Elite Eight, courtesy of YOU. We'll have two games today, and two on Tuesday, which determine who "wins" each bracket and moves on to Thursday's Final Four.
(2) SHARON STONE vs. (16) COURTNEY PELDON -- Monday, March 31

Juliette Lewis only managed 36 percent of the vote against the formidable crazy that is Sharon "Rapid Beaver" Stone. For her part, Courtney piled up 60 percent of the vote in knocking off Fergie and continuing her swath of destruction through the shambles that is the Cher Bracket. This is her toughest test yet; we think Sharon will put up one hell of a fight, and not just because of her new nickname.
(1) POSH vs. (6) BEYONCE - Tuesday, April 1

Fab. Just fab. Beyonce bested Jennifer Lopez in a little warm-up Battle of the Divas by a narrow 53 percent to 46 percent. So while J.Lo returns to her absurdly ornate nursery and cuddles the cute babies and Marc sups on some O-positive for energy, Beyonce plows forward to face off with Posh. Mrs. Beckham got out to an early lead and lost a bit of her edge in the late going against Sienna Miller, but nonetheless emerged Victoria-ous (HA! Except, remember what I said about brains being scrambled? Can you TELL?) with 57 percent of the vote.
(1) MISCHA BARTON vs. (3) PARIS HILTON - Monday, March 31

In the end, poor little Brittany Murphy was no match for Paris Hilton -- which might be a good thing, or might be sad, because winning something is always fun, even if it's a contest about how bad your clothes and alleged-maybe-suspected lip injections are. Paris garnered the support of 83 percent of you, and goes on to face Speidi-killer Mischa Barton, who took 71 percent of the vote in dispatching the queasy-making Hills duo.
(1) CHLOE SEVIGNY vs. (2) BAI LING - Tuesday, April 1

Wow. Just wow. But let's not get ahead of ourselves: Chloe made it here by beating the impressively frightening, scantily clad Phoebe Price with a 69-percent mandate, and now gets to face off against the impressively frightening, scantily clad Bai Ling. Tara Reid was no match for Bai, and slunk home with just 17 percent of the vote tucked into her underwear.
Posted by H & J at 08:04 AM in Fug Madness | Permalink
March 28, 2008
Fug Madness 2008: Madonna, Sweet 16, Continued
(1) POSH vs. (5) SIENNA MILLER
FABULOUS, THIS MATCH-UP. Our gal Vicks might even call it major. A battle of the Brits. But can Posh fight off the young upstart? Sienna is strong in the ways of the fug. But is she this strong?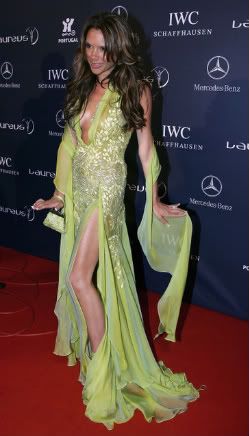 Remember those halcyon days before Posh took out the extensions because David kept yanking them out in the heat of the moment? These are good times -- with Posh frolicking around Los Angeles, pretending to care about Scientology a little, but mostly dressing up Katie Holmes like a doll. But these were good times too, at the height of her WAG-dom. Posh, in other words, is kind of a classic.
And then, like Maude, there's Sienna: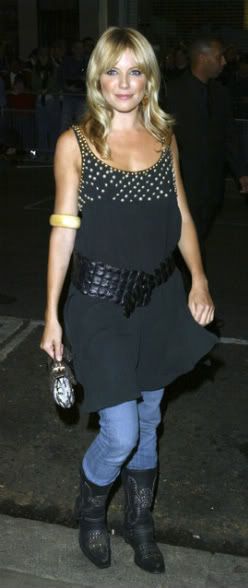 Miller is one of those woman whose face always surprises me. She is truly SO PRETTY, but I only tend to notice this in her movies, because when she's out and about, I'm staring at her wack-ass outfits: the twine tied up the outside of her pants, the crazy boots, the hats my god the hats. Why does she do that?

Posted by H & J at 12:00 PM in Fug Madness | Permalink | Comments (125)
Fug Madness 2008: Charo, Sweet 16, Continued
(2) BAI LING vs. (3) TARA REID
Oooh, boy. I love you guys. Look what you did! You created a Sweet 16 Clash of the Titans -- a strange, sloppy nutjob whose raison d'etre nobody can quite discern, and a strange, sloppy nutjob whose raison d'etre nobody can quite discern. It's poetic.
Indeed I'm inspired. This can mean only one thing: It's haiku time. Which is a lot like Hammer time, but with better pants.

Left photo: Splash News]
Tragic formalwear.
What's worse: polka-dot bra top
Or refried prom dress?
Two boobs and their boobs.
I want to give them sweaters.
Knit, Intern George, knit!
If that's them dressed up,
I'd hate to see them relaxed.
Wait: I spoke too soon:

[Photos: Splash News]
NEON OVERALLS?
But as a skirt? No, Bai, no!
You don't teach kids art!
So glad Tara's shirt
Explains what she's doing, or
I'd think she's at church.
Sad girl gets no work,
Desperate nutjob has no taste.
Pop quiz: Which is which?
Posted by H & J at 11:01 AM in Fug Madness | Permalink | Comments (171)
Fug Madness 2008: Bjork, Sweet 16, Continued
(1) MISCHA BARTON vs. (12) SPENCER & HEIDI
I never predicted that Spencer Pratt and Heidi Montag would make it this far, but then I figured out what must be happening: Spencer is paying his friends to vote, because he has never met a printed version of his name that he didn't think looked pretty, and Heidi's family are voting because they hate him (seriously, they couldn't even really hide it on The Hills -- any time they were gazing silently in his direction, they looked like they wanted to shove Spencer's stupid phone up his nostril and then light it on fire).
So, just to get on Spencer's nerves, I'm not even going to use his picture. TAKE THAT, PRATT.
Instead let's just remind ourselves that Heidi paid a lot of money to turn into a bad mannequin version of her old, spunkier self. Her lips in that premiere episode were hypnotically puffy. Every time she pursed them together I kept expecting them to pierce and deflate. Heidi is also a pretty boring dresser -- it's all sleeveless low-cut dresses that hug her silicone melons. Yawn. We get it. Call Pamela Anderson to see if she's cleaning out her closet any time soon.
Mischa Barton is the opposite. When she's not feigning an interest in Keds, she's all about wearing clothes that droop around her frame and make it look like she's wilting under them:
Yep, the child loooooves a sack dress. This is so depressing. Dorothy Zbornak would wear that with slacks... because Dorothy Zbornak is OLD. Mischa Barton is young! Alive! Has no gut to suck in all night! I'm not saying Mischa has to wear clothes that are practically painted on, or anything, but there IS a rather large middle ground here between becoming Paris Hilton and looking like she's attending an ice-cream social at The Friendship Retirement Castle. Girlfriend, when you're 30, you're going to look at this picture and weep for how you wasted having that waistline.
Also, I've seen this photo a hundred times and never noticed how awful the shoes are until right now. The sweater sequins blinded me. But, wow, my grandmother has Isotoner slippers that are more flattering to her feet. Maybe THIS is what inspired the Keds people into action. They were all, "THIS SAD CHILD NEEDS OUR HELP," but they could only make over her shoe collection because they haven't figured out how to make a full dress out of canvas.
Posted by H & J at 10:00 AM in Fug Madness | Permalink | Comments (107)
Fug Madness 2008: Cher, Sweet 16, Continued
(2) SHARON STONE vs. (11) JULIETTE LEWIS

This ought to be interesting. We're of the mind that there are two sorts of fugs. One is the tragical misguided Tara Reid-y kind, where you're just like, "oh, HONEY. NO." And then there's the over-the-top, wackadoo crazy diva kind, where you're more like, "oh, my God. No. AND YET YES." One could argue that at least one of these women is the latter, and possibly both.
The no-questions-asked diva, of course, is Sharon Stone, who is SO GLORIOUS that I must put her after the jump (you MIGHT be able to see her nipples a bit. Not in a way that your boss will come swanning past your desk and then do a swift, angry U-turn, asking you loudly, "ARE THOSE NIPPLES?" but rather in a way where you think, "are those...oh, Sharon."):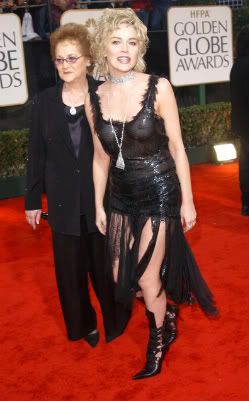 See? Gorgeous genes surrounded by ENDLESS CRAZY: feathers, spats, nips, a skirt that was attacked by a rapid beaver* on the way to the Globes. Apparently, that beaver has a vendetta, as it brutalized her blazer on another occasion, and tried to gnaw out her left ovary on another. Also, we can't mention this enough.
* a typo we found so amusing, we decided to leave it and may, in fact, adopt it as a nickname for Shazz
As for Juliette Lewis, some of our wise commenters have noted that Juliette gets kind of a pass because she's a wild rocker chick. To which I thought, "but is she REALLY?" Admittedly, I've never seen Juliette rock it out with the Licks, but her band always seemed to me like a kind of drawn-out vanity project that she works on because she's not getting good acting roles. I mean, she was nominated for an Academy Award. She may certainly legitimately rock it out -- I hope she does, that would kind of awesome -- but I think most people think of her as a sort-of out-of-work actress who noodles around in jumpsuits for kicks. Nice work if you can get it.
HOWEVER. She is NOT performing here, that I can tell: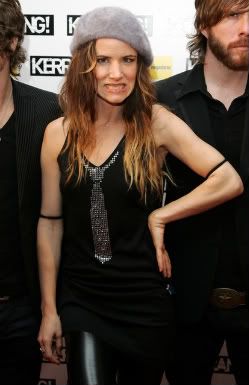 No matter how you slice it, that be crazy.
Posted by H & J at 09:00 AM in Fug Madness | Permalink | Comments (107)
March 27, 2008
Fug Madness 2008: Madonna, Sweet 16
Due to daylong technical problems that we've since resolved -- yay! -- the Madonna bracket didn't go up on time, and then briefly appeared with a malfunctioning jump post. To compensate, we'll leave the comments and the voting open through most of Friday. Thanks for your patience! Comments are working on all other brackets again also.
(2) JENNIFER LOPEZ vs. (6) BEYONCE
We love it when divas collide. And NOT FOR THE FIRST TIME: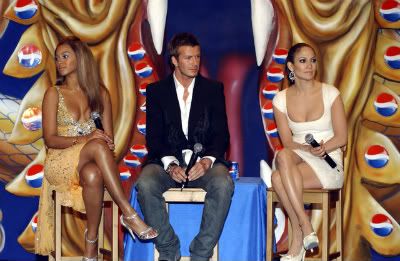 THAT'S not an awkward photo. For the love of God, I can understand why you might want to ice each other out, but WHY IGNORE BECKS? He's so beautiful. Give that man a little face time. That being said, both of our contestants look lovely -- if affected by RAGING BITCHFACE -- here, if you can ignore the fact that Beyonce's dress seems to have a tail. In fact, as one of our commenters noted earlier in the tournament, both of these woman are actually naturally very beautiful. And yet they chose to wear items just as: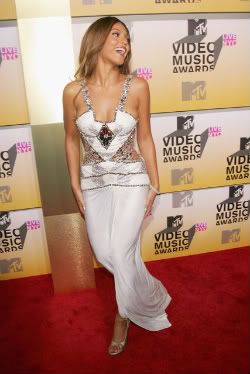 This crazy get-up looks positively bland compared to the wackadoo shenanigans Beyonce's gotten up to in the past, like her Cocktail Waitress/Figure-Skater outfit, or her OTHER Cocktail Waitress/Figure-Skater outfit, or her formal camo-wear, doesn't it?
Interestingly, at the exact same event, we were treated to: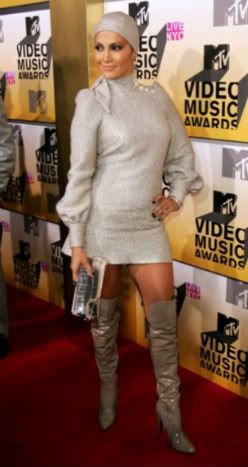 CRAAAAAY. Also kind of awesome. Kind of like...Beyonce. And, you know....EVERYTHING ELSE SHE'S EVER WORN. EVER. Including her current crazy/awesome spread in People, in which she gambols around her estate with her new babies, looking like any other new mother of twins in a taffeta gown, heels, and elaborate updo. You know. Like you do.
Posted by H & J at 08:38 PM in Fug Madness | Permalink | Comments (205)
Fug Madness 2008: Charo, Sweet 16
(1) CHLOE SEVIGNY vs. (13) PHOEBE PRICE
Charo would probably be very proud of Phoebe Price. Not necessarily the fame-mongering, famous-for-being-fugly-and-that's-really-it part -- I mean, really, call us when YOU get a Geico commercial, Pheebs -- but rather for the part where Ms. Price teases up her hair and dresses like she popped out of a basket full of plastic grass at the Easter Bunny's bachelor party.

[Photo: Splash News]
We suspect Phoebe dreams of discovering that she is Charo's long-lost daughter, much in the way Posh affectionately refers to Joan Collins as her real mother and Blair on Gossip Girl reimagines herself as Audrey Hepburn reborn. Still, we like to think any offspring of Charo's would rather shave her head and wear a muumuu than stand around desperately holding up magazines in which she is featured, trolling Robertson Boulevard day in and day out, and telling the paps to credit her as a "model" -- which I suppose she is here, of lingerie, although it's a job she accepted without it being offered.
Come to think of it, though, Chloe is no stranger to Charo-ism herself. Not only is there this shredded affront to the mighty zebra, but there's this:

Perky! We assume Courtney Peldon later bought this in a "Clothes Off Our Back" auction, benefiting some charity that will be very grateful indeed that someone besides Chloe wants to dress like a Vegas waitress AND has the budget to do so with damn near museum-quality accuracy. Chloe's fugtacular wardrobe was one of this Web site's first moments of head-exploding agony, the kind of thing we'd had percolating within and nowhere to write about it until GFY was born. Yet she's replete with recent moments of insanity, too, like how she wants you to fork over a lot of cash for the right to wear a bunch of stuff Candy Spelling tried to sell on eBay and couldn't. For someone the world wants us to think is an unerring fashion icon -- someone so ahead of her time that we just can't possibly hope to understand until two years from now -- that is shockingly bad form, Sevigny.
Posted by H & J at 11:01 AM in Fug Madness | Permalink | Comments (246)
Fug Madness 2008: Bjork, Sweet 16
(3) PARIS HILTON vs. (15) BRITTANY MURPHY

Well, I'm about out of material. We weren't expecting that Brittany Murphy -- one of the last people to crawl into the brackets, to be honest -- would make it this far. In fact, we weren't even picking her to win that Round One clash against Gwen Stefani, who is not tremendously far off from Chloe Sevigny in terms of having her personal style drilled into us as Very Advanced, and in fact Unimpeachable, even when it looks pretty damn impeachable and unpeachy to the naked eye. Gwen versus Paris would've been pretty sweet. As it is, B.Murph and her Lips Of Bad Judgment sit in this slot, and the well of fun fuggery is running dry. This is the best I can do:
Yeah, it's sort of weird -- bad hair extensions, and shoes that prompted Jessica to think, from a very large distance, that Brittany was roller-skating into a fashion show -- and whatever she did to her face is still a problem. But other than this and the other outfits we've showcased, we're out of ideas here. Which isn't to say she can't mount a charge; just that the poor kid apparently should've reconsidered going anywhere at ALL in the month of February, because so far those outings have been keeping her afloat here in the Pacifug Ocean and we're sure she'd rather go moor the S.S. Restylane somewhere else.
For her part, Paris's stank wardrobe has already dispatched with two of her friends and/or favorite props -- Elisha Cuthbert, then Kimberly Stewart -- and I am now wondering why she and Brittany here don't hang out more often. She and Benji could double-date with Brittany and her maybe-former-check-kiting-husband Simon Monjack (which totally sounds like something you would order on top of a hamburger, as if he was trying to come up with an alias in the dairy aisle of the supermarket and a packet of Monterey Jack caught his eye), and talk about all their favorite weaves and mascaras and pieces of bling.
Like this one:

[Photo: Splash News]
Yep, that is the infamous "BM" ring peeking up from her Michael Jackson gloves, and yeah, Benji Madden's parents totally should've thought of how awkward that sounds before they named their kid, and sure, Paris probably needed to consider that angle before she shoved that ring on her finger. But, actually, we're fairly confident Paris has never been too fussed about where she sticks that finger or what gets stuck on it. And we'll grant that it's preferable to a tattoo, which she would almost certainly regret next week and have to change from, say, "PARIS LOVES BENJI MADDEN," to the grammatically astonishing, "PARIS LOVES BE MAD," and nobody wants that. It's just so ridiculous, though -- costumey, attention-seeking, cheap-looking, and lame. Kind of like Paris herself.
And so: Surf Paris's archive, check out old Fug Madness posts on Brittany Murphy, and decide which one you think is the greater crime against humanity -- or at least, against our eyes.
Posted by H & J at 10:00 AM in Fug Madness | Permalink | Comments (86)
Fug Madness 2008: Cher, Sweet 16
(5) FERGIE vs. (16) COURTNEY PELDON
Okay, so it turns out Peldon is a tough competitor. Who knew? We all thought she was sort of a hilarious mascot, but it seems she is also A FIGHTER. Miss Fergie Ferg should put up a good fight, though. I mean, look at her: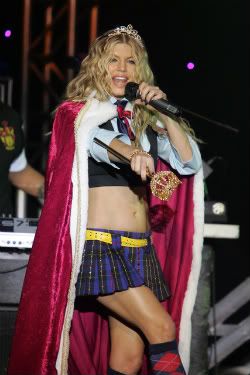 It's like if Hermione and Miss America had a baby and forced it to become a stripper. And then forced it to join the Girl Scouts. And then made it a Pink Lady. And then talked it into modeling for Cost Plus's line of accessories. And then made her into a total douchebag. Oh, wait -- sorry, that's Chad Michael Murray. Anyway, it's been a LONG HARD ROAD for Fergs, and many was the night that she was put away wet.
On the other hand, this IS this: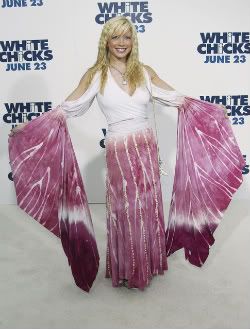 I mean, I don't even need to write anything.
Posted by H & J at 09:03 AM in Fug Madness | Permalink | Comments (208)
March 26, 2008
Fug Madness 2008: Round Two Final Results, Sweet 16 Starts Tomorrow!
We started with a field of 64 celebrities -- or rather, 65 if you count Brown Peldon, and it's more accurately a field of "65 personages of great interest to themselves and, in a few cases, to others."
Either way, over the past few days your mouse-clicks whittled the group down to 16 contenders, most of whom are frighteningly formidable and a few of whom will be summarily booted without so much as a brow furrow. We've got what we pray are some tense-making matchups between stalwarts of fug, seeds both low and high, and a pair of people who have coasted through two rounds on the strength of people deeming them "fugly on the inside." Quite a cast; if we could put them all in a movie together, it would win an Oscar... for cinematography.
If you haven't downloaded the bracket and you'd like to fill it in and see what's in store, here it is (and, yes, I totally published this post the first time without remembering to upload the file... awesome): Download Fug_Madness_2008_bracket.pdf
And now, the reveal of where all that voting has gotten us.
(2) SHARON STONE vs. (11) JULIETTE LEWIS - Friday, March 28
As expected, Sharon put a 77-percent hurt on Scarlett Johansson, and next takes on a renowned nutbar in Juliette Lewis -- who inspired 82 percent of you to vote for her and not for the fug of Keira Knightley.
(5) FERGIE vs. (16) COURTNEY PELDON - Thursday, March 27
Fergie got here by offing Brad Pitt and Rihanna; Peldon may well be the first No. 16 seed to knock off a No. 1 seed in the history of bracketology (let's just pretend that's true, without bothering with stuff like "research"), beating Lindsay Lohan in Round One and then disposing of Paula Abdul in Round Two.
And there's more!
(1) POSH vs. (5) SIENNA MILLER - Friday, March 28
Our favorite High Priestess of Camp, Victoria Beckham, ended Joss Stone's time in the Fug Madness spotlight by garnering the support (fugport?) of 78 percent of you. Sienna ended up more reviled for copying Kate Moss than Kate Moss was for pioneering their shared sloppy style, and scored 74 percent of the vote on her way to this matchup.
(2) JENNIFER LOPEZ vs. (6) BEYONCE - Thursday, March 27
J.Lo has coasted through past Natalie Portman and Lucy Liu, and gets a woman who beat back Kylie Minogue and then upset beautiful bag-lady Helena Bonham Carter to get to the Round of 16. We LOVE it when divas collide.
(1) MISCHA BARTON vs. (12) SPENCER & HEIDI - Friday, March 28

The so-called "Speidi," deemed fug on the inside, booted Eva Green with a surprising 69 percent mandate (and yes, we giggled a little at the number, because SHOCKINGLY, we are not always mature). Next up for them is Mischa, who won 75 percent of the vote against Kevin Federline. Popozao, bitches! Or something.
(3) PARIS HILTON vs. (15) BRITTANY MURPHY - Thursday, March 27
Who knew Brittany Murphy had so much staying power? After toppling Gwen Stefani in Round 1, she beat down Renee Zellweger with 70 percent of the vote and moves into the Sweet 16 to take on Paris Hilton -- who has easily put away her competition, most recently downing Kimberly Stewart with a 72-percent mandate.
(2) BAI LING vs. (3) TARA REID - Friday, March 28

This is one of the only sections of a bracket NOT to include an upset -- the way all brackets are laid out, Nos. 2 and 3 are always intended to meet up in this round because in a perfect world, they're supposed to be capable of beating their lower-seeded competition handily. And so it went: Bai Ling won 91 percent of the vote in defeating Kelly Clarkson and her crocheted jumpsuit, and Daniel Day-Lewis's plaid suit was no match for Tara Reid's aura of fug, which won over 84 percent of you.
(1) CHLOE SEVIGNY vs. (13) PHOEBE PRICE - Thursday, March 27
Chloe blew past Cameron Diaz and Mary-Kate Olsen -- in some senses, a Sevigny, Jr. -- en route to the Sweet 16, where she meets up with a complete press-hungry loon. Phoebe Price kicked Jessica Simpson to the curb in Round One and then blew straight through Alicia Keys in Round Two for the right to take on La Sevigny and her infamous fugitude.
Posted by H & J at 11:30 AM in Fug Madness | Permalink