March 25, 2008
Fug Madness 2008: Madonna, Round Two, Continued
(1) VICTORIA "POSH SPICE" BECKHAM vs. (9) JOSS STONE

These two people are very, very different. One of them is famous for having singing talent, loves wearing loose, floaty clothing, often looks sort of dirty and sticky, and would rather go barefoot and contract any NUMBER of foot fungi than stick a toe in a pair of shoes.
The other is famous for having very little singing talent, loves being squeezed into things that crack her ribs and push the air out of her lungs as much as humanly possible, often looks orange, and -- as witnessed on her fabulous reality special, in which she got pulled over by the cops for speeding while wearing driving flats and quickly changed into stilettos before the police officer asked her to step out of the car -- would rather die than be seen in anything but four-inch heels:

Also, I suspect Posh is a huge basketball fan. Just a hunch.
(4) KATE MOSS vs. (5) SIENNA MILLER
This is another one of those clashes we yearn for in real life. The dudes out there probably wish it could be on a rainy day at Glastonbury, which is essentially like mud-wrestling. But we'd rather see these two crappelgangers catfight their way into a lily pond, pulling out each other's hair and shrieking creative insults into each other's ears before gnawing them off in a rage.
See, essentially, everyone's been accusing Sienna of biting Kate's style. You be the judge:
What are those haters thinking? Clearly Sienna is copying Peter Pan.
But assuming she's trying to be a mini-Moss, almost down to the thigh muscle, it becomes a question of whether it's worse to be Sienna -- who is aping this ragtag aesthetic -- or to be Kate, who not only insists she came up with the whole terrible idea first but clings to it as her trademark. In more existential terms, if a tree falls in the forest and only Kate Moss is there to hear it, will Sienna show up in a week claiming the sound of the tree's pain is forcing her to crawl down the neck of a whiskey bottle with Rhys Ifans? Would we even HAVE a Sienna if there was no Kate? And whom do we blame MORE for all of that?
Posted by H & J at 12:00 PM in Fug Madness | Permalink | Comments (137)
Fug Madness 2008: Charo, Round Two, Continued
(2) BAI LING vs. (7) KELLY CLARKSON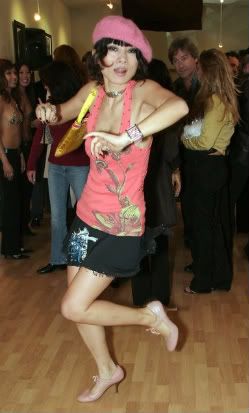 Ah, yes. Some would call this the battle of the unquestionably talented (K. Cla) versus the questionably talented (you know who). But doesn't the indomitable spirit that Bai Ling puts into her outfits count as a talent? We like to think so. It takes skill to accessorize a two-piece dress with William H. Macy. It takes moxie to go out in the snow practically naked. It takes balls to go out in a homemade crop-top with your own face on it. All that, AND she can dance.
She can not, as far as we know, sing, unlike her rival here: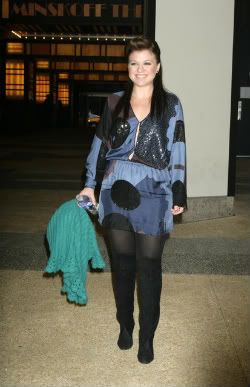 Kelly Kelly Kelly Kelly Kelly Kelly. KELLY KELLY KELLY KELLY KELLY KELLY KELLY. We love you. No -- we LOVE YOU. We voted our fingers off for you on AI. We car-danced our butts off to you thanks to "Since You Been Gone." We perma-saved From Justin to Kelly on our TiVos. We think you are perfect just as you are. Except we wish you'd stop wearing stuff like this.
(3) TARA REID vs. (11) DANIEL DAY-LEWIS
So these two would be a good match, right?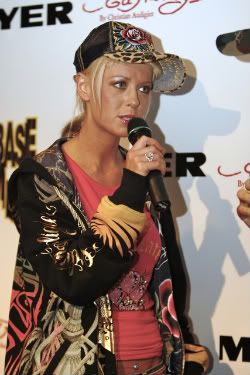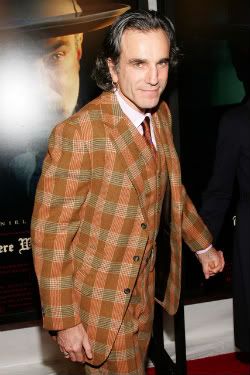 No? Are you sure? The star of Taradise! and one of our generations most gifted, well-spoken, intellectual and thoughtful actors? Not going to work? Why don't you believe in love for a second? I'm sure he'd love her in this, and she'd adore him wearing this...AGAIN. They're meant to be!
Posted by H & J at 11:00 AM in Fug Madness | Permalink | Comments (129)
Fug Madness 2008: Bjork, Round Two, Continued
(1) MISCHA BARTON vs. (9) KEVIN FEDERLINE
Call us crazy, but it almost seems like the two of these could potentially start dating. Can't you just see it? 2008 K-Fed feels like exactly the kind of quasi-rocker that Misha would go for. Though whether or not he'd be into Princess Floaty Tunic here is hard to say: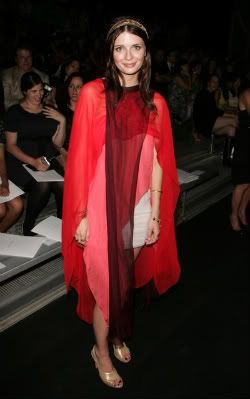 Oh, Mischa. That would be so cute for your high school drama club's production of A Midsummer Night's Dream, but in the outside world, it just seems likely to get caught in your car door and cut off the circulation to your neck, kind of like what this seems to have done to your ribs. On the other hand, at least you're not wearing THIS anymore. Or dating him, btw. In fact, one could argue this fine man is a total upgrade from Old Firecrotch-Hater Davis (who, we must remind you, sat next to one of us at the movies once and smelled so bad we had to breathe through our mouth. Also, he kept lifting up his hoodie to grab and inspect his belly fat. Also, he consumed: a bag of popcorn, a bag of chips, a bag of Skittles, a carton of Dibs, a Coke, a Slurpee and a lemonade. We just need to continue to tell people that story, that's all):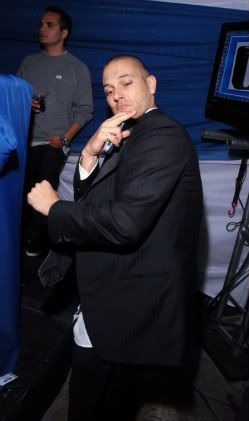 We once deeply hated K-Fed. But while he certainly has problems -- like pulling this sort of thing or insisting going out in very poorly fitting pants while poor Britney just wanted to look cute -- at least he brought us all the delight of Popozao, right? RIGHT?

(12) SPEIDI vs. (13) EVA GREEN
Judging from the comments on the last round, there are many, many people who Blame Spencer for any number of things, to the point where we might be making a shirt declaring such a thing. Can we blame him for Heidi's new lips and new faker hair, as seen here?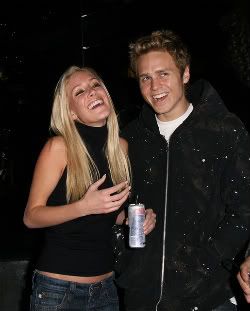 Also, have you ever seen two such fake laughs in your life? Maybe at this classy Taco Bell-related charity event, at which gaiety was totally appropriate. And yet I can't stop watching The Hills and as much as I want Spencer to have his COMEUPPANCE, I am pretty sure the show would be much more boring without him and his machinations.
However, maybe if he has to leave the show so that Heidi can become "a feminist hero" (the New York Times said so; it must be true) Eva Green can sweep in and start bossing Lauren around: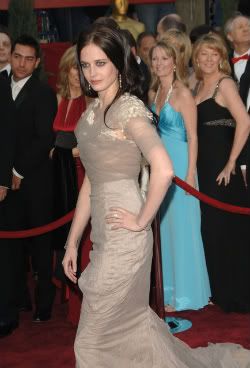 You know she and her Zombie Eye-Makeup of Doom could kick some satisfying ass (speaking of heroes). Also, maybe she could finally teach LC a thing or two about high fashion. CRAZY high fashion.

Posted by H & J at 10:00 AM in Fug Madness | Permalink | Comments (103)
Fug Madness 2008: Cher, Round Two, Continued
(3) KEIRA KNIGHTLEY vs. (11) JULIETTE LEWIS
You guys, Juliette is REALLY EXCITED to have made it this far.
Give her an H (for the hideous headband)! Give her a B (for the blue bag she's wearing)! Give her a T (for thinking to wear tights with that). What does that spell? HBT! Which, when you try and pronounce it, sounds as fugly as her outfit. But I don't know why she always has to look so cranky. The clothes didn't force themselves on her. She might want to start considering that as an excuse, though -- it's about all that justifies some of her rocker costumes.
Actually, she'd probably love borrowing this little number from Keira for one of her performances:
That is a mess, right there. It's like she went to a wedding shower where they made toilet-paper wedding gowns, then bolted in a huff when they ran out of Angel Soft. Or maybe someone told her she'd be standing behind a very tall hedge at this party, so she only bothered with one-fifth of an outfit. Indeed, she seems rather fixated on using small portions of fabric, like she's some kind of cloth conservationist, although to be honest she doesn't always do very well with loads of layers either, nor with lots of fussy bits and pieces.
Basically, the crime here is that she's Keira f'ing Knightley, and she should be able to do SO MUCH BETTER, if she would just even ACT like she gives a rat's ass. But can her brand of big fame yet questionable taste stave off the challenge of Juliette's lesser-known face but potent fugosity?
(2) SHARON STONE vs. (7) SCARLETT JOHANSSON
Have you ever wondered what Sharon Stone would look like if she put herself in a Golden Girls spinoff as Blanche Deveraux's cousin in Savannah? Well, wonder no more, friends.
I'm not sure what's going on with her hair, but I am fairly certain it was dropped onto her head from a great height. Why she's in her geriatric finest, I can't say, but it's possible just needed a break from looking like she'd recently been disemboweled, and the many portions of her wardrobe filed under "petting zoo" were all either at the dry cleaner or the vet.
Sharon is up against someone who I greatly hope will grow up into an insane diva much like La Stone herself. Why? Well, I fear the Art of Divadom is a dying one -- it's not just about asking for gardenias in your toilet bowl, or to have your name spelled out in green M&Ms on the floor of every dressing room you inhabit; rather, you have to be a rare cocktail of screamingly grandiose, perfectly glamorous, admirably philanthropic, and hopelessly prone to spouting lots and lots and LOTS of crazy talk.
ScarJo is certainly on her way. She's got the terrible grandiosity thing nailed down, at least.
And, it was SHEER crazy talk when she first turned to her assistant and said, "Dude, this looks awesome!" As much as I cherish those shoes, I cannot endorse any kind of outfit that taints them by practically screaming, "Oh yeah? Well look who they've got their Hanes on NOW!" I mean, formal shorts and a tank top underneath a halter that Wet Seal would put on clearance for under $5? No, Scarlett. NO. Step away.
But is it enough to dethrone Ms. Stone?
Posted by H & J at 09:01 AM in Fug Madness | Permalink | Comments (132)
Fug Madness 2008: Round Two Is Half-Done
The Sweet 16 starts on Thursday, and we have half the field in place, with a one-, two-, three-, and five-seed in action against formidable opponents -- all of whom have achieved some impressive upsets on the road to the next round.
After the jump, you may commence salivating at the prospect of Chloe Sevigny doing battle with one of the toughest, most scantily clad ladies in the field. Both will enter, only one will leave...
(5) FERGIE vs. (16) COURTNEY PELDON

Man, this Peldon kid is scrappy. She essentially voted off Paula Abdul -- after telling her she sounded pitchy but connected with the audience like a pegasus on a train -- with 64 percent of the vote. Now she's up against Princess Urinator, who metaphorically emptied her bladder all over Rihanna by 78 percent to 21 percent.
(2) JENNIFER LOPEZ vs. (6) BEYONCE

Where's your cashmere mafia NOW, Liu? Jenny From The Block enticed 83 percent of you to vote her though, thoroughly kicking Lucy to the curb. For her part, Beyonce has to be proud of unseating a woman who practically wears blankets as trousers; she knocked off the higher-seeded Helena Bonham Carter with 54 percent of the vote.
(3) PARIS HILTON vs. (15) BRITTANY MURPHY

Who knew Brittany Murphy had so much staying power? After toppling Gwen Stefani in Round 1, she beat down Renee Zellweger with 70 percent of the vote and moves into the Sweet 16 to take on Paris Hilton -- who has easily put away her competition, most recently downing Kimberly Stewart with a 72-percent mandate.
(1) CHLOE SEVIGNY vs. (13) PHOEBE PRICE

You wanted it, and now you're going to get it: Phoebe Price, professional girl-about-town, outfugged Alicia Keys by 81 percent to 18 percent, which means she next faces The Sev. Mary-Kate Olsen was no match for Chloe's powers, wooing a mere 26 percent of you in a losing effort.
Posted by H & J at 08:02 AM in Fug Madness | Permalink | Comments (46)
March 24, 2008
Fug Madness 2008: Madonna, Round Two
(2) JENNIFER LOPEZ vs. (10) LUCY LIU
We realize that Lucy Liu is not to be held directly accountable for anything Pat Field threw at her on Cashmere Mafia, and in fact, one of the reasons we watch that show -- although we can't think what the others are, off the top of our heads -- is that Liu seems to be enjoying herself immensely in that wackadoo clothing (after all, when else will experience doing cardio in a fur hoodie?).
But Lucy does get to make her own decisions sometimes, and her personal tastes seem to run all over the place as well.
Behold, the rare and exotic Silver Taffetaback, almost never spied out in the wild. Do not attempt to pet it, or a venom-crusted stiletto will be inserted rather rudely into your navel. Lucy also recently chose to wear a distracting array of bows on her stomach, and, of course, there's the time she wore a cape that resembles the bastard offspring of an overexcited cotton-candy machine and a collapsible paper lantern. Good GOD, woman. Stop it. And yet, don't.
But can she compete with this magnificent creature?
A chain-mail body-poncho over a tube top and pants? Most of us would call this "vampire bridesmaid," but to our girl J.Lo this has "Starbucks run" written all over it. Nobody has been pregnant more marvelously than she, and we have an entire archive to prove it. Plus bonus bell-bottoms, a satin drawstring bag, and of course an incredibly tasteful, gentle tee. Drink in the glory.
(3) HELENA BONHAM CARTER vs. (6) BEYONCE
The case against Helena Bonham Carter's ragtag fashion sense doesn't need a bevy of photographs in order to hold water, but just for kicks, let's feast upon one more.

[Photo: Splash News]
She's SUCH a stunning woman, but when was the last time anyone could notice that? I'm pretty sure a family of birds was tragically displaced from its home when she undid her hair after this event. Helena's busied herself in the last few years as a dirty and dirt-poor mother in Charlie and the Chocolate Factory, a deranged bloodthirsty Death Eater in Harry Potter Et Al, and the customer-mincing piemaker in Sweeney Todd. And frankly, it shows. Could somebody please cast her as somebody devastatingly attractive and sophisticated, or who at least owns a hairbrush? Perhaps Pat Field needs to take an interest and apply to Helena some of the sleeky deranged sartorial logic she's used to such great effect on other people. Say what you will about blue fur vests, but at least the Pat's characters appear groomed. Helena just looks doomed.
Come to think of it, the often overstyled Beyonce could stand to spend some time under Pat Field's thumb -- or really, even Helena's. Anything to get her away from her mother's claws of crazy.


[Photo: Splash News]
Look real close up there: I think I can see her control-top. And it's not the first time. The next time someone spies Tina Knowles charging toward her daughter, mouth foaming and hands clenched as she figures out how to rip the slit so high it's practically waist-level, please hit her with a tranq dart. Oh, and Beyonce? Yeah, we can still see you.
Posted by H & J at 12:00 PM in Fug Madness | Permalink | Comments (167)
Fug Madness 2008: Charo, Round Two
(1) CHLOE SEVIGNY vs. (9) MARY-KATE OLSEN
This ought to get interesting. The queen of quirk versus Princess Derelicte.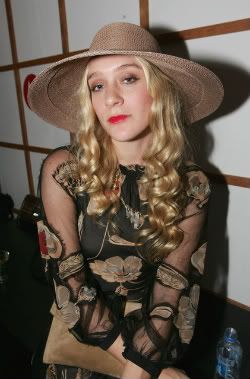 We're sure you spent oodles -- OODLES! -- of time in the Chloe Archives before casting your vote last week, but if you can only look at one photo, please make it this one. It bears telling that when one of our fathers caught sight of that particular picture in the GFY book, he required much convincing before he truly believed the person pictured was a woman.
The good news for M-K O is that we're all pretty sure she's a girl. The bad news involves these shorts: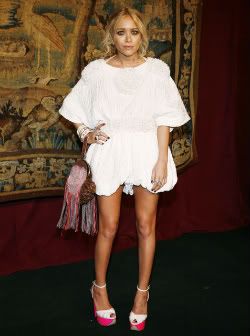 It's just a problem when your shortie-bloomers bunch up in the crotch arena like that. It makes us want to take you discreetly to the side and whisper that you've got some kind of SERIOUS full-coverage wedgie-situation taking over and that we're willing to hold your drink while you go take care of it. The thing is, of course, that both of these girls CAN look interesting and pretty and fun (witness M-K and A's work en toto right here), but when things go wrong, they can all too easily look like men, the homeless, or homeless men.
(5) ALICIA KEYS vs. (13) PHOEBE PRICE
This is a poetic little match-up we're privately referring to as The Battle of the Jumpsuits: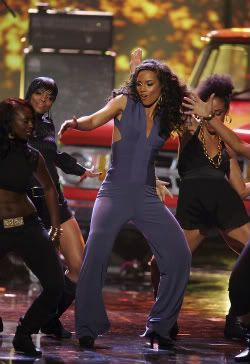 Despite their many other differences -- Alicia Keys is actually considered to have a marketable skill, for instance -- these two ladies share an unstoppable, deeply powerful love for clothing that takes makes the rest of us raise and brow and say, "That looks uncomfortable." Or, "Wow, those are dated." Or, in the case of P-Squared, a vigorous "Oh honey, NO." PS: One of us might have bought that candle for the other. We'll never tell.
Posted by H & J at 11:00 AM in Fug Madness | Permalink | Comments (146)
Fug Madness 2008: Bjork, Round Two
One more reminder and we won't bug you again: The chosen photos are not the only things you're judging here. They're simply examples of a larger fug, so have the body of work in mind when you vote. Now, take it away, Bjork.
(7) RENEE ZELLWEGER vs. (15) BRITTANY MURPHY
Witness Portrait Of A Thoughtful Actress At Work: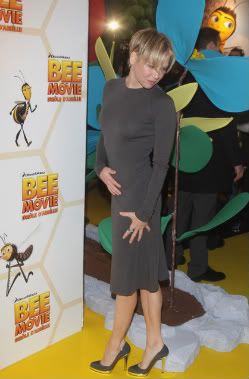 Yeah, so the issue with Renee is two-fold as far as we're concerned. We've made it clear that we're not huge fans of the hair. But you know things are going poorly when a dress that is as pretty as this one puts us into a coma, simply because IT'S SO PREDICTABLE ON HER. There's something to be said for finding something that looks good on you and wearing the heck out of it, but could the girl just consider grabbing a gown that ISN'T like all the rest of her dresses just once? Couldn't we interest her a cap sleeve? Or some straps? Or ONE STRAP?
We sort of wish Crazy Brittany Murphy would get invited to the Oscars, because we think she'd be fun, at least:
This little number just happened -- so fresh we haven't even fugged it yet! -- and there's something terrible about it that is VERY Tai From Clueless. It might even be Tai Post-Makeover (Cher loved a nice set of pearls and a short skirt and I'm pretty sure she might have been easily talked into a shirt top), but...that movie is from 1995.
(3) PARIS HILTON vs. (11) KIMBERLY STEWART
AT LAST WE MEET AGAIN. Former bffs and current potential frenemies Paris Hilton and Kimberly Stewart have probably had 7-10 catfights over who looks worse today already, and we certainly hope they're at home right now, clearing their laptop cookies and voting over and over again -- though for themselves, or for the other is the question.
It is hard to beat the woman behind this unfortunate run-in with static cling: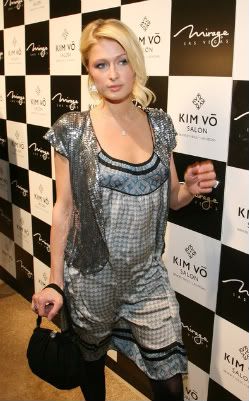 And, you know, behind every other heinous crime against humanity P. Hilton has committed through the medium of sweet, innocent clothing.
Kimberly is doing her best Rocky imitation in preparation for this epic battle of the blondes: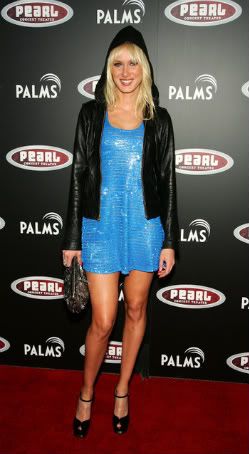 Cute shoes, though. And at least she's not wearing this anymore. Or this, from when she was engaged to Talan for ten minutes, remember that? And then they broke up? That was kind of entertaining, now that I think about it. God, if we were doing Crazy Broken Celebrity Engagement Madness, they'd ALSO both be in the hunt.
Posted by H & J at 10:00 AM in Fug Madness | Permalink | Comments (122)
Fug Madness 2008: Cher, Round Two
Just a reminder as we head into Fug Madness Round Two: Feel free to judge the contestants on whatever criteria you deem best -- but remember, don't vote based solely on the photos we choose with each entry. They're merely there to serve as examples of a larger body of fug. Now, please, commence warming up your voting finger...
(9) PAULA ABDUL vs. (16) COURTNEY PELDON
I am starting to wonder if Paula Adbul is a long-lost Peldon. Think about it: They're both crazy-bad dressers, they are both people we imagine Simon Cowell would rather eat beetle-crusted knives than speak to on a daily basis, and neither appears to be terribly talented at anything other than standing up for a few minutes at a time and smiling while waiting for the flashbulbs to stop.
Yes, Paula has those hit songs of yore, but if we're being honest, they weren't really good because of HER specifically -- J.Lo could've released "Straight Up" and it would've sounded almost the same. Really, P.Ab is just lucky she found someone to pay her at this late and loony stage in her career. If someone would stick Courtney Peldon in a video with an animated cat for three minutes, she'd be equally qualified to be a talent judge -- say, on Randy Jackson's Sweet-Ass Dance Crew That Is Stepping Up And Serving You, or whatever it's called. I think we'd soon see her emerge as a real Paula Jr. Then they could maybe play mother and daughter in some amazing TV movie about how vodka and curling irons don't mix.
There's even common ground in their dress sense:

Both of these look like rejected Disney Princess outfits that were last spotted on a crumpled piece of paper in somebody's office trash can. If they'd been at the same event, we could easily imagine Paula and Peldon bumping into each other in the bathroom line, checking each other's teeth for spinach, and then merrily deciding to trade outfits on a lark. Probably, no one would even bat an eye. They're both bonkers. In addition to the case made for (against?) Paula in her first-round matchup, she has betrayed herself with pants, played peek-a-boob, and smooshed her cleavage into oblivion.
As for Courtney... well, it's well-documented that she's once, twice, three times a fugger. What to do? WHAT TO DO? And are we SURE they're not related somehow?
(4) RIHANNA vs. (5) FERGIE
After a long while of simply not getting her at all, Fergie has finally grown on us. There's a lot to be said for how she copped to urinating all over herself on-stage -- like, "Yes, I did it, I couldn't think of a better idea at the time, and let's all just laugh and move on," which is refreshingly candid; however, every other soul on this planet who is potty trained (and possibly some who aren't) could most likely have come up with an alternate course of action. Pants-wetting is never the answer.
However, I'm not going to lie to you: Sometimes, it hurts a little to know that Josh Duhamel is legally cleaving himself to a woman who wore these bangs.
The skintight jeans, rubber shirt, and terrible sock-sandals are no afternoon on Lake Como either. Fergie is an odd lady -- sometimes she looks refined, and others, she alternates between letting it all hang out (seriously, a whole lot of it), and cramming herself into horrible high-waisted, suspendered jeans and passe overalls.
Her opponent here, Rihanna, is no stranger to either hair experimentation or ill-advised pants.
Those things add ten pounds, easily, to her tiny frame. The top looks like either the bodice to a potentially cute cocktail dress, or the kind of modest swimsuit our relatives in The Olden Days might refer to as a "bathing costume." And the hat... well, it's tough. Some people are into hats for fashion; others, like me, do not care for them at all, which is why I can't help wanting to rip the skull-sweater off her head and remind her that unless the studio is zero degrees, she doesn't need to keep warm that badly.
But it's undeniable that Rihanna has an innate cool that almost pulls off things we would otherwise hate (and maybe still do anyway). Her awe-inspiring gallery of Grammy-week outfits is both proof of that and confirmation that not every risk she takes is flattering or attractive. Ditto this little number. And let's not forget this classic piece of fuggery that involved our primary enemy: leggings.
Posted by H & J at 09:00 AM in Fug Madness | Permalink | Comments (117)
Fug Madness 2008: Round One Is Done
The first round ended on Friday with one more tight matchup, some moderately close contests, and a few blowouts -- some expected, some surprisingly decisive. If you haven't already, consider downloading and printing the full bracket, so you can fill it in as we go and track how things are shaping up.
Round 2 begins today. But first: Friday's results! Hooray! Click through to see what you've made happen, and who'll face off come Tuesday.
(2) SHARON STONE vs. (7) SCARLETT JOHANSSON

Sharon, as expected, sent Emma packing with 90 percent of the vote. ScarJo fug-whispered Jennifer Love Hewitt into the light, dispatching her 54 percent to 45 percent (again, the percentages are wonky because of weird rounding in the polling software).
(3) KEIRA KNIGHTLEY vs. (11) JULIETTE LEWIS

Kirsten Dunst's dreams of flaunting the fug in Round 2 came to a crashing halt when she ran into Juliette, who inspired 83 percent of you to vote her past the oft-braless Kiki. Juliette will now face off against Keira, who beat back a stern challenge from Natasha Bedingfield. It was up and down all day, back and forth, until Knightley snagged a slim margin in the late afternoon and never let go. She triumphed 51 percent to 48 percent against an incredibly -- and even surprisingly -- strong opponent.
(1) VICTORIA "POSH SPICE" BECKHAM vs. (9) JOSS STONE

Apparently, we underestimated how many of you cherish Posh as we do. In a matchup against Kate Bosworth that -- despite feeling convinced of Ms. Bosworth's potential for fug -- we thought would be a total rout in Victoria's favor, she only won with 2/3 of the total vote. Still, Posh avoided pulling a Lohan, and can now do as she pleases with Joss Stone, who beat Melissa George by 72 percent to 27 percent.

(4) KATE MOSS vs. (5) SIENNA MILLER

Kate Moss thoroughly trashed the hotel room of her ex-boyfriend Johnny Depp, evicting him from the competition by winning 70 percent of the vote. She now takes on boho twin Sienna Miller, who easily beat Sarah Michelle Gellar with support from 88 percent of you.
(1) MISCHA BARTON vs. (9) KEVIN FEDERLINE

This one will be a doozy. Unsurprisingly, Mischa trounced Kristen Bell by the highest margin yet, owning a massive 94 percent of the vote. She'll take on K-Fed, who sent Tilda Swinton packing with more ease than we anticipated -- he grabbed 60-percent support early on and despite dipping slightly around midday, ultimately never led by fewer than ten points.

(12) SPEIDI vs. (13) EVA GREEN

Apparently art does imitate life: In the real tournament, we had a few early upsets that led to twelves playing thirteens as well. Spencer and Heidi ripped off Tyra's wig to the tune of 55 percent to 44 percent, and will now have to get past Eva Green, fresh from booting Nicole Kidman back down under with 54 percent of the vote despite an energetic late push from Kidman "supporters" (we're not sure if they're supporters or detractors... probably a bit of both, honestly).
(2) BAI LING vs. (7) KELLY CLARKSON

Remember when we said Mischa won the most convincingly? Bai Ling has already made liars out of us. She captured 95 percent of the vote against Hilary Duff, who really should be extremely content that 4-5 percent of people bothered voting for her at all against so tough an opponent. Kelly fought tightly with Ashlee Simpson but ultimately won with 55 percent of the vote.
(3) TARA REID vs. (11) DANIEL DAY-LEWIS

Sad-sack Tara put away Ashley Olsen by capturing 88 percent of the vote. Daniel grabbed his axe and chopped down Cate Blanchett's campaign, inspiring 86 percent of you to vote for him.
Posted by H & J at 08:00 AM in Fug Madness | Permalink