March 11, 2008
LA Fugshion Week: Random Fug
All right, I suppose if you have seen The Texas Chainsaw Massacre or Hostel: Part II, then actress Lauren German technically is not random to you (assuming you could see anything through the blood). And presumably, since she got invited to LA Fashion Week, she's a familiar face to the good people at Mercedes Benz as well.
She also seems to be on a first-name basis with the entire staff at Nordstrom's juniors department.
I hear they have developed a sport out of throwing any old thing over her dressing-room door and awarding a bonus to the salesperson who convinces her to buy the dumbest ensemble. This one, prominently featuring pants that I'm pretty sure my friend Becky wore to sleep over at my house when we were in fifth grade, has to have been worth at least a $50 prize to one such cruel genius. I guess Lauren is milking the ten months she has left in her twenties, but seriously, even my nine-year old friend did better with those things -- and this was at a time when we were madly, blindingly in love with the lead singer of a-ha, wore a minimum of two Swatches at once, and wrote things like, "Stay sweet! Have a great summer and I'll see you next year! BFF 4EVA!" in each other's yearbooks. I am not sure what Lauren's excuse is.
Posted by Heather at 12:22 PM in High Fugshion, Random Fug | Permalink
February 11, 2008
New York Fugshion Week: Day Eight
All of Fashion Week was fun, but few things will match the experience of seeing this man in the flesh at a show:
I wonder how Wilmer Valderrama felt, sitting quietly as he did in his seat before Federline arrived, having read the name on the chair next to his and therefore knowing what was coming. Hopefully this conversation does not involve Kevin giving Wilmer tips on how to apply that wimpy little mohawk to his own head. And yes, for the record, K-Fed totally changed his suit in the 15 minutes between the end of Sean Jean and the time he showed up at Marc Jacobs. I can't wait until this clothes-conscious step in his evolution ultimately takes him straight down Elton John Blvd. to wearing outrageous jumpsuits and other crazy crap. Hey, it beats saucy trucker hats.
At Donna Karan, Susan Sarandon showed those plastic-faced actresses how it should be done.
We were standing two feet from K-Fedat Sean John and we didn't once want to smack him! Well, maybe because of that awful hair. But otherwise, we must really be okay with him now.
And finally, our wrap-up post, including bits and pieces we couldn't fit anywhere else and our disappointment that J.Lo didn't show up at ex Sean Combs' fashion show. Tell me that wouldn't have been dramatic.
Posted by Heather at 08:24 AM in High Fugshion | Permalink
February 08, 2008
New York Fugshion Week: Days Six and Seven
You know, it looks like we might get out of this city without an arctic blast, after all. We were afraid to hope.
This woman is afraid of nothing.
I would be afraid, for instance, of: Diet Coke, marinara, city grime, potato chips, fruit, energy bars... pretty much anything. It takes a lot of guts to wear that much glaring white. Of course, it also takes guts to wear high-waisted jodhpur-like pants. With a belly shirt. I'm pretty sure they stuck poor Tiffani Thiessen in stuff like this both on Saved By The Bell AND on Beverly Hills, 90210, and so all Ali's really done here is a) look really dated, and b) remind us of an actress we like a whole lot more. Also, I can't figure out why Ali Larter wears so much white -- she does it with dresses, too, and it's not that flattering to her skin tone. I suspect this all began with Varsity Blues, when she wore that whipped-cream bikini and decided to make that her style inspiration for the rest of her life.
Posted by Heather at 09:10 AM in High Fugshion | Permalink
February 07, 2008
New York Fugshion Week: More Day 5 and Some Day 6
Is it already Day Six? Does this mean we get to sleep in our own beds again soon? Although we're quite giddy after today's champers-fueled event at Marchesa, at which we got to bask in the warm glow of a hugely pregnant -- and two weeks from popping -- Jennifer Lopez.
Watching her swell with child has been truly fascinating, considering this is a woman who's rear end has been the subject of national -- and probably international -- fascination. We're happy for her and she looks healthy and happy, but we still can't stop studying the effect pregnancy has had on her face. Don't get us wrong, she's still pretty, but instead of looking like J.Lo, she looks a bit like a J.Lo impersonator who went too crazy with the collagen (and occasionally, in some shots, like Valerie Bertinelli, but only from specific angles -- trust me on that one; I'm not nuts, or at least, I don't think so, but then again neither does Britney so whatever). At any rate, we were kind of embarrassingly excited to see her so up-close and personal. In Los Angeles you're not supposed to look like you're noticing the celebrities out in the wild, but at Fashion Week, it's your job to ogle. Bless.

Posted by Heather at 08:01 AM in High Fugshion | Permalink
February 06, 2008
New York Fugshion Week: More Day 4 and Some Day 5
It's been an eventful Fashion Week full of wonderful lessons -- for one thing, we realized that since we last saw her, Brittany Murphy has turned 65.
Congrats, sweetie! And good luck in the shuffleboard tournament next week.
Posted by Heather at 08:02 AM in High Fugshion | Permalink
February 05, 2008
New York Fugshion Week: More Day 3, Some Day 4
Oh, Miss Tyra, you do amuse us so. We like to call this touching portrait A Girl And Her Twinkie:
Gotta respect a woman who not only puts greasy baked goods in her mouth, but thinks it's fun for it to happen on camera. And also, I know some people out there want us to stop yapping about Miss Tyra's wig or weave or whatever we feel like calling it that day -- it could be both, or neither; it is all things, and yet it is nothing -- and we do feel you. We do. But seriously, HOW do you expect us to do that? How? We are but mortal. We adore her crazy hair. It's impossible to resist discussing something that looks so heavy and itchy and as if it was recently shorn from the business end of a horse. So, with apologies to those non-congratulators, we not only can't not reference it, but in fact, it gets its own affectionate section in our book -- which, shameless plug ahoy, hits stores today. The City of New York is courteously throwing a parade to honor the occasion, although I think there is some nonsense about us sharing the party with Michael Strahan and Eli Manning. Pish. We call shenanigans on that.
Here's what we were up to while Tyra was romancing her snack cake:

Posted by Heather at 08:02 AM in High Fugshion | Permalink
February 04, 2008
New York Fugshion Week: Days 1, 2, and 3
Yep, it's that time of year again: Fashion Week in the Big Apple, minus the arctic blast, plus a few drops of freezing rain here and there, and multiplied by a hometown Super Bowl win (and to think people doubted us when we picked Eli to win the battle of the quarterbacks!).
As usual, we're going to try really hard to update when we can, but if we're not as frequent as usual, please bear with us -- we'll be back home this weekend and working on our regular schedule. In the meantime you can always get a fug fix by wandering over to The Cut, New York magazine's fashion blog, where we're posting our dispatches.
Again, we promise we'll put up a post here and there when we get a second to breathe, but if our best efforts aren't enough, we'll totally be back on track beginning Monday. I mean, we can't leave Intern George to his own devices for THAT long. He'll make origami swans out of all the paper towels, and those things can really pile up fast.
Posted by Heather at 09:02 AM in High Fugshion | Permalink
September 18, 2007
London Fugshion Week: Tara Reid
I feel like we've asked this question before, but I'm compelled to pose it again: SERIOUSLY, didn't she supposedly get those things fixed?
And if she did get 'em taken care of, why is she not now taking care of them? We appreciate that she is trying to be perky, but the one on the left appears so embarrassed that it's trying to take shelter in her armpit, and the one on the right just looks too depressed to do anything but sulk. It was a fixable issue, too -- a better dress, a little underwire, and we'd have been off to the races. Obviously, the cautionary leaflet her surgeon gave her -- Don't Be A Boob About Your New Boobs, sponsored by Playtex -- is lying in a crumpled heap in her car next to the Us Weekly issue in which she exalted how all that corrective surgery changed her life.
Still, I can at least take comfort in the fact that, with Tara Reid back to being kind of a mess, the world is apparently back to turning properly on its axis.
Posted by Heather at 08:59 AM in High Fugshion, Tara Reid | Permalink
September 13, 2007
New York Fugshion Week: Day The Last
And, we're done: 40 shows, eight days, several bagels, and two swollen suitcases -- each -- and we're finally heading back home. Our feet are seriously jacked up at this point; this is what two L.A. girls get when they bring their high heels to New York and try to enjoy it as a pedestrian city. There's always that one day where you think you can walk a little further before changing into walking shoes, and you are always grievously wrong. Life is hard.
We're traveling today and will be back for real tomorrow, just in time for the weekend... which, thoughtfully of Hollywood, involves watching the Emmy Awards and praying for widespread insanity to rip through town and addle the fashion judgment of TV's finest.
In the meantime, here's a brief clip show of how we closed out the week in the City That Never Sleeps:
As for Mrs. Marc Anthony, well, we wish she'd spent more of her design budget on the actual clothes instead of the kooky production values: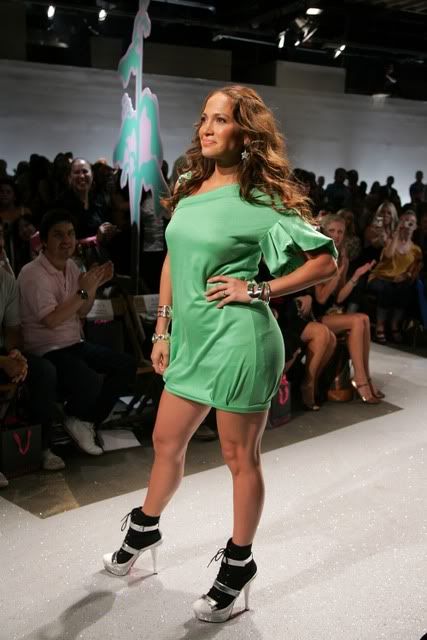 "Madre de Dios, I did it!" she is thinking. "I have beaten Target at its own game! Take your Proenza Schouler and your designer lines and smack them in the cojones, bitches! I can give you cheap hems and nipples and like you've never seen! DRINK IN THE MAJESTY and ask me later how I did it all for $5! Adios! HA HA HA HA! Shit, why is Marc drinking V-8? He knows I hate it when his fangs are red."
Posted by H & J at 12:00 PM in High Fugshion | Permalink
September 12, 2007
New York Fugshion Week: Jennifer Lopez
ROBERTO CAVALLI: What a marvelous caftan. If I could smile, Jennifer, I would.
LA LOPEZ: Gracias, my tiny robot friend, you are too good to me.
CAVALLI: That outfit eats you in an explosion of frumpy glee. It looks like you're going to a polo party in the middle of the handbag section at Saks. I no longer need your mortal sleep, but if I did, your caftan would be a dream.
LA LOPEZ: I can't even let you SEE my hair, though, Robert. Dios mio, what a week! Between the parties and the preparation for my fashion show, I haven't even had time to wash my hair in Evian, like normal! I've been using tap water! Like a savage!
CAVALLI: ... Ooh, yes, savage! It's a SAVAGE dream! In which the Chrysler building pierces my navel while Salvador Dali watches. It's magic. Do you do parties? I must strongly consider stepping closer to you.
LA LOPEZ: Sigh. Could somebody please reboot him? Marc never needs to restart until dawn. I miss his wee undead cheekbones.
Posted by Heather at 08:45 AM in High Fugshion, Jennifer Lopez | Permalink