March 20, 2007
L.A. Fugshion Week: The Janice Dickinson Fugging Agency
According to TMZ, my beloved Janice Dickinson has been banned from several shows at Los Angeles Fashion Week, following some shenanigans of some sort.* (Janice? Shenanigans? Shut your mouth.) While I was sort of surprised to read that Janice had actually been barred from any event -- seriously, have none of the event organizers read her books? They are hilarious. She is a national treasure. A probably drunk, definitely unpredictable trainwreck, but a treasure nevertheless -- I wasn't surprised to hear that she was in the news thanks to her LA Fashion Week behavior, as I had already seen the pictures.
This is the week that Janice demonstrated why a dress can be dangerous if you've been [ALLEGEDLY, POSSIBLY, MAYBE, PERHAPS] imbibing: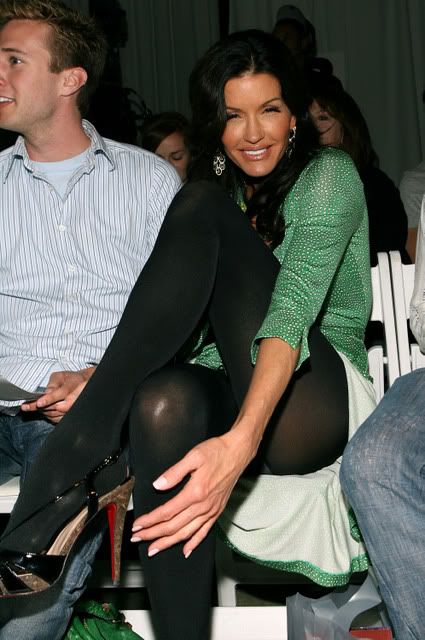 Don't do that in a dress! Especially in a wrap dress! Those are tights -- not leggings, not trousers, not jeans, not shorts. They have a visible cotton crotch. I don't need to see Miss Janice's cotton crotch.
OR her ass: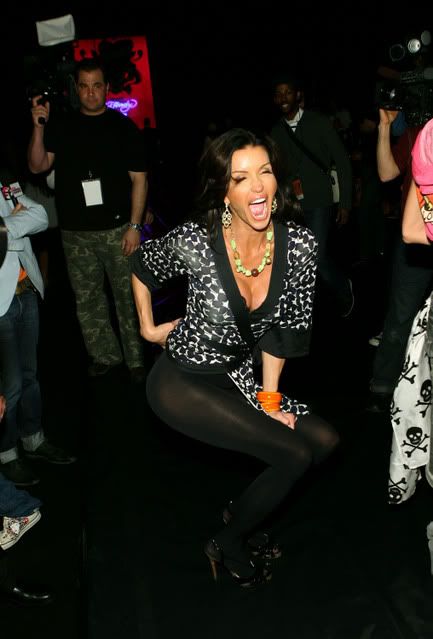 Look, at least the girl knows how to enjoy herself, and both of these dresses, on their own merits, are really cute. But this is taking the danger inherent in a wrap dress (every time I wear one, I worry that it's going to flap open and expose me to the elements) and just gamboling all over it. I wasn't aware that I had to actually say this, but KEEP YOUR DRESS DOWN OVER YOUR ASS IN PUBLIC. Yes, even you, Janice.
*We've since heard from Janice's peeps that this rumor is not true, and thank goodness. LA Fashion Week is already kind of a snore. Banning La Dickinson would have been the nail in the coffin.
Posted by Jessica at 12:15 PM in High Fugshion | Permalink
L.A. Fugshion Week: Fug DJ
I am totally a fan of Robbie Williams, and I've often wondered why he hasn't done better in the United States. He's so talented and charming and funny: the episode of Cribs where he passes off Jane Seymour's house (well, manor. Castle. Whatever) as his own is particularly brilliant. However, all that being said, I do wish he would wear a proper shirt when he leaves the house: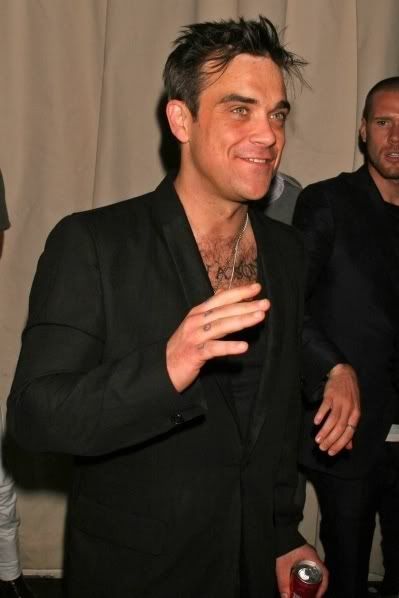 Because this is less Sexy Insouciant Pop Star Out On The Town and a little more Transient Out In Your Alley.
Posted by Jessica at 10:25 AM in High Fugshion | Permalink
L.A. Fugshion Week: Well Played, Winnie Cooper
Okay, maybe it's not totally fair to call Danica McKellar by her Wonder Years alter-ego's name, as if she has never achieved anything else in life, but seriously, it's a compliment. Who didn't love Winnie Cooper and her pretty, pretty long hair? We all hoped she and Kevin Arnold would get it together, because -- to mix references for a second -- they were clearly each others' densities. Plus, the trivia that half the reason the characters ever had a falling-out was because Danica's growth spurt came faster than Fred Savage's and they didn't look right together is really kind of hilarious.
But then Danica McKellar decided to do something unusually ambitious: She dropped out of the public eye and went to college, and not only turned out to be some kind of math genius but actually helped prove a new theorem that now is named after her. Suck on that, Good Will Hunting. There aren't too many ways to top that, unless NASA decides to rechristen one of its shuttles "Danica," or somebody discovers a new constellation that clearly depicts her image. Me, I'd settle for having Diet Coke rename itself after me, but since "Diet Cocks" isn't really all that appealing-sounding (and yes, that is how you spell my last name, for real, and no, I was never a man) I can't see it ever happening.
At any rate, apparently Danica McKellar came from a blessed gene pool. Because aside from all that mathematical excitement, and her robust brains, she also grew up very lovely.
Normally, something about this dress would scream "lingerie" at me in an annoying, high-pitched wail, but Danica looks fantastic in it. And those shoes! I covet those shoes. I'm sure that's one of The Next 10 Commandments -- "thou shalt not covet thy fuggee's footwear" -- but, for one thing, I'm not fugging her per se, and for another, shove it. Those are fantastic. And Winnie is a knockout. Just imagine if the show were doing a reunion movie, and all the long, longing glances she and Kevin would exchange in order to make room for the pages and pages of yearning voice-over Daniel Stern would need to provide. I kind of wish it would happen, but I don't know if I could really cope with it emotionally because I burst into tears during the finale when it was revealed that Dan Lauria's Mr. Arnold died soon thereafter -- his gruff but lovable character, flaws and all, was the one that wrenched my heart the most whenever his kids got all uppity with him, and it always made me want to go give my dad a huge hug.
Not that this has anything to do with how hot Ms. Cooper-McKellar turned out to be. I'm just saying, I'm a giant softie, and also, I just checked and thank GOD, Dan Lauria himself is still alive. And I want her shoes.
The end.
Posted by Heather at 08:40 AM in High Fugshion, Well Played | Permalink
March 19, 2007
L.A. Fugshion Week: Maria Fugita Alonso
Why is Maria Conchita Alonso on the floor?
Her dress might be sort of cute, if she weren't busy obscuring it by genuflecting to the photographers at L.A. Fashion Week. Perhaps she's trying to prove the girls are legit, or perhaps she's suggestively trying to see just how deeply one dandy lensman's zoom can penetrate. Either way... we really just wish she'd get up, because it seems a bit needy and sad, and also, we're sure whichever random starlet she borrowed the knee pads from could really use them back.
Posted by Heather at 12:30 PM in High Fugshion | Permalink
February 11, 2007
New York Fugshion Week: Day 8, The Final Frontier
And we're back! We had a last bit of fun at Tommy Hilfiger -- a show we didn't expect to pan out into anything, but which ended up yielding a semi-fresh crop of people that did not include Alice Cooper, unfortunately -- and did a wrap-up post with some bits and pieces that didn't make it into the other daily stuff, and then we hopped a plane and flew back to warmer climes.
So what did Los Angeles do to welcome us back? Why, it played host to a 12-hour cold, rainy front, with the clouds settling in almost exactly as our flight landed. Granted, it was a brief moment of misery, but we can't ignore the timing -- we're trying not to be offended by that, L.A., but you are on VERY THIN ICE for that little piece of potential symbolism.
With thanks to the folks from New York magazine's online crew, we're now back to our regularly scheduled fuggings.
Posted by Heather at 08:00 PM in High Fugshion | Permalink
February 08, 2007
New York Fugshion Week: Day 7
The celebrities are continuing to play hide and no-seek, except for the same old faces. We wish we had great first-hand stories of catching Britney in the bathroom hoovering up something illicit, but alas, we haven't seen anything much more noteworthy than Anna Wintour acting blase when Diane von Furstenberg crouched by her seat to chat.
Posted by Heather at 08:54 PM in High Fugshion | Permalink
February 07, 2007
New York Fugshion Week: Day 6
We've seen Rachel Zoe around enough that we're pretty sure she's going to start recognizing us, figure out who we are, and have us killed and/or skinned for our impudence. Aside from fearing for our lives and a few really maddening incidents involving subway trains deciding not to run, we're plugging along and heading into the home stretch.
Posted by Heather at 08:09 PM in High Fugshion | Permalink
February 06, 2007
New York Fugshion Week: Day 5
After two days of freezing temperatures, we realized two things: We are much tougher than we thought, and wearing three pairs of socks at once is really not all that uncomfortable.
We miss updating and are eager to get back to whatever Oksana Baiul is barely wearing, but thanks for your patience. Here's a couple links, just in case any of you still think we're lying about our whereabouts and are actually sunning ourselves in Tahiti.
Posted by Heather at 09:49 PM in High Fugshion | Permalink
February 05, 2007
New York Fugshion Week, Day 4
When Accuweather.com told us that we'd be enjoying the winter-fresh breath of an arctic blast - excuse me, ARCTIC BLAST -- on Sunday, Monday, and Tuesday, we chuckled a little and assumed the forecast was just going to be wrong. I mean, they're always wrong, right?
Wrong. The weather reports promised increasing misery and subzero windchill, and boy, did New York deliver. We are currently planning to write a book entitled Fahrenheit Minus-10, so named for the temperature at which our exposed skin starts to turn pink, wither away, and fall off into the lap of Anna Wintour as we scurry past her in the tents.
However, we lived. So far, anyway. And we made it to a few more shows. Here's the latest:
Posted by Heather at 09:16 PM in High Fugshion | Permalink
February 04, 2007
New York Fugshion Week, Days 1-3
Fashion Week has been frustratingly devoid of clusters of interesting celebrities -- well, at the shows we've been to, anyway. So we've been reduced to discussing the follicular issues of Trump offspring.
JESSICA: Who's that guy over there? The press is kind of into him. He's handlng it well, too.
HEATHER: I can't tell. He has really weird hair, though. He looks kind of like an oily chipster.
JESSICA: Oh, it's a Trump.
HEATHER: So, definitely an oily chipster.
JESSICA: Aha, yeah, the girl he's with is Vanessa Trump -- she's married to Donald, Jr.
HEATHER: That must be who the dude is, then. Wow. I guess that right there refutes any argument that Donald Trump's hair is fake.
JESSICA: Seriously. He's clearly passing that mess down the line.
HEATHER: Unquestionably a Trumpian eruption.
JESSICA: Never say that again.
The Trump in question turned out to be Eric, brother-in-law to Vanessa, who kept her company at the BCBG presentation and was -- to give credit where credit is due -- very cheerful throughout the whole dog-and-pony show of getting your photo taken, shaking hands with socialites you probably don't really care about, and watching a bunch of women's clothes come down the catwalk.
Other than that, though, it's been lots of Mary-Lynn Rajskub of 24, with a healthy dose of Kelly Rowland, and a tragic missed Britney sighting at Baby Phat. Until we can update regularly, come visit us at the New York magazine blog via the Show & Talk page or the links below.
Posted by Heather at 07:35 PM in High Fugshion | Permalink