October 05, 2007
Well Played, Kirsten Dunst

[Photo: Splash News]
LAGERFELD: PET! Let me clutch you.
KIRSTEN: Hi, Karl. Dig my Ray Bans? They're so Risky Business, so Tom Cruise.
LAGERFELD: Cruising is for drunk people. DO A SHOT OF LIFE.
KIRSTEN: I think I already did -- it feels good to be out and about looking showered and cute.
LAGERFELD: How DIVINE you look. A vision in cranberry. To touch you is to cleanse the urethra. SPIN.
KIRSTEN: It's good, right? And the purple purse? I'm adorable!
LAGERFELD: If I'd never seen you before, I would say, "Dear GOD, who is that WOMAN? Send her a goldfish."
KIRSTEN: That ... means a lot, I'm fairly sure.
LAGERFELD: I can't squeeze hard enough, Miss Scarlett. Promise me you'll do it in the conservatory with the lead pipe.
KIRSTEN: You're a kick.
LAGERFELD: Kicking is for the mobile, darling. BE A STATUE.
Posted by Heather at 11:01 AM in Kirsten Dunst, Well Played | Permalink
May 08, 2007
Met Costume Institute Ball Fug: Kirsten Dunst
One thing I really love about Kirsten Dunst is that she's a lot like me when it comes to shoes: She finds a pair she loves, and she wears the hell out of them. For about three years she wore the exact same pair of heels -- in either black, red, or camel -- with every outfit, and they looked sexy, and clearly they were comfortable, so she just kept doing it. There's none of that lunacy with wearing them once and never daring to be seen in them again.
This is the second time I've seen her in these little beauties, but I'm sure it won't be the last.
However, I do hope it's the last time we see the dress. I'll be honest, I struggled with this one, because she looks so cute when she's happy, and the color is great, and I applaud her for how often she tries unusual things. But it all seems a tad... disorganized, and untailored. And, look: I know it's the Costume Institute gala, but no one else is in costume, so maybe she... misinterpreted the invitation? She looks like an eager Girl Scout who, and in the face of the rampant unpredictability of a New York gala, is clinging to the beloved "be prepared" motto. Here, she's ready for: a funeral, a wedding, a funeral-wedding, a camping trip (the gown would sleep two, no problem), a square dance with the cowboy man-child, an all-out socialite catfight with hurled drinks and torn clothes (she could make three other dresses on the spot from her train), an emergency skydive (the parachute is built in!), or an assault by a crazy head-slicing, brain-stealing supercriminal who has an itch to blow up the city (that headband is blocking his favorite cutting zone).
In that sense, I applaud her constant vigilence. Otherwise, I'm just ready to see where she takes the shoes next. Preferably, it'll be someplace where they can shine, away from miles of satin and a headband that appears to have attracted two dead bugs.
Or, it will be to my house, where she will leave them in my closet. Either one.
Posted by Heather at 02:22 PM in Kirsten Dunst | Permalink
May 01, 2007
Spiderman Fug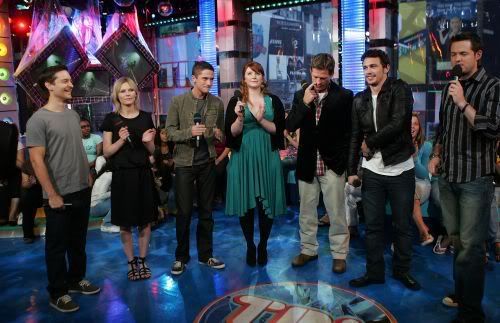 Tobey Maguire: Hey, I'm just a regular guy! Totally regular! Like Peter Parker!
Kirsten Dunst: Why am I here? I could be buying the Kate Moss line at Top Shop right now.
Topher Grace: I'm ALSO just a regular guy! But between you and me, I'm cuter than Tobey, right? I thought so.
Bryce Dallas Howard: I can't believe how big my boobs are after having my baby. My rack looks awesome.
Thomas Hayden Church: Aw, shit. I forgot to tuck in my shirt.
James Franco: I'm hot, even if I am dressed kinda like Dylan McKay: The Heroin Years.
Damian Fahey: None of the girls in the audience today even care about me. DAMN YOU FRANCO.
Tobey: That guy you dated last year totally had these shoes, didn't he? I'm so relatable.

Kirsten: I'm not sure how I feel about my shoes. I know they're sort of trendy, but I feel like an extra in Gladiator: The Funeral. I wonder if I can talk Bryce into getting a drink with me later. I'm SO BORED.
Topher: I wonder if I could hook up with Kiki after this. She looks bored. I bet I could talk her into it. I'll ask her to go for a drink.
Bryce: On second thought, I don't really like the hem on this dress. But on the whole, I look awesome. My red hair is great. I just had a baby, bitches! Suck it!
Thomas: Am I too old for MTV?
James: I wonder if they'd ever remake 90210. I would act the shit out of that story arc where Dylan finds out that his dad DIDN'T die in a fiery car bomb, but instead was in the FBI Witness Protection Program.
Damian: Is this hour almost over?
Posted by Jessica at 05:05 PM in Kirsten Dunst | Permalink
April 27, 2007
Spider-Fug 3 World-Domination Press Junket Update: So Far, So Fug
It's been quite a roller-coaster ride with La Dunst during the Spider-Man 3 press junkets throughout Europe. One day, she'll show up looking totally charming, with cute hair and shoes and great makeup that makes her eyes pop, and then -- as Jess put it -- the next day she'll show up looking like she suffered a head injury.
Case in point: There was this, which we loved, and then there was this, which gives off the impression that she's about to hop on the trapeze at a gay circus. She looked adorable in this, but we weren't so wild about this.
Or this:
Aside from the fact that the base dress would be more at home in a production of Swan Lake Erie, in which all the water fowl are poisoned by pollution, it also looks like she spilled a rubberizing compound down her front. After drinking blood. Well, actually, I don't mind the lip color so much, but in combination with the dress I feel like she's headed to an after-party at weirdest ballet-themed S&M club in town.
Next week we should get a few stateside Spider-Man premieres, and frankly, we can't wait, and are hoping she will show up in the most fabulous Marchesa gown imaginable, followed up by sticking her legs through an old barrel and filling it up with beer that she then serves to the fans. I mean, why not, right?
Posted by Heather at 02:36 PM in Kirsten Dunst | Permalink
April 24, 2007
Spiderfug 3
Oh, Kiks.
Ever since The Incident of The Glasses, I've sort of been falling in love with Kirsten Dunst. She's kooky and she often shuns The Holy Covenant of the Bra, but she seems like a good sport. Also, I just read this whole interview with her and Bryce Dallas Howard in Jane magazine and it was all sort of self-deprecating and charming and she seems to be bummed about her Boy Situation, in a very relate-able way, and she also uses the word "dude" a lot, as do I.
So, DUDE, KIKI: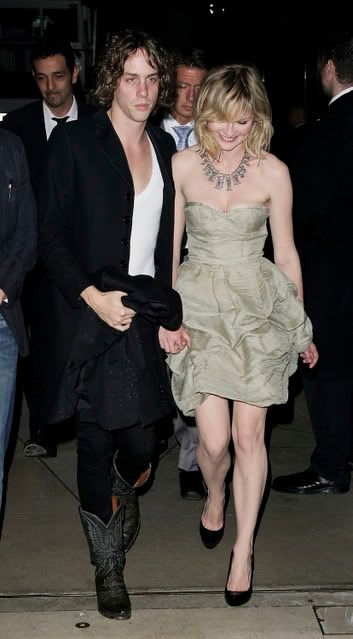 You look cute: that dress fits you nicely and your bod looks great. I'm not entirely sure how I feel about the color on you, but it's all mildly fashion-forward, you look really happy, and you're definitely working it. BUT YOUR BOYFRIEND APPEARS TO BE WEARING MAN-LEGGINGS. And COWBOY BOOTS. And a VERY LOW CUT TEE. I'm seriously pretty sure that we just saw this EXACT SAME OUTFIT on Lindsay Lohan. And I'm sure if you wanted to date Lindsay, YOU COULD.
Although I don't really recommend that. Lindsay is not in a good place right now. You don't need her drama in your life.
BUT NOR DO YOU NEED MAN-LEGGINGS.
Posted by Jessica at 02:53 PM in Kirsten Dunst | Permalink
April 16, 2007
Spiderfug 3
Sure, on first glance, it looks like Kirsten Dunst stood still while Cinderella's crack team of rodent tailors draped this fabric around her with imprecise cheese-fueled zeal. But, hey, it doesn't make her look saggy, and the color is actually very pretty, as is her makeup. So close.
Then we realized why she might have chosen this strange, fussy, flowy cut.
Kiki is merely being practical. Like any sensible woman, she is making sure she's dressed correctly in the event that she abruptly becomes six months pregnant with twins. And you know what they say: an ounce of preparedness is worth 40 pounds of figure-unfriendly fabric. Right?
Posted by Heather at 12:14 PM in Kirsten Dunst | Permalink
March 23, 2007
Fug The Cover: Kirsten Dunst
Oh, W magazine. It's been a long time since Kirsten Dunst played a vampire; it seems unfair to style her for this cover to optimize the illusion that she's spent all her time since then sleeping in a coffin. You've also managed to give her a wonky eye and a wig that looks like something Ken Paves scraped out of a gutter and then rejected for looking "too cheap." Well done! Here's hoping the article within does not reveal that she found herself at your photo shoot.
Posted by Heather at 02:06 PM in Fug The Cover, Kirsten Dunst | Permalink
October 18, 2006
Unfugging, Kind of: Kirsten Dunst
Now, as regular readers know, we generally utilize this space to make fun of people's outfits. Occasionally, we mix it up, and talk about things we do like (you know, giving credit where credit is due, and also because we like to keep you kids on your toes). This post, however, is sort of in a netherworld of neither of those things, and yet there's something about this picture that I simply could not resist: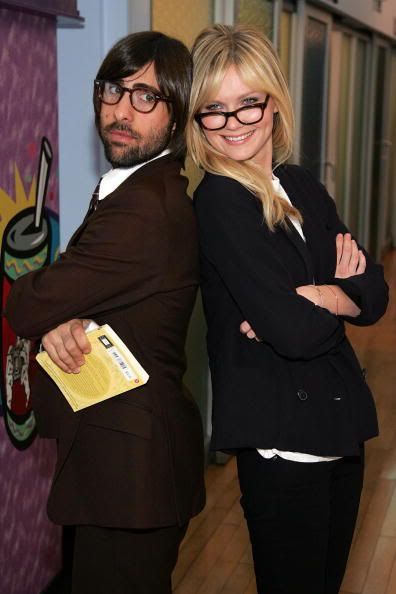 Mysteriously, I suddenly would like to see the two of them star in a kicky little rom-com about a pair of bumbling professors who find love solving murders together. I don't know where that reaction could be coming from.
I think it's because I freaking love her in those glasses. While the outfit is neither here nor there, and I know the glasses are just a jokey accessory, I seriously think Kiki should consider switching her entire look over to the sexy librarian thing, because she looks cute as a little button. (We're going to try not to address the fact that Jason Schwarzman seriously looks exactlylike my Uncle John, circa 1984. Hair, facial hair, outfit, book in hand -- the works. It's kind of scary, actually.) There's just something about the glasses that work for her here, and I have to admit, I think she looks really pert and charming. Yes. Yes, you heard me. Yes, I am actually advising fake eyeglasses as an accessory and, no, I am not ashamed. Completely crazy, yes, but not particularly ashamed. Next week: my surprising argument in favor of fake mustaches.
Posted by Jessica at 06:12 PM in Kirsten Dunst | Permalink
May 24, 2006
Fuggie Antoinette
"Father, father! Fraulein Maria's come back from the Abbey!"
Kiki may be wondering what, exactly, she has to do to get in our fashion good books. And to that I say: The skirt of the gown isn't bad, but the top -- particularly those sleeves -- looks poorly sewn and restrictive, and I'm a little concerned that she might not have seized this prime opportunity to wear a good bra (but, I can't tell for sure, so maybe that's a step forward in itself).
Still, with the reported fervor with which it's rumored she's approached her Cannes appearances -- desperate to make a splash and look as flawless as possible at every one of them -- I expected something less frumpy and staid. And, Kiki, why truss up your noggin with a red dye job and extensions just to pile it into a phenomenally unflattering Swiss Miss updo on your big night? Let the mane flow like you did at the photo call. This is no time to squander a striking, standout change and turn yourself into a governess.
Posted by Heather at 11:11 AM in Kirsten Dunst | Permalink
April 21, 2006
Fuggerman III
We haven't seen much of GFY Good Sport Kiki Dunst lately:
But it's comforting to know that even when she's laying low, chances are good that she looks mildly to moderately homeless.
Posted by Jessica at 07:58 AM in Kirsten Dunst | Permalink