August 29, 2005
VMA Fug Carpet: Kirsten Dunst
Kirsten Dunst, everyone's favorite M.D. of The Sag, danced onto the red... er, black carpet... wearing a very familiar speckled, sparkling sack-wrap:
You might remember that little number from such debacles as, "Mischa Barton Embraces Leggings; Gets Swallowed By Oversized Glittering Drapery."
One thing for which I will give La Dunst credit: She looks way better in this thing than Mischa did. For one thing, it actually appears to fit her, and doesn't look like it weighs 50 pounds as it presses aggressively down on her twiggy frame. However, it's still a droopy disaster of a gown that's one part smoking jacket, two parts bathrobe, three parts Great Aunt Betina at her 88th birthday extravapalooza, and eighty parts exactly what the doctor ordered -- if indeed that doctor is the famed Dr. Sunkentits, and the treatment in question is an antidote to overly perky breasts.
Posted by Heather at 11:10 AM in Kirsten Dunst, VMAs | Permalink
June 20, 2005
A Fugventure in Real Life: Kirsten Dunst
Imagine my glee this weekend, dear readers, when I had a real-life run-in with one of Go Fug Yourself's repeat offenders: Kirsten Dunst, or, as the clever wordsmiths on Fametracker's late, much lamented "Celebrity Anagrams" thread dubbed her, "Dr. Sunken Tits."
Heather and I attended the Rilo Kiley show this weekend at the Wiltern, and it was a veritable Fug Fest: ever so many misguided capri-length leggings and unfortunate tunic-like items. [The band, however, rocked out.] As I waited to get into the theatre, La Dunst strolled past me, wearing what I can only interpret as a gift. A gift TO ME: baggy, rolled up navy blue shorts, a man's button down shirt, an oversized blazer, shaggy, uncombed hair, a ginorous rucksack, a pashmina wrapped around her neck and, yes, cowboy boots. In the interest of full disclosure, I must add that her skin is gorgeous.
I assumed La Dunst and her small blonde friend would be whisked past me and into some sort of VIP area, so imagine my surprise when I found myself standing directly next to her during one of the opening acts -- a rather underwhelming performance by a woman who called herself "Feist."
When "Feist" asked the crowd how they were doing, I turned to my friend and said, "eh, I'm all right." And, my friends, this innocuous comment drew the wrath of La Dunst! She turned, she glared, she glowered. Friends, I came close to fisticuffs with La Dunst.
Instead, I decided to ignore her, and she managed to scramble her way down to the front of the house for Rilo Kiley. And fisticuffs were not had. Except in my mind. And, yes, the gauntlet has been thrown down. Dr. Sunken Tits, as revenge for those death rays, I vow here and now to never, never rest in my quest to find ever more grotesque and unflattering photos of you, which I will then post here for the world to see. To see, and to mock. Stay fugly, Sunken Tits: I will find you!
Posted by Jessica at 12:26 PM in Kirsten Dunst | Permalink
February 07, 2005
Glamour: All Fugged Up
British Glamour published its best-dressed list recently, and sneaking in at No. 10: Kirsten Dunst.
The magazine apparently thinks she is "quirky" -- with which we agree, if by "quirky" you mean "either saggy, or geriatric/homeless."
Check out exhibits A, B, C, and D.
Posted by Heather at 12:01 PM in Kirsten Dunst | Permalink | Comments (21)
December 13, 2004
crazy/fugliful II: uncapitalized fug boogaloo
We knew Kirsten Dunst was making a scary transition into a geriatric, but we didn't realize it was going to be so permanent: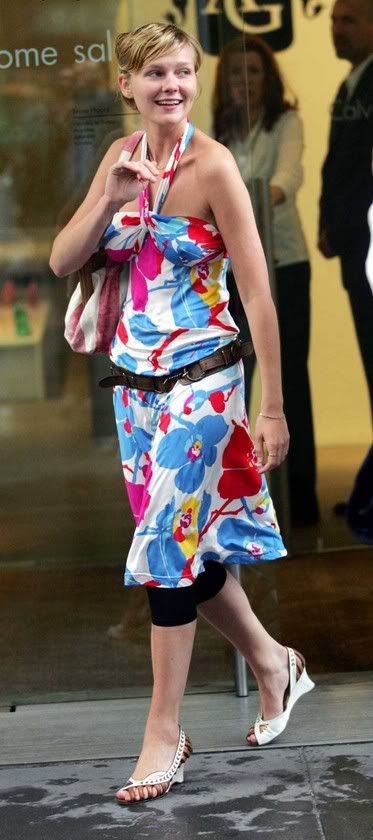 Judging by this reader-submitted photo, Granny Dunst is getting ready -- sartorially speaking -- to buy a condo in Naples, Florida, where her braless breasts can finally complete their frantic surge toward her knees. She will don her flowery frock over her jazzercise leggings, grab her bermuda purse, and shlep to bridge, not bothering to shower because Eau d'Old Lady is potent enough that the rest of the foursome won't smell the sweat.
[Also, she doesn't have time -- she has to go home first to find Edna's BeDazzler, which she's had for months even though she finished plugging her shoes with lead a long time ago. If Edna doesn't get it back then she can't loan it to Madge, and if Madge doesn't get it in time to make her denim caftan sparkle before Tuesday's Red Lobster Seniors' Night mixer, well, she'll never fork over her recipe for Stewed Pork Chops In Prune Sauce.]
Posted by Heather at 12:06 PM in Kirsten Dunst | Permalink
December 03, 2004
crazy/fugliful
Kirsten Dunst looks awfully good for an eighty-year old woman.
I mean, I assume she's 80, because of the black pulled-up socks she's wearing with flat, open-toed, brown nursing-home sandals. Also, she forgot to put on a real skirt over her slip, which is a sure sign of senility.
She's like a casual cocktail of the Olsen twins, Britney, and Lindsay Lohan, with a dash of The Crazy Old Lady Who Lives Upstairs, Whose Apartment Always Smells Like Arthritis Cream And Slow Death, And Oh, For The Love of God, Edna, Stop Trying To Feed Me Prunes.
Posted by Heather at 02:21 PM in Kirsten Dunst | Permalink | Comments (1)
November 10, 2004
Fug It On!
Hi guys, I'm Kirsten Dunst!
[Photo courtesy of Daily Celeb.
Check it out! I am so tickled that I actually made it out of the house like this! I really thought Consuela, my housekeeper, was going to tackle me on the lawn and force me to change, the way she did before the Spiderman II premiere, when I wanted to go wearing this really cute little barrel I salvaged from the dumpster behind Primarily Pickles, in Van Nuys, but I managed to avoid her this time.
So, I guess you guys have probably heard that Jake and I broke up, and then got back together and then broke up again and then totally made out in front of Jerry's Deli for like an hour yesterday? Yeah, well, what better way to make sure that he like really, really, really wants me back and like totally feels totally terrible about dumping me than showing up at an event looking totally smoking hot? And what is more totally smoking hot than this black turtleneck that I got at Banana last week layered under a fancy, fancy pinafore? NOTHING. I wish my slip wasn't showing, though. And I sort of wish it wasn't made out of burlap. But what are you gonna do, right? Am I right, girls?
WATCH OUT, JAKE. Get ready for HURRICANE KIRSTEN!
Tee hee. I can't wait to see him. He is going to be ALL OVER ME.
Posted by Jessica at 10:33 AM in Kirsten Dunst | Permalink | Comments (2)
July 02, 2004
I Blow The Nose On Her
One can only assume that Spidey thinks he's reaching for a hanky:
Ms. Dunst would like to apologize for looking like a desperate flapper who Scarlett O'Hara'ed a dress out of her grandmother's old nightie, some ribbon, and a BeDazzler. And whither the bra, Kirsten? Based on her tight-lipped, forced joviality, she finds the droopy-chest-effect just as exciting as we do.
Maybe Spiderman behind her isn't confusing her dress for a tissue at all -- he just wants to rip the monstrosity off of her and remind her that young, slim women really aren't required to dress as though they just poked their legs through a Safeway shopping bag.
Posted by Heather at 06:55 PM in Kirsten Dunst | Permalink | Comments (11)