February 01, 2008
Well Played: Kristen Bell
Well, take a look at this!
Frequent fug offender Kristen Bell looks pert and pretty and plain old adorable in something that actually fits her! I am so relieved to see that she's hopped off the 11:05 to Stumpytown and finally boarded the....huh. That train metaphor completely ran out of steam on me there. One might even say it went TOTALLY OFF THE RAILS! See what I did there? See?! Oh, dear readers, welcome...to Friday. Or as we call it at GFY HQ: Sleepy.
Anyway. What was I talking about? How much I secretly love Celebrity Apprentice because I privately find The Donald kind of hilarious? How I recently tried Alberto VO-5 hot oil treatment for the first time in years and it actually made my hair really kind of bouncy? How STOKED I am about the return of Lost? Oh, that's right: La Belle. She looks a treat, no? Check out the back:
Cute! Possibly unfastened, but still: cute. God, I feel so warm and fuzzy about this, I just want to run outside and start hugging people. I mean, I won't. But it occurred to me briefly.
Posted by Jessica at 12:48 PM in Kristen Bell, Well Played | Permalink
January 11, 2008
Well Played: Kristin Bell
Oh, fine. Go ahead and look proud of yourself, Kristen Bell:
You look cute. And non-stumpy. And your narration work on Gossip Girl is quite good. And Gossip Girl itself is quite, quite, quite addictively good -- how am I going to wait however long I have to wait until we all find out what Blair plans to do to destroy her enemies? How can I stand not knowing whether or not poor tragic Nate is going to take up with that surprisingly somewhat conniving yet still in-over-her-head Jenny? Most importantly: how can I live week-to-week without knowing what color turtleneck Chuck is wearing? How, I ask you? How? I know, I know: you'll never tell. But your dress is good, okay? Don't say I never said nothing nice about you, Bell.
XOXO
Fug Girl
Posted by Jessica at 12:23 PM in Kristen Bell, Well Played | Permalink
November 29, 2007
Well Played, Kristen Bell
Our roller-coaster of a relationship with Kristen Bell's fashion sense continues apace:

[Photo: infdaily.com]
Nice cleavage, babe! And you actually look kind of tall with that empire waist. Your makeup also perfectly complements the red in the dress, and in case I didn't mention it strongly enough before, I really meant it: Nice cleavage. Enjoy not having to wear a bra while you can, little girl. Gravity will chafe your navel soon enough.
Still, I do spy a few wrinkles -- I do still think there's a REASON "satin" is only one vowel away from being "Satan" -- but I'll let it slide because the overall effect is so good. Furthermore, the satin isn't nearly as crinkled and crunched as I've seen it before, and really, it's hard to hide from that fabric forever. Sometimes it's unavoidable, like a pimple, or Brad Garrett. You just have to accept it as part of life, learn to live happily anyway, and hope you own a really wicked travel steamer. For the satin, that is. I've never known a travel steamer to work on Brad Garrett. But then again, maybe it's just that nobody has tried.
Posted by Heather at 10:21 AM in Kristen Bell, Well Played | Permalink
November 15, 2007
Fugoes
KRISTEN: HI THERE!
HAYDEN: Hey there, Kristen... um... that's an interesting look.
KRISTEN: Let's be friends! We have so much in common. We're both tiny. We're both blonde. We're both wearing black and white. We're THE SAME.
HAYDEN: Not quite the same, maybe, though, huh? For one thing... no offense but I look kind of great.
KRISTEN: But... but I don't look stumpy!
HAYDEN: No, but the ruffle is not good, hon. It looks like a terrible bib.
KRISTEN: What? SHUT UP.
HAYDEN: I'm just trying to help. I see where you were GOING with it, but it just kind of looks like you were sniffing glue one night and decided to use it on one of your little black dresses.
KRISTEN: I don't have to put up with this. I'M GOING TO GET YOU FIRED.
HAYDEN: Good luck with that. What with them saying "Claire is the key" a lot lately and making a whole SLOGAN about how they couldn't save the world without saving me first, well, I am pretty sure they are going to laugh in your face, babe.
KRISTEN: OH, well, THEY WILL COME AROUND. Once I pitch them my promo package where they show clips of me being all sparky while "Electric Youth" by Debbie Gibson plays in the background, I will be the queen of the show and you will be FIRED and I will clean out your trailer myself with this dress.
HAYDEN: That's fitting, since I'm pretty sure the bib ruffle cost you about as much as a rag. Have fun! I'm going to go take some pictures with Milo that will make people think we might be dating, so that we can deny it some more.
KRISTEN: Oh yeah? Well I'm going to go find Evil Sexy Sark because WE are dating ALLEGEDLY and he is way hotter and more interesting, and his fake accent will make the whole world's loins explode.
HAYDEN: You have a point there.
KRISTEN: You will never beat me, little girl. GAME SET AND MATCH to ME. Bib and all.
Posted by Heather at 01:07 PM in Kristen Bell | Permalink
October 25, 2007
Well Played: Kristen Bell
It's so nice to see them get something right: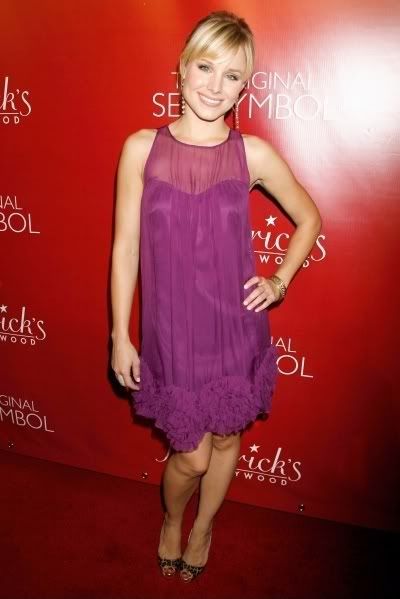 At last, at last, Wee Bell has realized that less is more on her weensy little frame! Not to mention the fact that this is an amazing color on her. Hmm, if she's sussed out the mysteries of her wardrobe, maybe it's not too much to hope that she'll manage to whip the current seriously lackluster season of Heroes into shape after all.
Posted by Jessica at 12:45 PM in Kristen Bell, Well Played | Permalink
October 11, 2007
Fugeros
Oh, Kristen Bell, I don't even know:
I mean, no one loves the whole Ruffly 80s Barbie Top more than I do, if only because it brings back memories of the Christmases of my youth, and because it makes me wonder if -- like many tops owned by Barbies of that era -- it is reversable, turns into a mini skirt, is hiding a sequined tube top, or will later be used to strangle Dream Date Ken to death after it is revealed that he is ALSO squiring around Tracy, of the Tracy and Todd wedding dolls. (My Tracy and Todd endured a terrible tragedy, namely that the rubber band holding his lower body to his upper body snapped while they were dancing at their wedding reception -- a lavish affair in my family's TV room -- and she found herself married to a bitter paraplegic and sought comfort with that cad Dream Date Ken.)
Equally tragic is K. Bell's insistence on wearing her Barbie top with a poufy tulip skirt, thus making her look rather like an oversized black and white cookie.
You're a TINY LITTLE PERSON, but that doesn't mean you get to flout the old "Balance Something Overwhelming With Something Very Very Whelming Indeed" rule. This is Overwhelming Plus Overwhelming and while I LOVE the shoes, GIRL, you NEED to stop wearing things that CUT YOU OFF. Even that ass Dream Date Ken knows that.
Posted by Jessica at 12:13 PM in Kristen Bell | Permalink
September 19, 2007
Gossip Fug
With apologies to those of you attending this production of RYAN AND REESE: THE MUSICAL!, tonight the role of Reese Witherspoon will be played by Kristen Bell: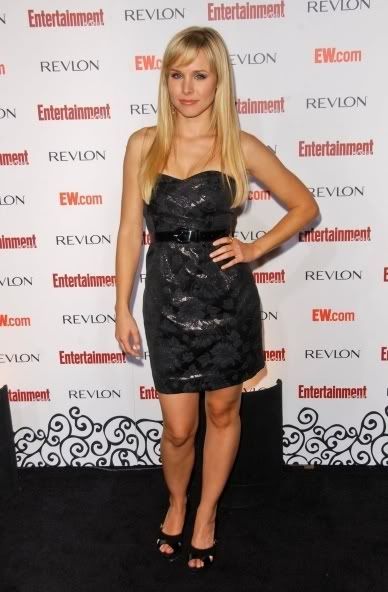 The management thinks you'll agree that Ms Bell is currently a remarkable facsimile of Ms Witherspoon, circa The HA! IN YOUR FACE, RYAN! Years, which we think will prove especially effective in our big Act II number, "Abbie Cornish? (What Is She, A Game Hen?)" as well as in the finale, where she and Jake Gyllenhaal (played by Peter Sarsgaard) ride off into the sunset in a flying car. We thank you for your understanding in this matter, and hope you enjoy the show!
Posted by Jessica at 10:58 AM in Kristen Bell | Permalink
September 17, 2007
Emmy Awards Fug Carpet: Well Played, Kristen Bell
So, we've given the erstwhile Miss Veronica Mars a hard time around these parts, to the extent that I actually checked to see if she had her own category (and if this entry had gone the other direction, I suspect she would have gotten herself one). But lo and behold if she didn't show up at the Emmys wearing a dress that works on her wee proportions, in a beautiful, flattering color, which doesn't appear to have been purchased at Granny Gretel's Dress Emporium and Denturteria: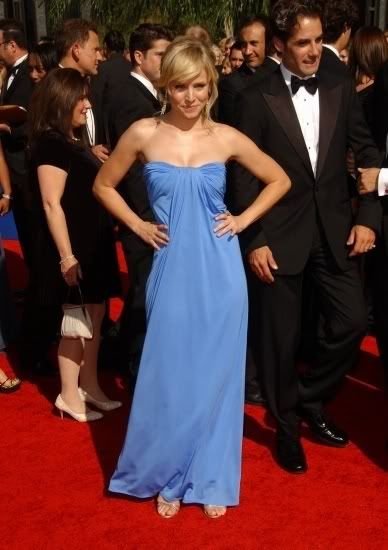 She is working it. Even Adrian Pasdar behind her appears to be thinking, "thank God that little Veronica Whoshername girl pulled out the stops tonight! I wonder if I can get her to talk some sense into Hayden. Speaking of attractive people, I'm certainly a handsome man, aren't I? I am. Debonair, even. Not many men my age can grow hair like this. I suspect I'm actually out-tressing Dempsey. He's here tonight, don't you think? I'm going to find him and pay people to debate which of us have a better head of hair. Watch out, Loverboy. Here I come."
Posted by Jessica at 02:24 PM in Emmy Awards, Kristen Bell, Well Played | Permalink
June 27, 2007
Well Played: Kristen Bell
Oh, Kristen Bell. We've had some hard times, no? So I'm pleased to note that this time, we're handing out love nuggets, rather than hate kernels.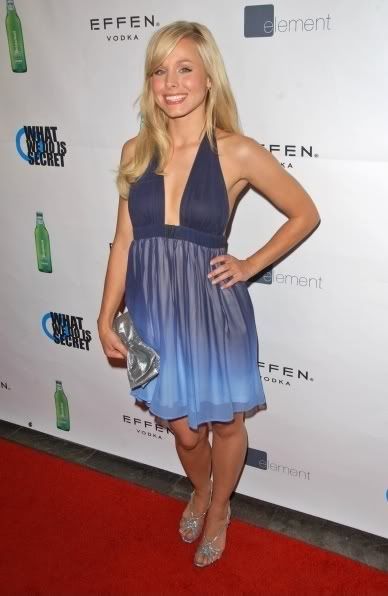 Okay, I don't really like the bag, but that's just because it reminds me of one of those huge bows attached to a barrettes that some of us used to sport in junior high (EVERYONE DID AT THE TIME, OKAY?) But seeing as you're not wearing it in your hair, I'm going to let it pass, and instead give you some props for rocking a summery, flattering dress that is actually not overwhelming your wee little frame. Shall we enjoy this uneasy truce while it lasts? I fear you may show up for Gossip Girl press wearing a fez.
Posted by Jessica at 08:42 AM in Kristen Bell, Well Played | Permalink
March 29, 2007
Fug Madness!
I am beginning to think that either Kristen Bell or her stylist or both of them are suffering from some kind of body dysmorphic disorder wherein they think she is way, way bigger than she actually is. Because Kristen Bell is a teeny tiny little teeny person and yet whoever picks out her clothes for her everyday seems to think that she's about ten feet tall. Like this:
I actually kind of like her top. It's so LOUD and retro and Palms Springs-y, and I have a weakness for loud, retro, Palms Springs-y tops. But MAN ALIVE is it overwhelming on her frame. I think she's wearing it with slim jeans, and rightly so (it's hard to tell in the picture), but I honestly think she's just too small to wear something this bold in both cut and print, period. It's just not flattering and I can't really think how she could ever pull it off. If it were a solid color, sure, or had either the billowing cut in the body of the shirt OR the big sleeves but not both, maybe. But as it is, she just looks like a little girl playing dress up down at her grandma's condo by the golf course. Next, maybe Grandma will let her drink some General Foods International Coffee and pretend to smoke a cigarette out on the lanai!
This isn't an isolated incident, either. La Bell is almost always wearing something that looks far too big on her. Like earlier this week, at the Neiman Marcus event that's yielded so much material for us lately: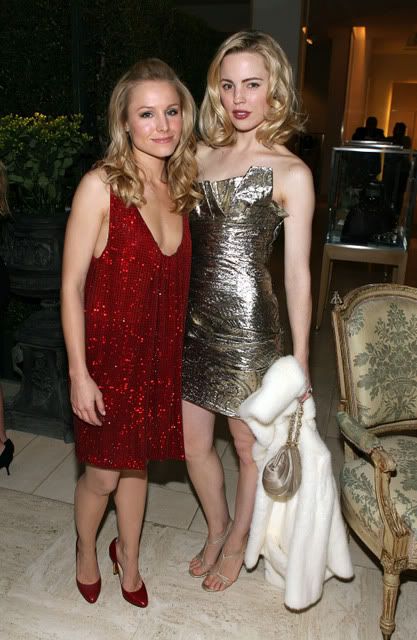 "I'm wearing a red sequined sack!" she says. "I fashioned my dress out of one of those old school sun-reflectors people used in 80s movies to fry their faces to a crisp," Melissa George says. "Together, you need sunglasses just to look at us!"
For serious, Kristen, you are just overwhelmed in that thing. Which is a real shame, because you can rock the red when you get the cut right: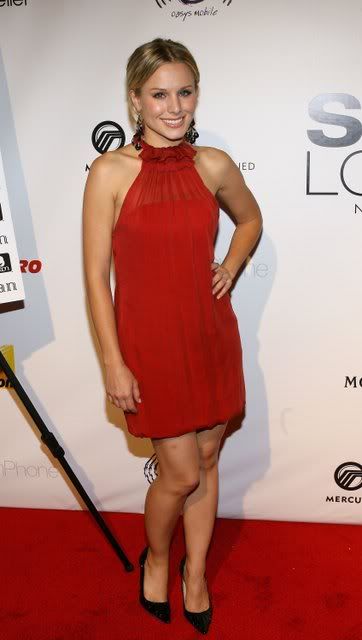 So much better! And while I actually like the sequins on the first get-up (see: my secret love for clothing that might actually be costumes -- I'm not joking, I have a pink and gold lame brocade coat and I wear it. In my defense, the lame is pretty subtle. Okay, I know that's impossible. And yes, I know that I just lost what little credibility I ever had, but I think we'll all manage to go on. Maybe, now that I have destroyed said credibility, I shall go on in a turban of some sort!), this silhouette is so much more flattering to her body. Because we can, you know, see it.
So, get thee to a tailor, little Miss Mars. Start getting things taken in and up, so we can all admire your cute little shape. Then we'll go out shopping for floral print muumuus together and we can discuss why YOU think Veronica Mars is so much more annoying now than she used to be. I have some theories I'd like to get your thoughts on.
Posted by Jessica at 03:24 PM in Kristen Bell | Permalink