September 22, 2006
Well Played: Kristen Bell
We have fugged Kristen Bell a lot. So this is going to be a refreshing change: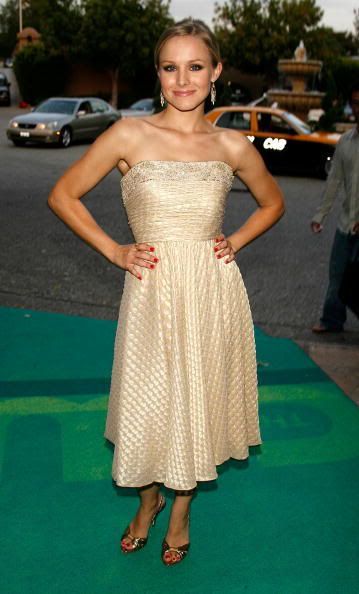 Heather and I saw a fair amount of La Bell when we were at Fashion Week, and it seems like she learned a lot from her stint there -- and she didn't, thank god, pick up that she should put on some shiny silver leggings. Simply put, I love this: I love the color on her, the cut works with her petite little frame, the hair is good, the nails are good, the shoes are good -- it's all good. It's simple and flattering, but not boring, and best of all, it's not too overwhelming on her, which is traditionally where she goes off course. Yay!
See, we're not bitches all the time.
Posted by Jessica at 12:02 PM in Kristen Bell, Well Played | Permalink
August 21, 2006
Teen Choice Awards: Kristen Bell
From the desk of Ned Sofanegra, WHEE! Entertainment's online gossip columnist:
WHEN: Sunday. WHERE: The Teen Choice Awards. WHY: Aw, jeez, I may not be the youngest buck at the rodeo, but who doesn't want to sneak a peek-a-treat at the hottest of Hollywood? We're tawkin' brunette Britters, blonde Brittany a-twitter, and Sophia Bush no longer bitter. Plus, more Jessica's than you can fit in a bathroom stall.

And so that got me thinkin': Who would these sass-packed starlets want to spank over an open toilet? And who better to ask than TV's snarkiest sleuthy cutie.

"I don't understand a single word you're saying," said Crimson -- oops, Kristen -- Bell.

Nuts -- these cagey types just don't understand a good wish-and-bitch sesh, no? But I pressed on: "Tish and pish, you delish dish -- I'm saying', if you could palm a pouty, pert patootie, whose would it be?"

But K.B. didn't let me get the answer so E.Z.: "I have to go talk to, um, Kevin Federline," she said.

The dark-rooted cutie with the primly covered booty stalked, rather than rawked, the red carpet in an old lady's canary-yellow blouse and pants with a zipper so long it's already in syndication. And so while she hoofed away like a show-pony -- trying not to trip on her prim pants hem -- I called out to the Veronica Mars honey-pie, "Would you ever date a man as old as your fashion sense?"

She didn't answer. My bet? Depends which one, if you get the incontinent implication. I mean, which ornery oldie -- short of Jack himself -- would live long enough to work that zipper to its end?
Posted by Heather at 03:08 PM in Kristen Bell, Misc. Awards Shows | Permalink
August 11, 2006
Regular Fug Friday: Kristen Bell
The purpose of our occasional Freaky Fug Friday feature is to spotlight somebody whose unusual choice -- a choice we still might not love -- is managing to work for them. It could be subtitled, "When Marginal Taste Works," except for how that phrasing is incredibly clunky.
So, we were throwing Kristen Bell a bone this morning. And although we don't like to feature somebody twice in one day, it does appear Kristen Bell has thrown it right back at us and cracked us in the nose. [She's a wee thing but her aim is deadly.]
Here she is at the premiere of something called Pulse:
What moldy costume shop ejected this? I'll give her that she looks very slim in it, but the collar-and-cuffs detail looks nappy and worn, and the bottom half of the skirt -- from which there is a thread snaking out onto the red carpet like so many cobras on a jetliner -- bears the wear-and-tear of a thousand high-school actresses dragging it around backstage and inadvertantly stomping on it as they tread the boards.
She's also not doing herself any favors with the bright white purse and that abdominal explosion of a flower at her waist -- when you put something that stark next to a dress that's a few shades darker, the effect makes the outfit look like it hasn't been dry-cleaned since somebody's great-grandmother wore it to her wedding.
It pains me to rip the "Fastest Backslide" award from Tara Reid's grubby hands after her recent and speedy skid from unfugging to uberfug, because what else is Tara Reid going to win? And yet, Kristen takes the prize.
Posted by Heather at 11:59 AM in Kristen Bell | Permalink
June 22, 2006
Fugten Bell
Many happy returns to Kristen Bell of Veronica Mars, who, despite her birthday being in mid-July, apparently turned 82 last night at the Superman Returns premiere:
Now, most grandmothers wear that kind of smock either while shuffling around the house making some kind of pork-chop-and-prunes special recipe, or out to the hairdresser with white slacks and natural pantyhose poking out of clear plastic open-toed sandals. Props, then, to Granny Bell for showing a little leg as her tentlike Palm Beach couture billows around her.
But, psst, Kristen! Don't be late for bridge! Marge is bringing her famous date-topped Jell-o salad!
Posted by Heather at 12:24 PM in Kristen Bell | Permalink
January 17, 2006
Golden Globes Fug Parties: Kristen Bell
Stumpy is the watchword: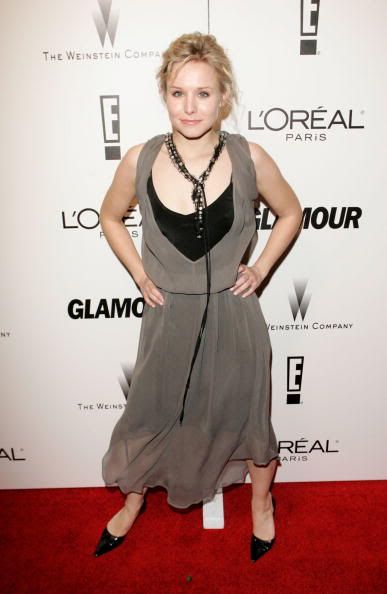 For real, Bell. You're as cute as a sassy little pixie, but when you're five foot nothing , it does you no good to bury yourself in smog-colored gauze, kinda maybe belt it, throw on a lairet and call it a day. You're all lost under all that stuff.
Or wait. Maybe you're undercover. Maybe someone at the Globes killed your stylist and you're in disguise and on the case. That explains a lot.
Posted by Jessica at 10:42 AM in Golden Globes, Kristen Bell | Permalink
August 15, 2005
Teen Choice Awards Pre-Party Fug: Kristen Bell
So nice of Kristen Bell to dress up for this occasion:

[Photo by Daily Celeb.]
From the waist up, it's Flashdance; from the waist down, Dancing With The Stars. At the afterparty, I hope she felt up John O'Hurley's crotch with her foot during a steamy paso doble.
Posted by Heather at 11:56 AM in Kristen Bell, Misc. Awards Shows | Permalink
April 27, 2005
Veronica Fug
Kristen Bell is an adorable girl, but this bermuda shorts thing has GOT to stop:

[Photo courtesy of Daily Celeb.]
First, just because against all odds some 1980s fashions have come back in style, it doesn't mean we have to embrace EVERYTHING that was popular in that decade. Second, linen shorts? With that Joan Collins top? Tsk tsk, Kristen. Alexis Carrington Colby Dexter Rowan would be horrified.
Posted by Heather at 02:39 PM in Kristen Bell | Permalink