April 16, 2008
CMT Awards Fug Carpet: Fug Or Fab, Paula Abdul
Wow, Paula Abdul looks kind of great.
That's a nice, rich color, and I love her hair.
Of course... the sleeve is sliding off her shoulder on one side, isn't it? And the sparkly embellishments look a tiny bit like Spider Man threw a tantrum in her limo.
But it's PAULA, you know? I feel like it's a blessing if she even manages to wander into the correct party, on the right day, using real words in a believable order.
Posted by Heather at 10:05 AM in Fug or Fab, Misc. Awards Shows, Paula Abdul | Permalink
April 15, 2008
CMT Awards Fug: LeAnn Rimes
A comment we often make about LeAnn Rimes is, "Well, considering she grew up in the industry, she seems pretty normal, and somehow she got into her twenties without flashing her chamber of secrets all over town."
Here's hoping that was still true once the CMT Awards ended.
Wow, right? I'm also deeply unimpressed with the orthopedic Tin Man clodhoppers she's got on her feet, but mostly, I'm hoping that if LeAnn pulls a chain the scallops will descend like a window-shade down toward her knees so she can sit down without contracting anything.
She went with a similar risque theme during what I assume was her performance, but with a slightly more literal insistence that -- to borrow from Britney Spears -- she's not that innocent:

I didn't watch the CMT Awards so I don't know what this was in aid of, and frankly, I almost don't want to know. In my head, she performed a country-tinged salute to Annie and Chicago, in which a burlesque version of "It's A Hard-Knock Life" gave way to an elaborate plot to murder the lascivious, laundry-peddling Mr. Bundles. Whatever LeAnn actually did, it could never top my imaginary Cell-Block Tango verse about how she ruthlessly dissolved some Tide in his evening brandy.
Posted by Heather at 12:34 PM in Misc. Awards Shows | Permalink
CMT Awards Fug Carpet: Faith Hill
Faith Hill used to be something of a glamazon.
Now she's coming off more like Mad Auntie Fifi, who insists she hasn't aged a day since she played Sandy in her high-school production of Grease; loves to careen around her Palm Springs penthouse re-enacting the major scenes with the doorman; juices anything she can find in the fridge or the canned-goods shelf and drinks it with vodka; leaves a trail of cigarette ash around the house and in the waffle maker; uses half a can of hair spray before noon; and knows the name of every young bartender and maitre d' in town because she likes to show up at their parties and sing "(You Make Me Feel Like A) Natural Woman" on the karaoke machine.
However, somewhere in the middle of all that, I talked myself into wanting to hang out with Mad Auntie Fifi. I mean, I can just pretend to eat the Marlboro waffles, right?
Posted by Heather at 09:06 AM in Misc. Awards Shows | Permalink
April 11, 2008
Billboard Latin Music Awards Fug Carpet: Kat DeLuna
Seriously, every time I see Kat DeLuna, I think she's one of the Cheetah Girls, mostly because I don't actually know who the Cheetah Girls are: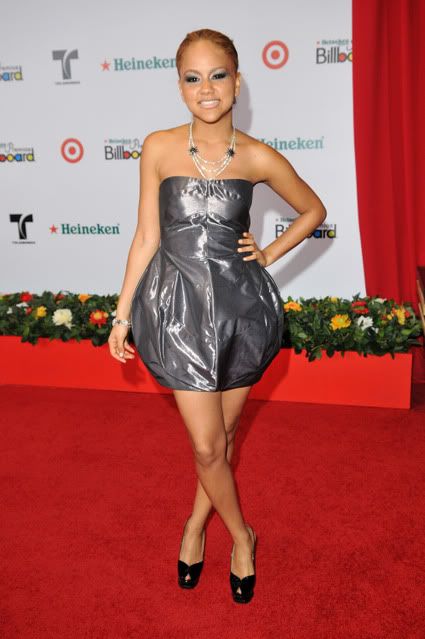 She's not, and I'm sure she'd like to smack me for lumping her in with that crew. I don't know, Kat. I was alive when New Kids On The Block were popular, you have to forgive me these things. Also, please forgive me for this: you appear to have been dressed by a 1950s B-movie Martian with a beanbag fetish. I just thought someone should tell you.
Posted by Jessica at 10:34 AM in Misc. Awards Shows | Permalink
April 04, 2008
Nickelodeon Kids' Choice Awards Fug Carpet: Random Fug
Actress Skye McCole Bartusiak is only 16. Therefore, she wasn't even ALIVE in the 1980s, so I will take a deep breath, empty a bottle of moisturizer on my crow's feet, ad try to give her a pass for not understanding that nobody should ever yearn for that decade except for maybe Andrew Ridgeley.
Being a teenager is a tough in front of the flashbulbs. Clearly Skye is trying some kind of self-expression, so I will be restrained and simply note: Her parents are hosed. No, seriously, their authority is totally compromised. In a year or two this girl is going to want to quit school and backpack through Western Europe for six months with her life savings and a Swedish bartender named Ulf, and when they try to stop her, she will scream, "OH YEAH? WHERE WAS THAT RED LIGHT WHEN I LEFT THE HOUSE LOOKING LIKE A CRACKED-OUT EMOTICON?" And they will be speechless, and off she'll go, returning a year later than expected with a wicked crepe habit and a tattoo that says "BITTE, BABY" on her left boob. I just hope they're prepared.
Posted by Heather at 10:03 AM in Misc. Awards Shows, Random Fug | Permalink
March 31, 2008
Nickelodeon Kids' Choice Awards Fug Carpet: Jennifer Love Hewitt
Jennifer. JENNIFER.
We'd been doing SO MUCH BETTER lately. And you finally darkened the hair! But for what? So you could wear one of Gretl von Trapp's performance dresses over a pair of jeans? Is your fiance planning to carry you out of the venue and up the stairs after you sing about how the sun has gone to bed?
The thing is, I could live with the dress -- it doesn't fit your chest tremendously well, but overall, I'd probably have ignored this completely if you'd just worn it bare-legged. And possibly with a stiletto heel rather than a wedge. But the jeans, J.Lo.Hew? THE NEEDLESS JEANS? Is this how you repay all the people who got you booted out of Fug Madness in the first round by voting for Scarlett Johansson? And why did my TiVo cut off the end of Top Model last night? How is it possible that I am out of Diet Coke? WHY MUST EVERYTHING BE SUCH A STRUGGLE?
Posted by Heather at 12:50 PM in Misc. Awards Shows | Permalink
Nickelodeon Kids' Choice Awards Fug Carpet: Hal Sparks
Because I don't get Showtime, I don't know much about what Hal Sparks did on Queer as Folk, so I just remember him as the diminutive but smiley guy who hosted Talk Soup after John Henson.
He was cute. And then he turned himself into Gene Simmons.
Nothing against Gene Simmons, who is a legend, and rightly so. But we already have a Gene Simmons and he's very good at being himself. So unless Hal Sparks is going to play Gene in Trump Vodka Presents Donald Trump's Celebrity Apprentice: The Movie, By Donald Trump, he might want to cool it. What works on Gene Simmons looks a bit like "cocktail waiter and low-level illusionist at Jack's House of Magic" on poor Hal here. I'm a little afraid that if he opens his mouth, a prosthetic tongue will tumble out and get caught in his waist beads.
Posted by Heather at 11:03 AM in Misc. Awards Shows | Permalink
February 27, 2008
Independent Spirit Awards Fug Carpet: Eliza Dushku
You know, I'd been wondering what Eliza Dushku has been working on lately, so it's refreshing to know the answer at long last:
She's been moonlighting on the other side of the Phantom Tollbooth as Plussy Galore, by day the High Priestess of Operational Voodoo and leading Symbols player in the Mathmagician's marching band, and by night the Dodecahedron's nimble mistress. No wonder she didn't have the energy to change her clothes.
Posted by Heather at 10:24 AM in Misc. Awards Shows | Permalink
Independent Spirit Awards Fug Carpet: Kerry Washington
If you're trying to decide whether a tight, shiny, stretchy turtleneck is a good or a bad idea, allow Kerry Washington to aid in your pro/con list.
Pro: No chance of a nip slip.
Con: Unsightly, unexpected perspiration in the face of flashbulbs. Am I crazy or does it look like her nipples are sweating?
Fortunately for her, it took me a while to notice that little problem, because I was wholly engrossed in the children's book illustration that is her outfit. I keep expecting The Very Hungry Caterpillar to pop out of that thicket and take a greedy bite out of her skirt.
Posted by Heather at 09:02 AM in Misc. Awards Shows | Permalink
February 21, 2008
Brit Awards Fug Carpet: Kelly Rowland
Kelly, Kelly, Kelly.
Bjork's had an actual face. And illusion netting. And an EGG PURSE. Were you even trying?
Posted by Heather at 11:35 AM in Misc. Awards Shows | Permalink