INT.MISCHA'S BEDROOM.EVENING
MISCHA BARTON, a young actress, stands in front of her closet.
MISCHA:
What should I wear to the Ivy tonight? What to wear....what to wear....? The Jaclyn Smith Women's Collection caftan? No, that's so Mary Kate, and no one's seen her out and about in ages. The argyle sweaterdress with the mukluks? No, too Ashlee Simpson. God forbid. I'd rather die. The gray twill jumpsuit? No, what if someone thinks I'm Maggie Gylllllenhallalalalll or whatever her name is? Like I would ever make a movie where I end up peeing myself just so some guy can spank me, or whatever happened at the end of that movie. God. I hate EVERYTHING I own. Everything! Except....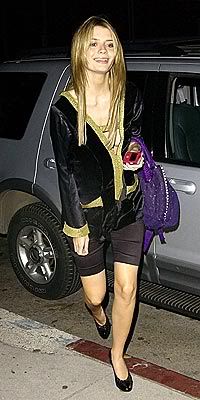 Yes! My BIKE SHORTS! I can even go to spinning class on the way to dinner. Excellent!
END SCENE.