August 27, 2007
Random Fugs: Amber and Chyna Stevens
AMBER: Well. This is... embarrassing.
CHYNA: Tell me about it.
AMBER: I don't get it. When I told you I wanted to wear this, you said I looked like a barmaid at the Mom Jeans Saloon.
CHYNA: And you told ME I this outfit only works if it's my day to fill the pig troughs!
AMBER: WELL IT'S TRUE.
CHYNA: That goes double for me!
AMBER: So if my outfit SUCKS so much, how come you're wearing yours?
CHYNA: ... Peer pressure?
AMBER: God, it's so deadly, isn't it? People just don't know.
CHYNA: Wanna go get our hair cut like Posh Spice's?
AMBER: OHMYGODYES.
CHYNA: I heard that Miley Cyrus say she was thinking about it and I want to BEAT HER THERE.
AMBER: Whee! But let's change first.
Posted by Heather at 12:39 PM in Random Fug | Permalink
August 24, 2007
Random Fug
Was this International "Pay Homage to the Fashions of Aaron Spelling Shows" Week?
Or is this NOT something Sammy Jo or Amanda or the deadly Claudia Blaisdel and the Case of the Hideous Bangs has ever worn on Dynasty? It's hard to tell sometimes -- all the slacks and flowing fabrics start to run together into one giant billowing drape, the likes of which is just begging to get caught in somebody's flaming candles of hate.
Admittedly, this is not the weirdest Echoes of 1982 ensemble I've ever seen, but somehow I still can't get over the nagging feeling that I was supposed to be spending the week wearing a tributary cocktail of bejeweled culottes, a blouse with puffed sleeves, and a satin turban. And I would. For Aaron Spelling? Anything. Of course, these days, I'd probably have an easier time locating the sensible moccasins, khakis, and denim long-sleeved button-down shirts that the mom on 7th Heaven probably cherishes so. In fact, I might go pick some up now so I can enjoy the last day of this special week, just in case my instinct is right. Plus, that way I probably won't frighten the mailman. He's not spry enough to survive an abruptly deployed satin turban.
Posted by Heather at 10:35 AM in Random Fug | Permalink
August 23, 2007
Random Fug: 90210 Tribute Edition
I'm not sure who this woman is.
But I'm pretty sure I know who she thinks she is: Emily Valentine, the off-key-crooning, guitar-playing tongue bandit who licked a trail through Dylan to Brandon, slipped a drug called U4EA ("It's '4'you and '4' me") into Brandon's drink at a rave so she and Brandon could trip out and eat each other's faces on the hood of his car, then turned psycho when he dumped her for it and slashed her own tires, sent menacing letters to The Blaze -- which, honey, don't piss off Andrea Zuckerman or she will THINK you to DEATH -- made prank phone calls and then, because there are only so many times you can tell Brandon his refrigerator is running and he'd better go catch it before he realizes it's a prank, finally dumped gasoline on a homecoming float and sat on it playing with a lighter.
Indeed, I wouldn't be at all surprised if this lady tried to get into the party by exchanging an egg. And Jason Priestley is happily married and just had a baby, so someone should maybe check her pockets for any vengeful-looking lighter fluid.
Posted by Heather at 10:40 AM in Random Fug | Permalink
August 15, 2007
Random Fug
You are in a tragic state of affairs when you're attending an Australian awards show, as this young lady is, and photographed on the red carpet, but your name doesn't even pop up on Google.*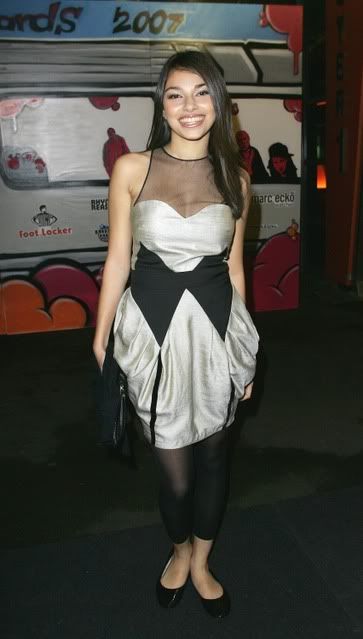 I'm told this lovely girl wearing the dramatic window treatment is named Amli, but Google claims that she is: a company providing short-term, furnished corporate apartments; the Association of Medical Laboratory Immunologists; the government's Abandoned Mine Lands Initiative; American Medical and Life Insurance; and a town in India and/or Norway. Which makes me think that when she sits down with her team, she needs to fire both her stylist AND her publicist.
* Thanks to our crack team of Australian readers, we now know that this is Amali Ward, Australian Idol contestant, who needs to talk to her PR flack about making sure she knows the correct spelling of her client's name.
Posted by Jessica at 12:42 PM in Random Fug | Permalink
August 02, 2007
Random Fug
This is Calico Cooper. Under most circumstances, this is where I would comment that the cat I had in elementary school was named Calico. She was also a calico cat. I named her myself. At 7 years old, I was not creative enough to name her, say, Mrs Whiskers Waddlelypants or something. This was around the same time that my friend Andrea's brother named their rabbit "Jessica" (this was, mind you, pre-Who Framed Roger Rabbit?) the day their parents accidentally ran it over with the car. As a child, it is somewhat traumatic when something with your name get murdered. And because Calico Cooper's father is Alice Cooper, I feel that commenting on her name might get ME run over, just like that poor little rabbit.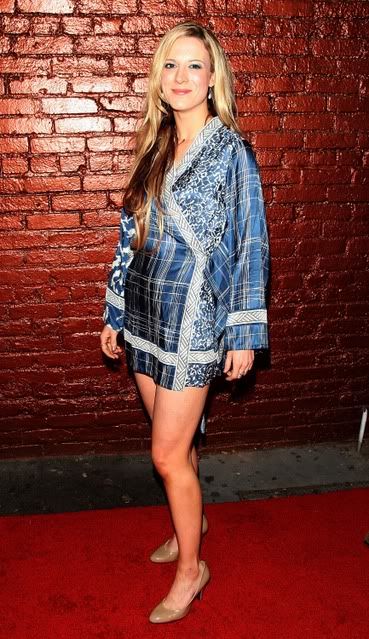 Instead, I'll just say that you'd think Alice Cooper's kid would have bypassed the whole shorty Grandpa Robe and Aerosoles thing.
Posted by Jessica at 10:14 AM in Random Fug | Permalink
August 01, 2007
Random Fug
I've realized what it is about super high-waisted denim that bothers me.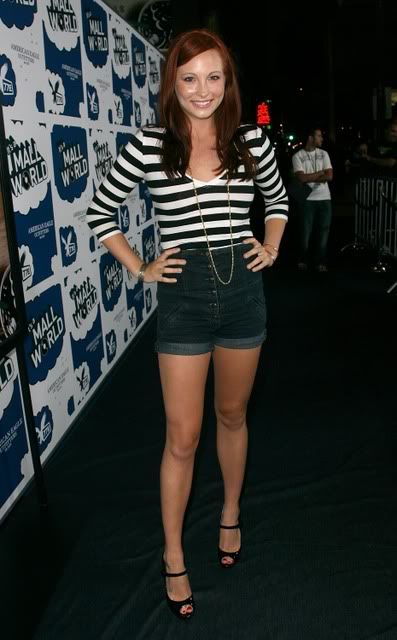 (Sorry, random actress who appeared on one episode of How I Met Your Mother, which I'm sure I watched but don't remember you from, but you are going to have to be my visual aide today. PS: My grammar in that sentence is AWESOME. Conjugate that!) It's not that high-waisted denim tends to give most of us a more prominent belly pooch than we'd like, and it's not that it reminds me of my mom. It's that it reminds me of this: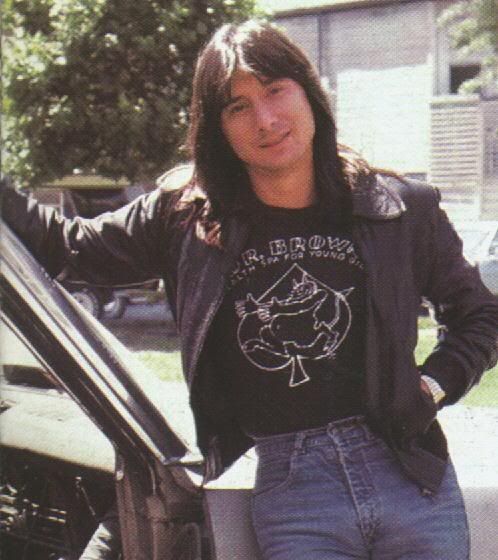 Not that Steve Perry isn't AWESOME -- listen, I had this revelation while speeding down the Pasadena Freeway with the top down and the radio on, all, "Is that JOURNEY? TURN IT UP!" because "Separate Ways" rules -- but he's not exactly what I would call a style icon for young women.
Although...now that I think about it, with the high-waisted jeans, leather jacket and whimsical rocker tee, plus the long, layered hair, he kind of is totally on trend right now. I mean this...: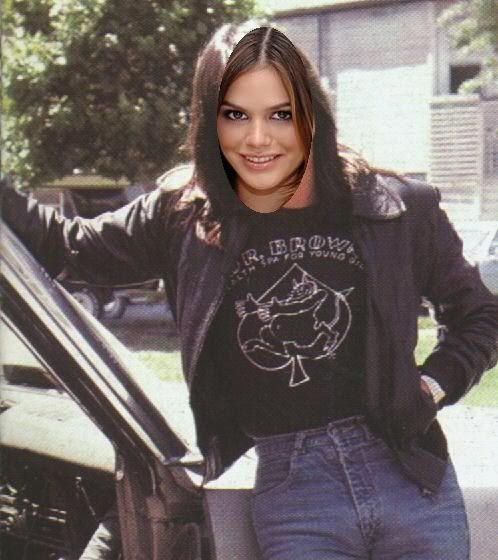 ...does not even look nearly as weird as it ought to.
Man. First he lands that sweet Sopranos song placement, and now he appears to be the inspiration for starlets everywhere. Steve Perry is on a roll, dude.

Posted by Jessica at 10:24 AM in Random Fug | Permalink
July 31, 2007
Random Fug
I was going to comment, in somewhat snippier tones, that I don't care for what clothing designer Jessie Della Femina is wearing.
And then I realized that might not be fair: Is she really technically wearing it? Or is it simply strung up there carelessly trying to decorate her? One enthusiastic shrug, one wild gesture, and the groceries will come tumbling out of the bag.
It's so sad when kids today treat their chests like curtain rods. What are they teaching in sex-ed, anyway?
Posted by Heather at 08:42 AM in Random Fug | Permalink
July 30, 2007
Random Fug
Lunchtime quiz! (Okay, it's nearly 3pm. Late lunchtime quiz? Tea time quiz? Snack time quiz? Whatever).
Posted by Jessica at 03:06 PM in Random Fug | Permalink
July 09, 2007
Random Fug: Daphne Guinness
My old pal Google tells me that Daphne Guinness' name is not just a coincidence, and she is in fact a beer heiress. Lucky girl. If I were a beer heiress I would totally make up business cards for myself and pass them out to everyone I met, because that's the best title I can think of (alongside that Banana Republic pants campaign where they made fake newspaper headlines about trends that included the words, "Chief Pants Officer") and I would want to brag.
Evidently, Daphne has a history of incredibly kooky, colorful personal style that, for me, verges on masterfully insane. She has an ensemble for every part she could possibly play in the Las Vegas Showgirl Circus, and if we cloned her and opened that very show with all of them, that would be one hell of an evening.
Perhaps Cruella De Vil could emcee.
Suggestion for Sienna Miller: THIS crazy makeup would actually look better than what you were wearing. So consider making Blow The Froth Off A Couple Cold Ones: The Daphne Guinness Story your next biopic. You could totally pass, and it'd give you a chance to try out fingerless gloves and 1,000 rings for yourself, which I'm sure you're dying to try and pull off.
Posted by Heather at 11:13 AM in Random Fug | Permalink
July 05, 2007
Random Fug
Amy Pearson, it seems, is an Australian pop star of some sort. Having listened to her single on her MySpace, she sounds a bit like....Kelly Clarkson as reinterpreted by Hilary Duff. Needless to say, it might be hard to concentrate on her sound when she's showing up places dressed like a grape as reinterpreted by a wedding planner: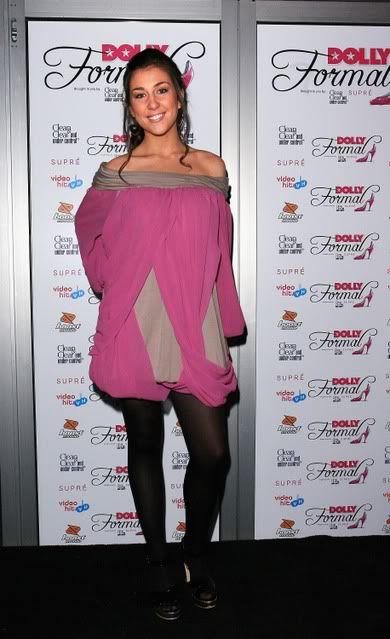 It's always so sad when a cute girl is cruelly hacked down by vindictive fruit.
Posted by Jessica at 12:39 PM in Random Fug | Permalink