January 14, 2008
Well Played, Alicia Keys
Damn! Do my eyes deceive me, or is Alicia Keys finally wearing something sort of regal and classy?

She looks a little bit like she just wandered off the set of Dreamgirls II: Wake Up, Y'all. But it totally works on her; I'm thrilled Alicia is at long last wearing something worthy of her face. I was especially tired of seeing her dressed in jumpsuits that made me want to check her back for humps, so really, everybody wins.
Posted by Heather at 12:28 PM in Well Played | Permalink
Well Played: Rachel Bilson
Can't we all just PRETEND that yesterday the Golden Globes went off as per usual, and we all got the red carpet shenanigans as per usual, and Rachel Bilson showed up wearing this?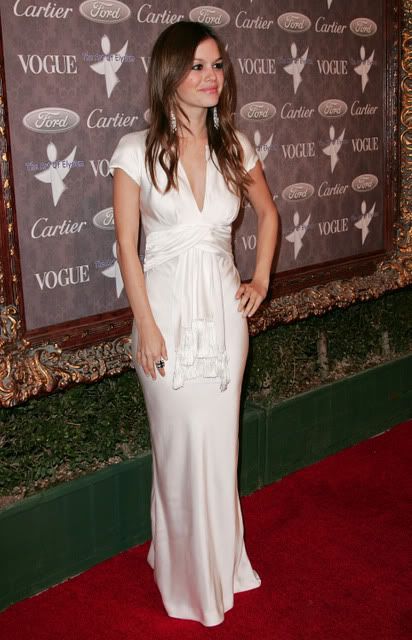 And then we all said things like, "Did you see Rachel Bilson at the Golden Globes? She's so pretty!" and "I just loved Rachel Bilson's Golden Globes dress," and "I think Rachel Bilson showing up at the Golden Globes in that white goddess-y dress was really a turning point in her career, don't you?" Let's just pretend that happened, shall we? Excellent!
Posted by Jessica at 09:37 AM in Rachel Bilson, Well Played | Permalink
January 11, 2008
Well Played: Kristin Bell
Oh, fine. Go ahead and look proud of yourself, Kristen Bell:
You look cute. And non-stumpy. And your narration work on Gossip Girl is quite good. And Gossip Girl itself is quite, quite, quite addictively good -- how am I going to wait however long I have to wait until we all find out what Blair plans to do to destroy her enemies? How can I stand not knowing whether or not poor tragic Nate is going to take up with that surprisingly somewhat conniving yet still in-over-her-head Jenny? Most importantly: how can I live week-to-week without knowing what color turtleneck Chuck is wearing? How, I ask you? How? I know, I know: you'll never tell. But your dress is good, okay? Don't say I never said nothing nice about you, Bell.
XOXO
Fug Girl
Posted by Jessica at 12:23 PM in Kristen Bell, Well Played | Permalink
January 10, 2008
Well Played: Helena Bonham Carter
Oh, kooky Helena Bonham Carter. I love you. I love you as Bellatrix Lestrange. I loved you as Lucy Honeychurch. I love that you probably did your own hair for Sweeney Todd, as it was a messy birds' nest that closely resembled how your hair looked at every event from 2004-2007. I love that you are married to Tim Burton, as I suspect you two have long conversations about things that are not of this world. I love it when you show up places looking like you've just wandered out of the attic. In the Edwardian era. And I actually love this: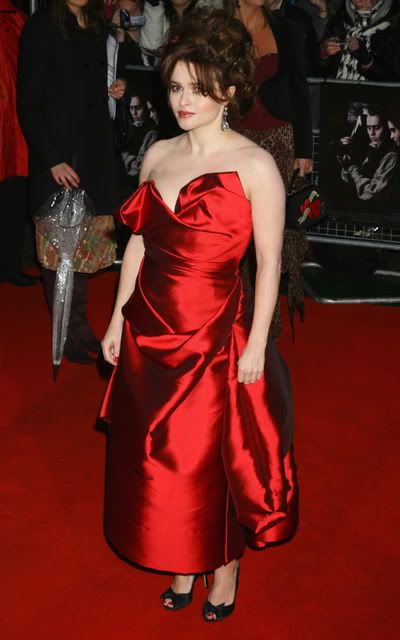 Yeah, she just had a baby, like this morning. So way to rock the red satin bedsheets, HBC. Seriously.
Posted by Jessica at 12:44 PM in Well Played | Permalink
Mostly Well Played, J.Lo.Hew
Katherine Heigl's recent spate of interviews and the wretchedly unfunny previews for 27 Dresses have me a) concerned she might be a bit of a pill in real life, b) totally sick of her, and c) in disbelief that this movie appears to think that simply dyeing her hair faintly brown will help us believe Katherine Heigl is suddenly sort of frumpy and dowdy and weak-willed. Great message there, people.
In fact, I wish Jennifer Love Hewitt would go BACK to being a darker brunette because it makes her look more striking. Check it out:
This is just an achingly pretty dress, which paired with the shoes gives Jennifer a really lovely old-movie glamour. Even Cardbord Heigl seems to be eyeing her, all, "I can't believe you look better than I do. SLEEP WITH ONE EYE OPEN, ho. Trust."
As a fair-skinned lass, I know it's tough to wear that pale pinky color without it washing you out (and as a side note, I accidentally pasted that sentence into Google and it came up with a line from what's trying to be the world's longest poem that read, "It would help if the firefighter inside you lit a fire," which... I don't think THAT'S necessarily the solution here; for one thing, it would char the heck out of her womb). Jennifer mostly succeeds, and I think the "mostly" comes from the fact that it's her hair -- with an assist from her makeup -- washing her out and not the dress. If she went back to that awesome, shiny darker brown hair, and possibly rediscovered bangs, she could probably get away with the minimalist makeup and the light hue of the dress, because the dark cherry on top would elevate it all.
Also, Dark-Haired-Hewitt is from the glory days of the Ghost Whisperer -- YES, the show has some, thank you very much -- when her coifs and fake eyelashes and old-school nighties and bedjackets were HUUUGE. So maybe I'm just being nostalgic. Still, that doesn't detract from how fantastic that dress is on her. She's someone who's struggled, I think, to find the right cuts of clothes to accentuate her natural assets (I am not at all sure the Ghost Whisperer costumer is putting this kind of effort into it). This one is perfect: She's all woman, brimming with curves that demand to be celebrated. Which I am sure her fiance will gleefully take care of later.

Posted by Heather at 10:50 AM in Well Played | Permalink
January 08, 2008
Critics' Choice Awards Fug Carpet: Well Played, Katie Holmes
Certainly, there has been no shortage of moments in Katie Holmes' life in recent years that have made us go, "Wait, SERIOUSLY?" And that's just from the couch-jumping and the engagement and pregnancy and wedding and fashion-embracing and Posh-befriending; it doesn't even include anything that's happened behind closed doors. Not that we're implying her husband is odd or anything. He's totally normal to us. Everyone we know leaps onto their living-room set at least twice daily. Furniture is a thrill.
At any rate, all things considered, nothing should surprise me with her any more. Yet somehow I still caught myself saying aloud this morning, "Wait... SERIOUSLY? Since when did Katie Holmes become someone who could pull off a TOGA?"
Bear with me here, as we got a lot of e-mails from people who could not have hated this more -- and who will, in fact, greet this with a, "Wait, SERIOUSLY?" of their own. So let me clarify: The dress itself does nothing for me. It definitely has the whiff of bedsheet about it, like maybe her exuberant husband grabbed one off the bed and ran around her twice and then screamed, "GLORIOUS," before hitting his head on the four-poster and passing out cold.
But Katie IN the dress... this I like. Granted, her first best move was to realize that America loves Suri, and that she should reinvent her cranium in her wee sprog's image. They are seriously ever-more the spitting image of one another. As for the dress, though, it kind of takes on a Quality on her body. It's still kind of boring to me on its own merits, and I think on a lot of people I'd be wailing and pulling out my hair. Katie, though, looks really rather pretty. The makeup is tasteful, her bod looks amazing -- I would very much like to borrow her shoulders, if she's looking to broaden her range of charitable acts -- and although the shoes are fairly standard, they ALSO appear to fit her, make her legs look fabulous, and don't overshadow the overall look. As a result, I glance at the dress, but inevitably my attention turns to her hair, her face, her skin, her figure, and the fact that I am pretty sure she is eleven feet tall. And that's how it should be. The dress isn't wearing her; she, bluntly put, is wearing the shit out of it. So you go, Suri-Kate Holmes-Cruise. In my eyes, you won this one.

And feel free to have another kid, because you did a bang-up job the first time. I'm just saying. Think of our needs.
Posted by Heather at 10:32 AM in Misc. Awards Shows, Well Played | Permalink
December 13, 2007
Well Played, Rachel Bilson
Rachel Bilson has been looking so cute lately. Why doesn't this girl have a regular job?
Seriously, someone needs to pay her once this strike is over to do more episodic work. She was terrific as Summer, she was adorable a few weeks ago in a two-episode stint on Chuck -- where, ironically, she worked in a deli and extolled the virtues of sandwiches that I kind of wish she ate more of in real life -- and yet she only has one movie in the can since. You know, she would have been great in Samaire Armstrong's part on Dirty Sexy Money, but alas, that's not an option at this point. If only I had been consulted.
Fortunately this relative inactivity has not reduced her to a reclusive and messy life of Pringles-stained sweatpants and trucker hats. This dress is flattering, sophisticated, and a beautiful color, and I wish it were in my closet right now. Maybe Santa will drop it there while he's running around picking up everyone's Christmas lists and checking to make sure he can fit down everyone's chimneys despite having thirds at the dessert buffet last night. Come on, Santa. Snap out of the sugar coma.
Posted by Heather at 12:33 PM in Rachel Bilson, Well Played | Permalink
December 10, 2007
Well Played, Fergie
Aw, that's right, Fergie Ferg, take a bow.
It seems so long ago now that she was running around town dressed like Pippi Longstocking on a bender. If you'd told me then that I'd be patting Fergie on the back for looking like a lovely lady at a posh event, I'd have laughed and suggested that you stop using Elmer's Glue as nasal spray. Sure, the matchy satin shoes are a bit bridesmaidy, but that's splitting hairs when you consider that we used to be lucky if she even brushed her tresses. The dress color is so pretty on her and the cut is flattering, and her coif is shiny... maybe Josh Duhamel is finally using his hotness to bring her up to his level. Or maybe one night in the middle of a lasagna cookoff in their shared kitchen, Fergie dropped a colander of flat noodles and gasped, "OH MY GOD, WAIT, OLIVER! WASN'T A FASHION SHOW, WAS IT?!?" At which point Josh swept her into his arms, carried her up to the bedroom, and gently laid her down... on the floor of her closet, where they proceeded to make sweet, sweet Goodwill piles.
At any rate, Happy Holidays to us, because I get to use the word "lovely" to refer to her without having to follow it with the hugely unsexy "lady lumps" epithet.

Posted by Heather at 12:59 PM in Fergie (the Pea, not the duchess), Well Played | Permalink
November 29, 2007
Well Played, Kristen Bell
Our roller-coaster of a relationship with Kristen Bell's fashion sense continues apace:

[Photo: infdaily.com]
Nice cleavage, babe! And you actually look kind of tall with that empire waist. Your makeup also perfectly complements the red in the dress, and in case I didn't mention it strongly enough before, I really meant it: Nice cleavage. Enjoy not having to wear a bra while you can, little girl. Gravity will chafe your navel soon enough.
Still, I do spy a few wrinkles -- I do still think there's a REASON "satin" is only one vowel away from being "Satan" -- but I'll let it slide because the overall effect is so good. Furthermore, the satin isn't nearly as crinkled and crunched as I've seen it before, and really, it's hard to hide from that fabric forever. Sometimes it's unavoidable, like a pimple, or Brad Garrett. You just have to accept it as part of life, learn to live happily anyway, and hope you own a really wicked travel steamer. For the satin, that is. I've never known a travel steamer to work on Brad Garrett. But then again, maybe it's just that nobody has tried.
Posted by Heather at 10:21 AM in Kristen Bell, Well Played | Permalink
November 28, 2007
Well Played, Kelly Osbourne/But Then There's Kimberly Stewart
Why, it was just last week that I was all, "oh, Kelly, what's wrong with your make-up? Oh, Kelly, what's wrong with your hair? Kelly, why are you dressing up like Liza Minnelli? Kelly Kelly Kelly Kelly Kelly Kelly Kelly." (Sorry, that was just a reflex.) And it's like she was LISTENING: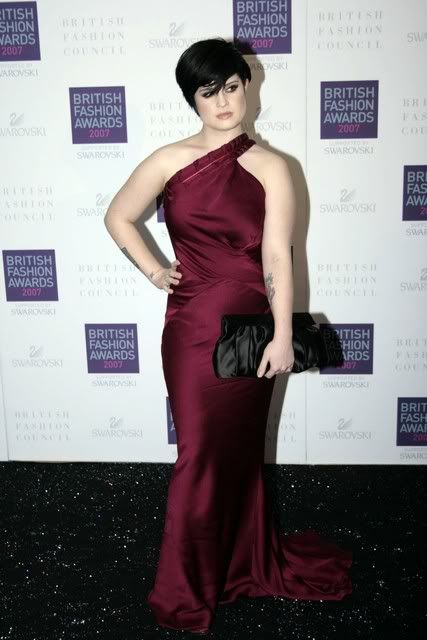 How adorable she looks! How pixie-like! How prettily made up! I feel like a proud mama, although not like her proud mama, because if I were to suddenly start feeling like Sharon Osbourne...well, I guess now that I think about it, Sharon could actually probably very easily step in for me here if I were to have both of my arms broken by Jessica Simpson in a tussle over the last butterscotch pop down at See's Candies or something.
In other news, there's Kimberly Stewart: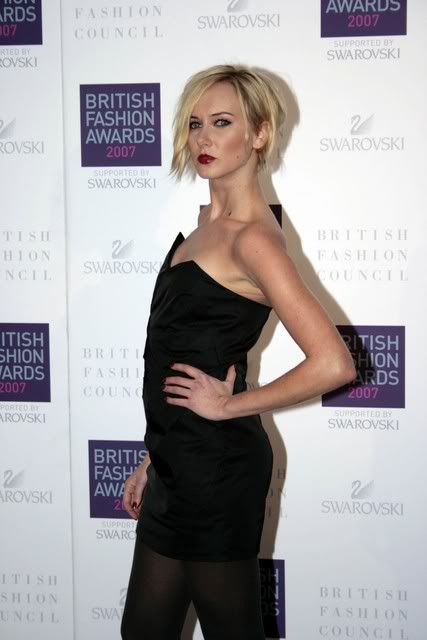 How much does she think she's Posh, circa three months ago? You know, Outdated Posh.
Posted by Jessica at 09:17 AM in Well Played | Permalink