The sad thing is, she looks so happy about it.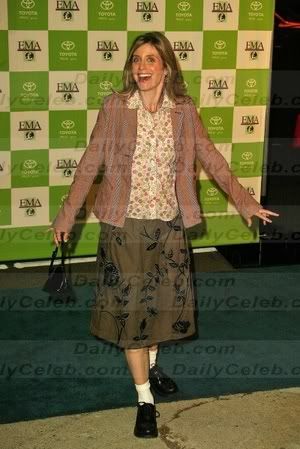 Photo courtesy of Daily Celeb.
Helen Slater, what happened to you? Nothing on this outfit even comes close to matching! The blouse matches the blazer well enough, but the skirt....doesn't. Worse still, none of it appears to fit. And the weird-length of that skirt, paired with white socks [!] and...black oxfords? Are you the Ugly Elaine Benes of 1994? This shoe/skirt paring makes it look like you have no legs at all! The cut of the skirt...and the shirt...and, my God, the jacket...totally conceal your figure. Have you gotten fat? We don't know. Are you slender? No idea. Have you grown a third boob? Couldn't say.
Remember those toys they had when we were kids, where you could make "fashion drawings" by choosing a model's head, a waist to neck section, and then a waist to feet section, and you could turn it all into one outfit by plugging these sections into this little frame-thing and then you'd tranfer your creation to paper by rubbing a black crayon over it, and you'd color it in? Sometimes I would try to make THE UGLIEST OUTFIT POSSIBLE on this toy, and I think Helen Slater is actually wearing it.