Oh my God, you guys, merry Christmas! Happy Ch -- Han --- Chaan -- yeah, I totally can't spell that, y'all. The one with the candles and the potato pancakes like they serve at Arby's? Happy that! And Happpy New Year!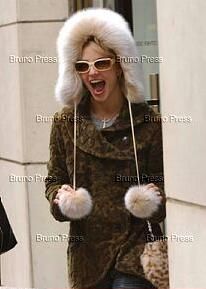 I just can't wait to see what happens in 2005, because I bet it will totally involve me having a little baby and then Cletus will love me forever for reals because when you have a baby with a lady you are not allowed to leave her, except for when that happened with Shar, but that's totally different because of how Shar wouldn't let Cletus do things that were really important to him, like how he's researching the medical effects of marijuana on his glaucoma.
I know you are totally wondering why I look so happy in my furry hat and the truth is that I am happy because my furry hat is actually kind of cute but I am really mostly happy because I am thinking about my awesome New Years resolutions, which totally rock, y'all. My New Years resolutions are to have a little baby and also to stay out of the way of the Fug Girls because they are really not very nice to me even I know they say what they do because they want the best for me and they're worried that I got worms from walking into public restrooms barefoot but what they don't know is that public restrooms are really very clean. But anyway I have two whole weeks to wear WHATEVER I WANT because Go Fug Yourself is going on Winter Holiday Hiatus until January 3rd and I am TOTALLY going to walk around barefoot with my thong hanging out and I'm not going to wash my hair or wash my face or brush my teeth for TWO WHOLE WEEKS because there's NOTHING THEY CAN DO ABOUT IT HA HA HA HA HA HA HA!
LOVE,
BRITNEY!
[Editorial note: if Britney does anything just mind-bogglingly godawful and terribly alarming, like get married again, we'll be on the case. Otherwise, dear readers, have a wonderful holiday and a fantastic New Year. Thank you for your readership and remarkable support of us this year, and we'll see you in 2005! Love, Heather and Jessica]