Okay, there's no time for introductory chit chat when it comes to a case of fug this henious: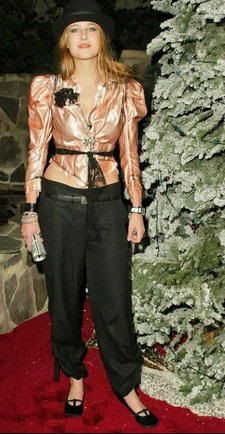 Photo courtesy of Daily Celeb.
In one outfit, you've got:
a) a cropped AND belted jacket
b) with puffed sleeves
c) made of pink lame
d) and accessorized with a Carrie-Bradshaw-circa-2002-big-flower-pin
e) worn with low-rider genie pants
f) and a bowler hat.
Shouldn't someone be doing something about this? Does LeeLee have no one to step in and tell her that she looks like a deranged transsexual with a Charlie Chaplin fetish and a jones for Hammer pants? I mean, isn't she secretly some kind of Russian countess or something? Isn't this the sort of look that would get a girl sent to Siberia? Can someone get on that?