I know Paris Hilton was the Grand Marshal of the West Hollywood Gay Pride Parade this weekend -- and I just accidentally typed that as Gay Prude, an entirely different parade, and one at which Paris Hilton, I suspect, would not be terribly welcome -- but I had no idea she was embracing the Pride so very vehemently: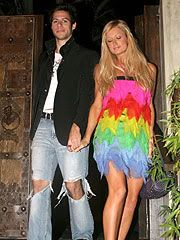 I mean, there's flying the Gay Pride flag, and then there's wearing it. And then there's wearing it as a fringe-y tube dress by way of The Muppet Movie.
That being said, I really can't wait for this wedding. I presume the honeymoon will be televised.