EXT. RANDOM HOLLYWOOD STREET. NIGHT: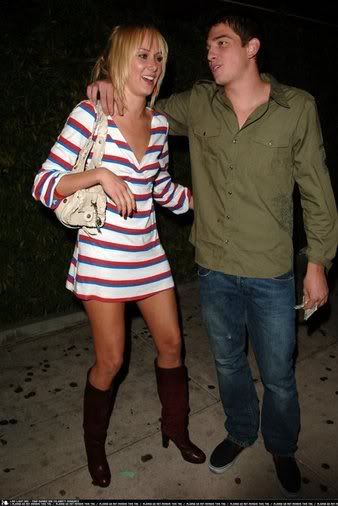 TALAN:
Listen, Kim, we need to talk.
KIMBERLY:
Huh?
TALAN:
I think we rushed into this engagement thing.
KIMBERLY:
For reals?
TALAN:
We've only known each other for a week. Also, I'm only nineteen. And this is your third engagement. I think maybe we aren't using very good judgement.
KIMBERLY:
Really?
TALAN:
Um. Yeah. Also, that dress thing? Is kinda unseasonal. Especially with those boots. I'm pretty sure that what appears to be resort wear -- even an ostensibly cute psuedo-tennis dress slash cover-up like this one -- isn't meant to be paired with a heavy brown knee-high boot, especially when you're also carrying a spring bag. I really don't believe in matching ones bag to ones shoes anymore, but they need to be complementary, and these are not. Sure, maybe some cute flats would work, but this is definitely a day dress and your attempt to transform it into evening wear frankly embarasses me as a man. Also, you really, really need a haircut.
KIMBERLY:
So, what are you saying?
TALAN:
The engagement is off.