There are SO MANY THINGS I love about this photo: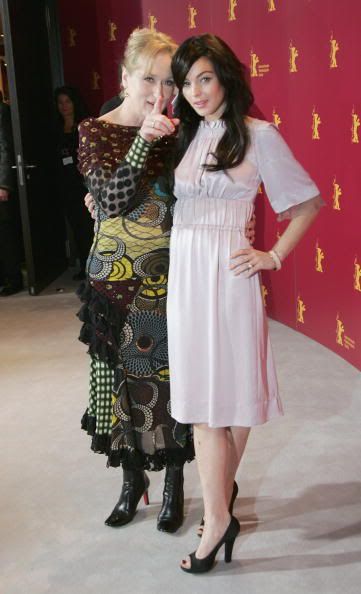 Lindsay's shoes
Lindsay's hair color
Lindsay's pedicure
Lindsay in general. As regular readers know, I love for reasons even I can not explain, but which I expect have to do with: her hair in Mean Girls; her adorable ass-shaking handshake routine with the butler in The Parent Trap; the hilariously mean text messages she sent to Paris Hilton about Jessica Simpson that were revealed during those delicious three weeks last year when we all got to read everything in Paris's Sidekick; and how psychotic she got when she and Wilmer broke up -- mostly because I think we've all felt exactly that psychotic about a break-up, you know, on the inside, but never had the wherewithal to actually just go ahead and expose the psychosis to the entire world.
Even Lindsay's dress, which looks better when photographed from the front, and which I suspect is more subtly colorful in person.
Meryl's boots. Nice Louboutins, Mere!
The expression on Meryl's face, in that she appears to be warning Lindsay about us specifically
The idea that maybe Meryl is going to take Lindsay under her wing and whip La Lohan into shape. Wouldn't that be an exciting development? I feel like Meryl wouldn't let Lindsay run all over town drinking and sleeping with inappropriately old men and accidentally running things over with her car. Meryl would have Lindsay studying, like, Strindberg, and practicing accents alone in her room until late in the night. And then Lindsay would start crying and call her and be like, "Meryl, this is so hard," and Meryl would be all kind, but very firm, like, "I don't want to hear your whining, Lindsay," and then Lindsay could realize her full potential and I wouldn't have to apologize for liking her anymore.
Meryl in general -- I mean, come on. We're heartless beeyotches here, but she's Meryl F'in Streep. I have some respect, you know.
Please notice, however, the one thing missing from this list: Meryl's dress. Oh, Meryl. Meryl, Meryl, Meryl. Did you know that the more I type "Meryl," the less it looks like an actual word? I'm concerned that I'm having that reaction because your kooky, kooky dress has triggered some kind of seizure in my brain.