Because it's Friday, I'm going to pull back the veil of secrecy, and let you, my readers, in on one of the deepest, darkest, most closely held secrets of my soul. A secret that will ruin my cred as heartless bitch. A secret I hope you don't hold against me, but I surely couldn't blame you if you did.
Sometimes, I watch The Ghost Whisperer.
And by "sometimes," I mean that I have a season pass set for it on my TiVo. And yes, I cry every time I watch it. Look, we all do things we're not proud of, and I have a weakness for ghost orphans passing into the light. Okay? AT LEAST I'M NOT WEARING LEGGINGS! Anyway, part of what I enjoy about the show are the outfits that J Lo Hewitt wears. Her wardrobe is hilarious. She has about seventy-nine satin nightgowns, all of which she wears with full make-up -- including false eyelashes! -- and a beehive. No, really, she has a beehive all the time on that show. She wears some kind of ridiculous retro gown at least once a week, and on one memorable evening, she actually wore bloomers under a sort of Mary Had A Little Lamb outfit. HILARIOUS. And yet, she sort of pulls it off. I have looked into my soul, readers, and asked myself if I would wear a beehive to work if I could get away with it, and the answer is YES. YES I WOULD. So I have a sort of shameful, SHAMEFUL soft spot for La Hewitt. However: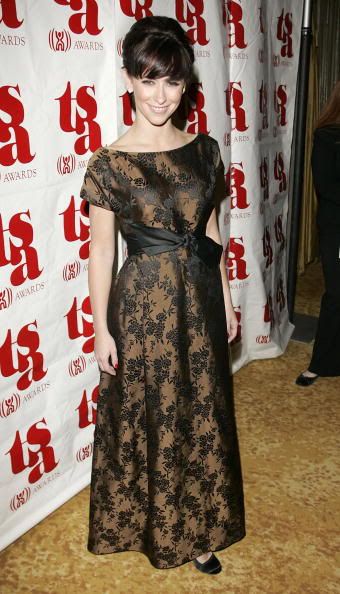 Ugh. I have, as noted, a really high tolerance for the sort of retro-ladylike thing, but this looks like something the dowdiest, drabbest, most humorless, most obstinately virginal girl in high school would wear to the 1963 Enchantment Under the Sea dance. The girl who wore this dress had a signed picture of Joe McCarthy in her locker, and dismissed the Beatles as "fluff." She enjoyed canned asparagus. She didn't believe in lace on underwear. She would never play MASH with you, and would only loan you her history notes after a long lecture about the importance of taking ones own notes, thereby making the borrowing of said notes totally not worth it. She grew up to be the president of your home-owners association and right now she is making your life a living hell because she won't let you put a hot pink plastic flamingo on your lawn. Every day, you think about killing her and then feel guilty, because she's old and you shouldn't think about killing the elderly. What you didn't know was that she's ALWAYS BEEN OLD. Suffice to say, this is NOT the 1963 thing you want to be doing. If you're doing the 1963 thing, duh, you clearly want to be the hottest, chicest, sassiest girl from 1963, who still has really good hair and who once spent an April in Prague, living with a minor rock star. And J Lo Hewitt is usually pretty good at landing on the right side of 1963, but I guess even someone who can talk to the dead strikes out sometimes.
That said, I do like her false eyelashes.