In the hustle and flow of the Oscars, we all momentarily forgot that there was another awards show this past weekend: the Independent Spirit Awards, where the nominees get to "dress down," and, as a result, often look much better than they do when they're all trussed into a formal. Not, however, in the case of our former Derelicte Princess, Mary-Kate Olsen: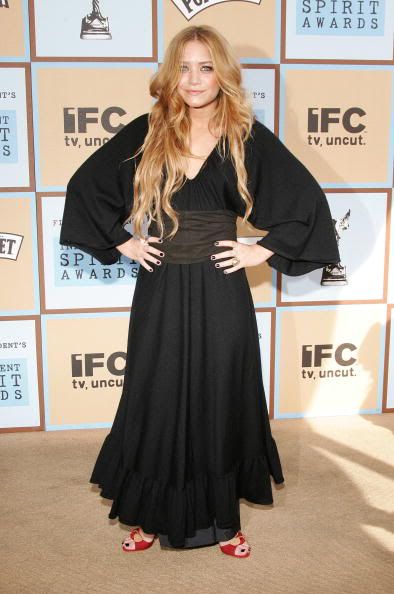 The good: her shoes (I'm a sucker for red shoes. When Carson Kressley announced on Queer Eye that only whores wear red shoes, I turned it off and haven't gone back ); her skin; her hair color; her body fat percentage; the sassy interview she gave recently where she gave the impression that she wants nothing to do with the Lindsay/Paris/Kimberly Stewart social scene because she finds that all kind of tiresome, and indeed, you never see her out and about with those girls, which I have to applaud; her chunky awesome ring and the corresponding lack of other crazy piled-on accessories; her continuing relationship with Uncle Jesse.
The bad: that dress. This long, voluminous, bit-part-in-Hidden Tiger, Flying Whatever type outfit works best on tall girls, who won't be overwhelmed by all the fabric (like, Mandy Moore maybe, if she wanted to go a little goth). And while we all know M-K loooooves to bury her light under a bushel of dollar-a-pound vintage, this is just too much on her tiny little frame -- which, thank God, doesn't look as scary little as it used to. Add to that her too-long hair, and it's all just too much. She looks like she's playing dress-up in clothes that were made for a woman a foot taller than she is.
The ugly: that New York Minute has been surprisingly absent from my late-night cable rotation lately. And shut up: the ten minutes that M-K and A spend in the House of Bling beauty salon getting made-over -- in a kicky montage, of course -- are pure bliss.