Here in Los Angeles, there is no day more sacred than Oscar Sunday. The entire town shuts down, as those who have not spent the last month in a frenzy of dieting, bleaching, waxing, colonics, or bribes all trek frantically across the city bearing dips and drinks....and dreams. And nowhere is more frenzied than GFY HQ, as the office rings with the clack-clack of the teletype, screams of agony over the proper structure of Ziyi Zhang's name, and the constant moaning, "won't someone please wear something ugly?"
Those prayers, of course, were answered in the form of Charlize Theron's Massive Shoulder Wound-Bow. And in countless other ways that we plan to mercilessly enumerate...as soon as we crawl out of what we call the Clooney Coma: a very serious but incredibly pleasant form of paralysis that takes over the average American once she's spent over an hour looking at George Clooney in a classic tux. Neither of your faithful fuggers can bear to be bitchy when in the throes of the Clooney Coma. And, readers, we have it. We have it bad. Experts predict that we won't snap out of it until approximately noon, PST.
At which point, we promise, the fugs will fly fast and furious and no one -- no one! -- will be spared.
Except Clooney. Just look at him: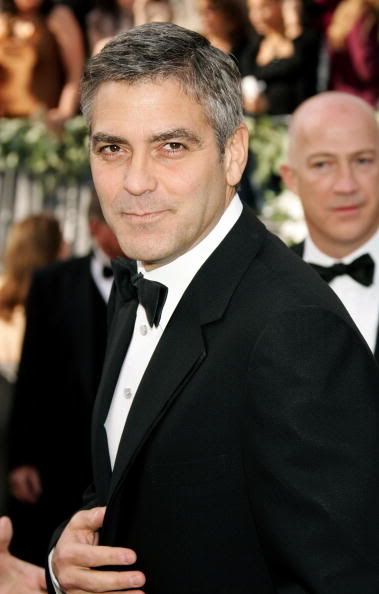 Sigh.
Until noon, faithful readers. Stay alive. We will find you.