ACT ONE: THE SURPRISE ARRIVAL
The Place: The Mission Impossible III junket in Rome. Unbeknownst to Philip Seymour Hoffman, his placid afternoon of talking to journalists about the role America's been dying to see him in -- as the Man Who Beats the Shit Out of Tom Cruise -- is about to be interupted by none other than Tom Cruise HIMSELF: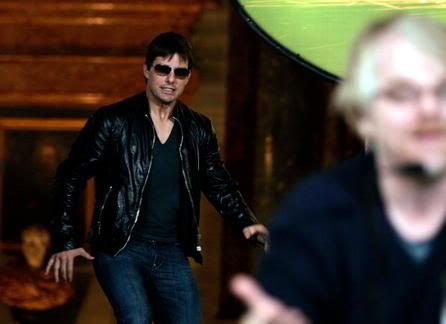 But Tom is not alone. He has brought three things: his weird new bangs, his tight girl jeans, and his total divorce from reality. He thinks, "AT LAST! I have arrived to SAVE THIS PRESS JUNKET! I can just sneak up behind Hoffman and SAVE THESE GLIB JOURNALISTS FROM HIS REIGN OF TERROR If I'm very, very quiet, HE'LL NEVER KNOW WHAT HIT HIM. I'M A HERO! AGAIN!"
ACT TWO: IN WHICH OUR HEROINE IS THREATENED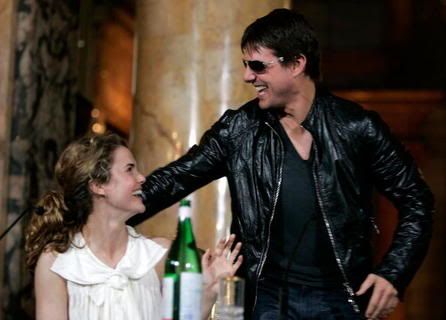 Tom: Hi Keri! I'm not going to look you right in the eye because my magic powers might kill you, okay? HAHAHAHHAHAHA. Want to see my imaginary Blackberry again? Wasn't that funny that time we did that the other day? I am QUITE A COMEDIAN! Maybe I'll do a sitcom next. DON'T LOOK AT ALL THE BULGING VEINS IN MY NECK. I mean it. Don't look at them, Felicity. I will eat your placenta. I mean it. NOW LET'S ACT LIKE WE'RE HAVING SO MUCH FUN SOME MORE! HAHAHAHAHAHHAHA!
Keri Russell: [thinking: I wonder if my reflexes are good enough to grab this bottle, smash him over the head, and make a run for it. Dear Jesus, protect me. I'm so scared.] Hahahaha.
ACT THREE: TOM TAKES A SEAT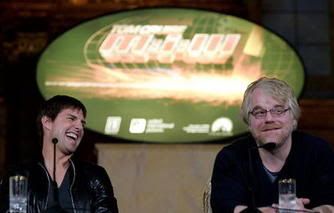 Philip Seymour Hoffman: It's true, America. He's batshit crazy. What can I say?
Tom: HAHAHAHHAHAHAHAHAHHAHAHAHAH HOFFMAN YOU JOKER. GOD, isn't this FUN?
Philip Seymour Hoffman: I'm not kidding.