Have you seen this woman?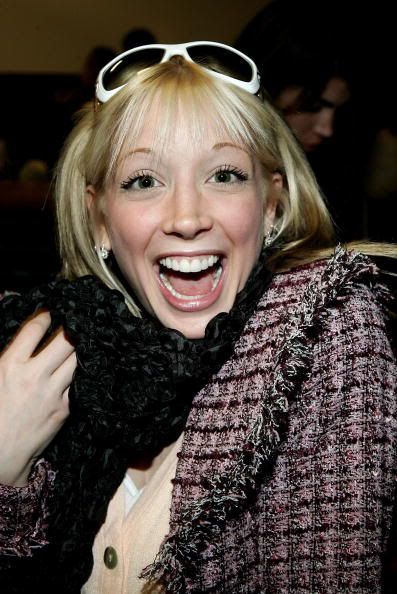 Neither have we. And frankly, dear readers, we are getting worried. As recently as the Oscars, Courtney Peldon could be found attending the opening of an eye. And yet she hasn't been photographed for going on six weeks! This is like the Normal Person equivalent of not leaving your house for 7-9 months. We've had a high level GFY Security Council meeting about this issue (Intern George, whom Heather and I could not bear to let go, took notes), and we've come up with some possible reasons for Our Fug Queen's alarming absence:
a) Beset by rage and jealousy over her engagement to Crispin Glover, Peldon's former paramour Jason Davis kidnapped her and is now keeping her locked in the basement at Casa Davis. He's also forcing Brandon Davis to guard her 20 hours a day, which explains why Brandon has no time to wash his hair.
b) She's terribly busy planning her wedding to McFly. It's quite a complicated event, involving a team of trained rats carrying her 40-foot train. Brown Peldon will officiate, but she will be rapping rather than speaking.
c) She's been on a lengthy conference call with Brown Peldon and Bai Ling, trying to figure out how to make leggings look sufficiently skank-ola. They have already rejected the following suggestions: making them out of mesh, cutting out the ass, and wearing them soaking wet. Currently on the table: cutting them up the sides and then putting them together again with giant safety pins. Bai thinks this is too demure, Brown thinks it is too Hair Metal. They are at an impasse.
d) She got stabbed again, but no one bothered to tell us.
No matter what the reason, one thing is clear: we kind of miss the kid.