So I, of course, once knew the song stylings of Gavin Degraw mostly thanks to the efforts of STAR 98.7 -- the radio station in Los Angeles that plays a mixture of 80s music, moderately hip "adult contemporary" numbers, and the most inoffensive selections of current rock and pop. I don't know what station this called is where you live, but it's the one you feel safe listening to in the car with your mother, the one that played that Third Eye Blind song every hour on the hour back when you (and by "you," I mean me) were in college, although they bleeped out the reference to crystal meth. (Admittedly, at the time, you REALLY LIKED that song.) I assume they are also the radio station most confounded by Nelly Furtado's makeover. "Nelly Furtado has a new song! Excellent! Our listeners loved that time she was like a bird. Wait! It's called...'Promiscuous Girl'? Um. Huh. Do we....are we...can we....? This is curious indeed."
ANYWAY. STAR played a lot of that Gavin Degraw song. You know the one. "I DON'T WANNA be anything other than what I've been trying to be LATELY." That one. That one that's also the theme song for One Tree Hill (which, if I watched, I would be very embarassed about, while also being excited to find out who drowns and who's knocked up after a season finale in which three people are trapped in a limo under water and four women are potentially pregnant. Four!). Apparently, what's he's trying to be lately is DERANGED: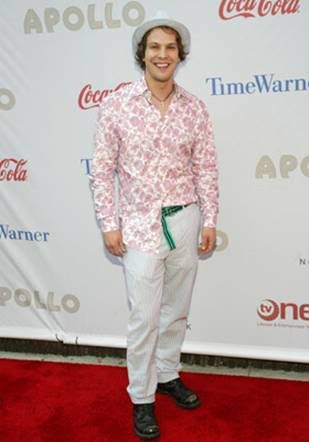 That. Is a mess. You know someone half-tucked that shirt on purpose, not realizing that the half-tuck is not attactive, but rather an awkward way for a guy to tell the entire world that he really wants to seem casual, but he also really wants you to check out his awesome ribbon belt. I'm not even going to talk about the hat. I suspect Degraw is The Guy Who Wears a Hat, because he thinks it makes him look all interesting and retro and nonchalant, when really it just makes us wonder if he's losing his hair. Here's a suggestion, kid: try to find a stylist who is not going to make you look like you might be a little tiny bit drunk.