And we're back! Heather and I had an amazing time at Fashion Week, and thank you so much to those of you who read our work over at NY Mag's Fashion Week blog. But now it's time to take off our stilettos and get back to stabbing people with them.
And who better to start with than our old friend and favorite, Courtney Peldon?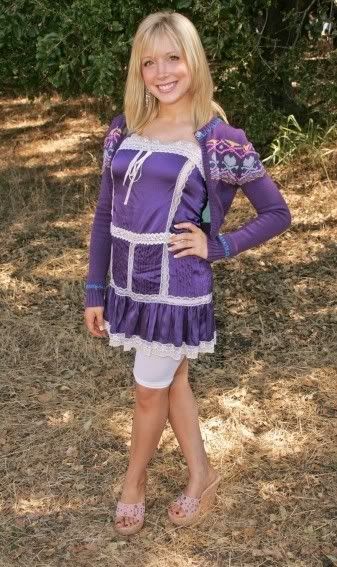 I know. I know. Doesn't this look like a promotion photo for television movie -- set in 1992, like, check out her Kelly Taylor-style white bike shorts -- in which she's kidnapped and dragged into the woods by a deranged psychotic (played by Kevin Dillon), who fell in love with her during his daily trips to the local coffee shop at which she worked, and who then locks her away in a remote cabin and slowly tortures her, all in the name of love, much like that Sweet Valley High book where Elizabeth gets kidnapped by a crazy orderly at the hospital where she is a candy-striper.
Over the course of the movie, of course, her shiny purple tunic (oh my god, a shiny purple tunic) would get torn and greasy and dirty, and by the time her pals from the coffee shop (a sassy gay played by Nicholas Brendon and a sharp-tongued girl played by Sara Rue) convince the stern, yet handsome cop in charge of the investigation into her disappearance (Neil Patrick Harris, trying to stretch his range, but mostly looking like he's about to high-five someone) that the Coffee Shop Psychotic is behind it all, it will barely even be a tunic at all, which will be a blessing, both for her and for everyone watching this godforsaken made-for-tv monstrosity, which will be called Venti Latte With a Shot of Crazy: The Wendy Sue Ellen Maloney Story.
I really don't know if that's what she was going for here, but I'm pretty sure that, no matter what, our clearly de-engaged Ms Peldon should stay out of the woods.