INT. Night. The party following Ashlee's Simpson's debut in Chicago: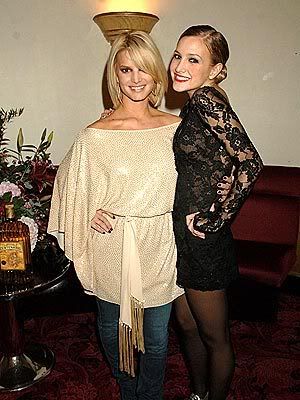 ASHLEE: Can we finally agree that I'm the cute one now? Can we? Seriously, Jess! I'm totally the cute one now.
JESSICA: I can't believe it's come to this so soon. I felt like I had at least five more years of holding you off. But the divorce hit me like a ton of bricks, Ashlee. And then that disaster with John Mayer. And I've totally gained weight since I stopped working out nine hours a day. Even my hair is, like, all....
ASHLEE: Lank? Lackluster? Meh?
JESSICA: I was going to say, depressed. Those commericals are true, dude. Depression HURTS. It hurts everyone AROUND ME. Aren't you hurting, now, too?
ASHLEE: I feel great!
JESSICA: Nothing even fits me anymore. I made this top from one of the curtins in my hotel room.
ASHLEE: Well, at least you're crafty now that everything else has fallen apart! You know what they say: when God closes a door, he opens a window, or whatever! Your window turned out to be arts and crafts! That's awesome!
JESSICA: I guess. Where's the cheese table around here?