Now, as regular readers know, we generally utilize this space to make fun of people's outfits. Occasionally, we mix it up, and talk about things we do like (you know, giving credit where credit is due, and also because we like to keep you kids on your toes). This post, however, is sort of in a netherworld of neither of those things, and yet there's something about this picture that I simply could not resist: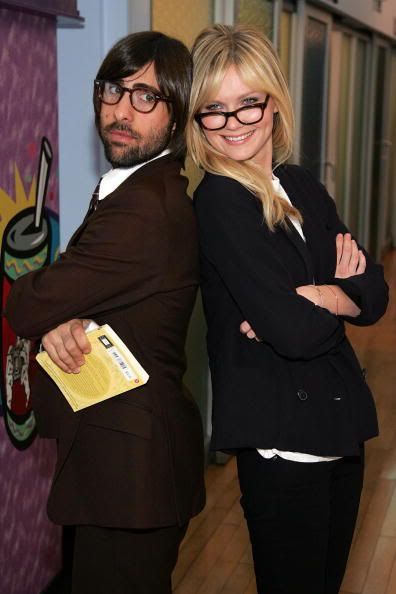 Mysteriously, I suddenly would like to see the two of them star in a kicky little rom-com about a pair of bumbling professors who find love solving murders together. I don't know where that reaction could be coming from.
I think it's because I freaking love her in those glasses. While the outfit is neither here nor there, and I know the glasses are just a jokey accessory, I seriously think Kiki should consider switching her entire look over to the sexy librarian thing, because she looks cute as a little button. (We're going to try not to address the fact that Jason Schwarzman seriously looks exactlylike my Uncle John, circa 1984. Hair, facial hair, outfit, book in hand -- the works. It's kind of scary, actually.) There's just something about the glasses that work for her here, and I have to admit, I think she looks really pert and charming. Yes. Yes, you heard me. Yes, I am actually advising fake eyeglasses as an accessory and, no, I am not ashamed. Completely crazy, yes, but not particularly ashamed. Next week: my surprising argument in favor of fake mustaches.