It's terribly appropriate that the day after she fired Rachel Zoe, Nicole Richie shows up at the AMAs looking like the proverbial million bucks: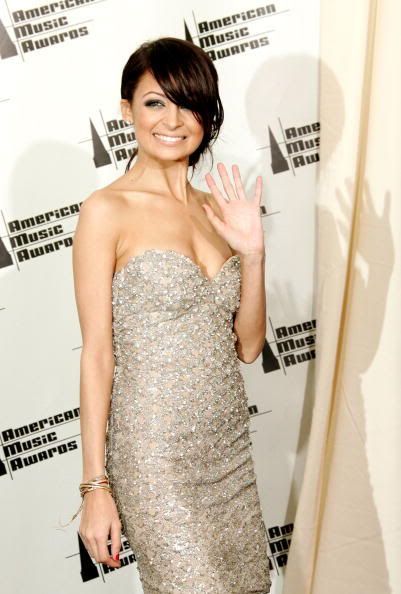 I've long held that Nicole actually really benefited from Zoe's influence at the beginning of her make-over, and she was one of the only starlets Zoe dressed who I thought could actually pull off the boho thing. But the general disdain that we here at GFY HQ have for Zoe is no secret -- there's the fact that all her girls began to look exactly alike, and exactly like her, and then there are, of course, those nasty but widespread rumors about how, exactly, Zoe allegedly gets her clients so slender -- so there's something schadenfreudelicious about Nicole ditching her in favor of "more positive influences."
Whatever positive influences she's surrounding herself with now, they've certainly had a positive influence on her appearance. I covet her dress, I love her make-up (thank god she's ditched the fake-and-bake), and her dark hair is very becoming. Also, not be indelicate, but...nice rack, Richie. We're glad to see that your boobs are back.
But most heart-warming thing of all -- sorry, it's Thankgiving, and around the holidays the cuddly sweethearts inside our crusty and evil exteriors occasionally make a break for it -- is that she looks happy. Who knew that firing Rachel Zoe would turn out to be the best beauty treatment she could get?