Oh, Kiks.
Ever since The Incident of The Glasses, I've sort of been falling in love with Kirsten Dunst. She's kooky and she often shuns The Holy Covenant of the Bra, but she seems like a good sport. Also, I just read this whole interview with her and Bryce Dallas Howard in Jane magazine and it was all sort of self-deprecating and charming and she seems to be bummed about her Boy Situation, in a very relate-able way, and she also uses the word "dude" a lot, as do I.
So, DUDE, KIKI: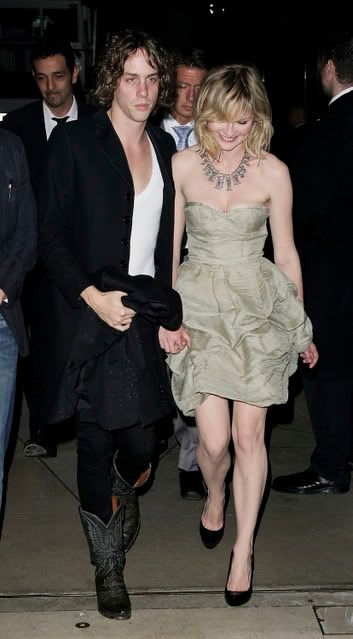 You look cute: that dress fits you nicely and your bod looks great. I'm not entirely sure how I feel about the color on you, but it's all mildly fashion-forward, you look really happy, and you're definitely working it. BUT YOUR BOYFRIEND APPEARS TO BE WEARING MAN-LEGGINGS. And COWBOY BOOTS. And a VERY LOW CUT TEE. I'm seriously pretty sure that we just saw this EXACT SAME OUTFIT on Lindsay Lohan. And I'm sure if you wanted to date Lindsay, YOU COULD.
Although I don't really recommend that. Lindsay is not in a good place right now. You don't need her drama in your life.
BUT NOR DO YOU NEED MAN-LEGGINGS.