Chris Fountain and Hannah Tointon here play lovers on the Brit soap Hollyoaks. Apparently, they've recently had romantic troubles because she found out that he lied to get his ex sent to jail, where she died after getting shivved. Parenthetically, I find it fascinating that so many British soaps focus on sort of Regular-Type people, as opposed to American soaps, which feature generally solely incredibly rich people or, at the very least, poor people who are INCREDIBLY good-looking and secretly rich, they just don't know it yet. (This, of course, excludes shows like Footballers Wives, which features primarily rich crazy tacky people. This is not a complaint: the ad currently running on BBC America to promote the new Joan Collins-y season of FW prompted the following train of thought: "Is that giant sheet cake on FIRE? Is he not wearing any PANTS? Is she really going to shoot him?!" and, really, what more could you ask for from a soap than flaming pastry?) Anyway, I have no idea if they're dating in real life, but it's so entertaining to me that they're showing up places in coordinating outfits: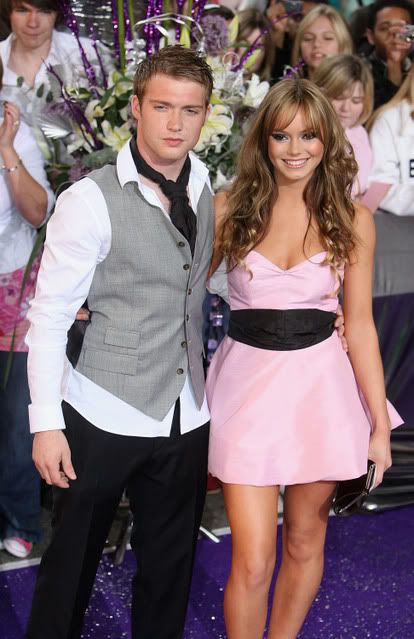 She's cute, in a sort of I'm In Costume As A Barbie Doll Who Came to Life sort of way. (You know, as if she were in a remake of the Tyra Banks/Lindsay Lohan tour de force Life-Size, in which Tyra plays a doll Lindsay accidentally brings to life. Speaking of which, where is Tyra in this entire Lindsay Lohan Careens Off The Rails saga? She LOVES advising people on the best way to solve their serious life problems. I can't believe she hasn't released a statement telling Lindsay to stay strong. And to stop driving around when she's hammered. And to leave her cocaine at home. And to try not leaving the scene of an accident. And to, seriously, stay home once in a while with a book.) He also looks like a doll, albeit one that's been poorly dressed by its owner. Everything is untucked and unbuttoned to the extreme.
I can only hope that they ARE dating, and following the illustrious Hollywood tradition of Couples Dressing Alike. As seen here, for example:
The hot new couple of David Beckman and Helen Mirren put their heads together and decided to go as Hot Bitches to this particular event: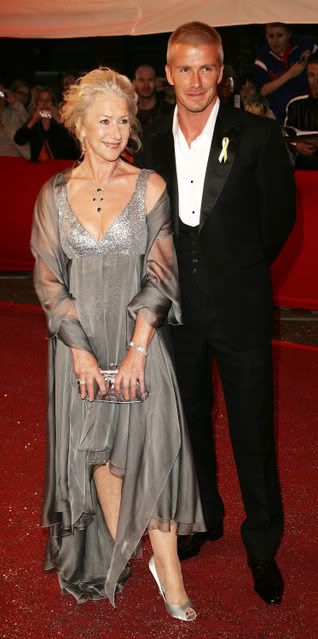 (And yes, I know they're obviously not ACTUALLY dating, but bear with me: they would be a VERY hot couple. While I love Posh, can't wait for her reality show, and pray every night for a Spice Girls reunion, the May-December scandale of Mirren/Beckham leaving their respective spouses to run off together is delicious to contemplate and I plan to spend most of my summer agitating for it.)
On the other side of the matchy-matchy coin, of course, is Demi Moore and The Kutch: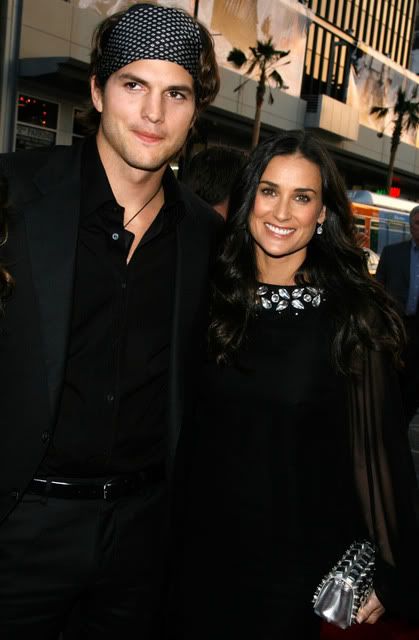 She looks hot. He looks like a low-level agent who drank too much at the office Memorial Day party and decided to salute the opening of the new Pirates movie by wrapping his tie around his head and referring to his Red Bull and vodka as "grog." I find it hard to believe that Demi didn't roll her eyes when he came out of the bathroom all be-do-ragged, but since he looks so slick from the neck down, and she's kind of small, maybe she just decided to spend the evening looking straight ahead.
I can't wait until our adorable little Brit Soap Couple shows up at the afterparty, and he's got that ascot tied around his head.