I so wish I had been a fly buzzing around Anna Wintour's champagne flute when she first spotted Jessica Simpson at the Met's Costume Institute Ball Gala hoo-ha last night. Because, honey, it seems that while our backs were turned, J. Simp went a little overboard. On everything: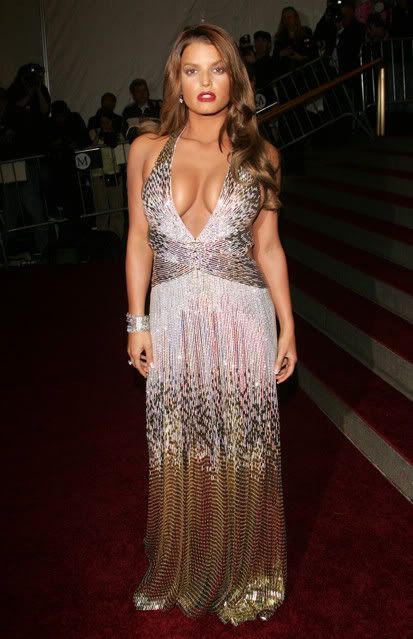 This is one of those dresses that someone with small boobs could fully rock, and I like the brown hair, but overall the effect kind of veers into Blow-Up Doll category, which is really both rather grim and also not entirely unexpected when you consider the source. But when you're carrying around that kind of (real and admittedly spectacular) rack, you can't just strap 'em in and bounce off like that, especially to a formal event. What if the right one makes a run for the border, in front of everyone? What if the Power of the Cleav mesmerizes the cater waiter and he walks into a pole, dropping caviar everyone and giving himself a black eye, therefore totally RUINING his upcoming audition for All My Children? What if the left one is done permanent damage by the pressure of being wedged in like that and never lies down properly in a bikini top again? What if one of them pops out and hits Anna Wintour right in the bob? A girl could NEVER live that down. Hasn't Jess been through enough already?
However, I've got to give John Mayer props for working a Johnny Depp-type thing: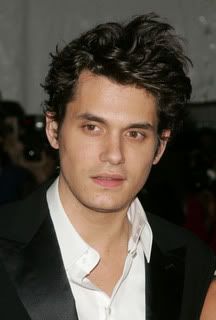 I wonder if Kate Moss made a play for him over the crudite. Can you imagine the tabloid headlines? Can you imagine the catfight? I've got five bucks on Jess. She is NOT going though another messy public break-up if she can help it, and if that requires hair-pulling, I think she's got the chops.