Oh, nutty Sharon Stone. I secretly love you. Let's be honest: how can I not embrace a woman who bounced back from an aneurysm the same year that her then husband was bitten by a dragon? Who is always sort of charming and delightful on chat shows? Who works tireless for amfAR, even roping Intern George into auctioning off a kiss for the charity? (That's right: we're microwaving our own Lean Pockets and opening our own boxes of wine this week.) Who seems like she's the kind of woman who would chat your ear off in the line for the ladies room, and even if what she says is TOTALLY CRAZY, at least she would be entertaining, so when you got back to your table, you could be all, "you will not BELIEVE the conversation I just had" to your friends? And while S. Sto sometimes shows up places looking completely kooks, when she sets the phasers to "FABULOUSNESS" she can really pull it off: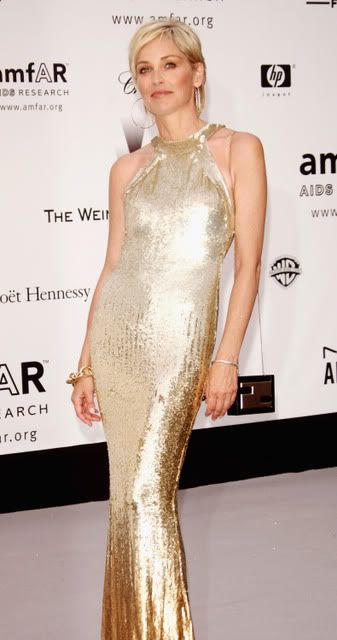 So glamourous! And shiny! If I owned this, I would wear it everywhere: the gynecologist, the dermatologist, the podiatrist, the market.
Truly, Sharon has it all. Including, it seems, a very tiny Kylie Minogue of her very own: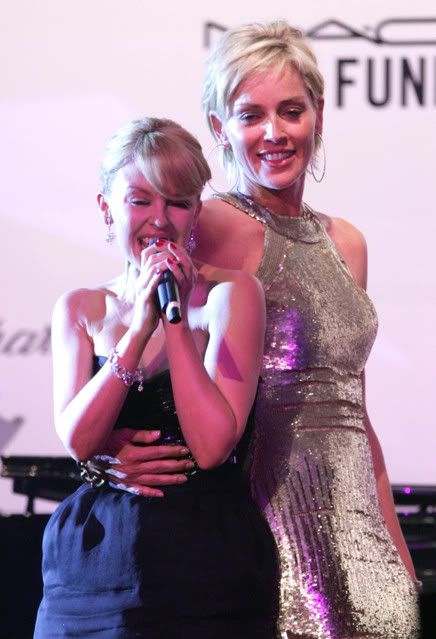 "Come with me, little lady," she seems to be saying. "Ssh, ssh, my wee pixie. There's an extra drawer in the armoire in my spare room that you can sleep in. I will keep you from the dragons! That's right! Come with Mama."
That being said, just as Sharon's demonstrating good taste in frocks on this occasion, so is she selecting the cream of the crop of kidnap victims, because, seriously, how cute is Kylie Minogue?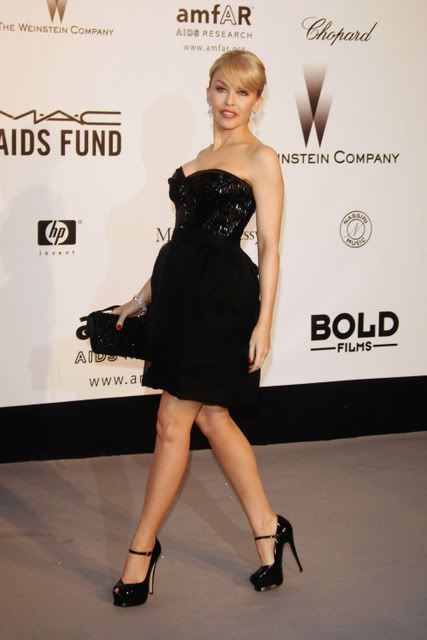 I wish she'd give a Learning Annex class on The Art and Science of Getting Dressed When You're Really Short. Lesson One would be, apparently, "Damn, these are some high heels, and I am awesome for not doing a face plant in them." I would register TODAY.