At today's announcement of the VERY MUCH ANTICIPATED (at least by us. And George) Spice Girls reunion: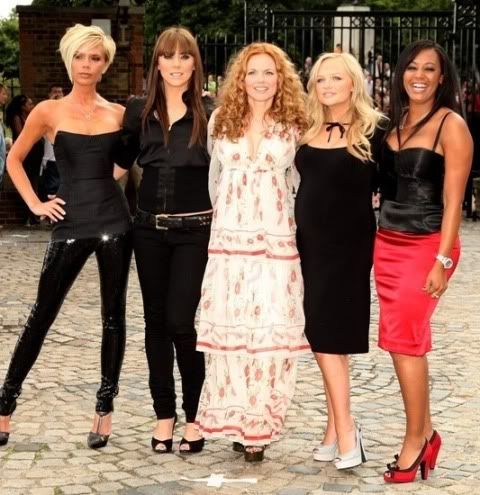 POSH: Oi. My tits are killing me in this thing.
SPORTY: I am just SO HAPPY you guys didn't make me wear that tracksuit!
GINGER: Wait. Is this OUR reunion announcement? Shit. I thought I was going to the photoshoot for the Stevie Nicks tribute band I'm in on weekends. Okay. Just be cool, Geri.
BABY: Baby Spice is HAVING A BABY! Doesn't that make you feel OLD? I'm also wearing a teeny tiny cape. Just for fun! 2 become 1!!
SCARY: SUCK ON THIS, EDDIE MURPHY.
POSH: When this is over, I am calling Karl and telling him never to do this to my breasts again. Of course, then he'll say something totally surreal like, "BOOB TAPE SHALL BE YOUR HAN SOLO" and what do you say to that?
SPORTY: You know what? I'm not going to do any of those karate-style high kicks anymore, EITHER. It might mess up my cute new hair. Everyone can just DEAL.
GINGER: I hope Mel wasn't serious when she told me to get my Union Jack dress back. I mean, she had to be kidding, right? Those slags at the Hard Rock are totally not returning my calls.
BABY: Ziga zig AH!
SCARY: Geri better get that Union Jack dress back. If she quits the band again, I swear I'll kill her.