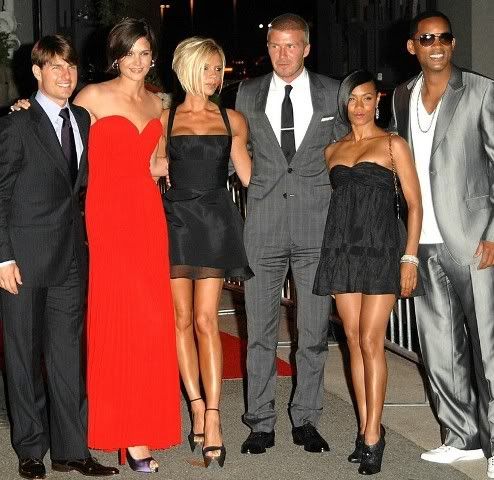 TOM CRUISE: IT'S GOOD TO BE TOM CRUISE!
KATIE HOLMES: I am a tall drink of water, aren't I? Suck on these heels, Tom.
POSH: What is Jada WEARING?
BECKS: These people all make me a little uneasy.
JADA PINKETT SMITH: I look JUST like Posh. Short black dress, loads of boobs, sore expression. I'm awesome.
WILL SMITH: This party is OFF THE HOOK! I wonder if the DJ will play "Willennium" if I ask.
TOM: I'M THE KING OF HOLLYWOOD. I don't even care that Katie threw out the lifts in these shoes. That's right, America. THE CRUISES THROW A TOTALLY BOSS PAR-TAY!
KATIE: I don't care what anyone says. I like this haircut, and I'm going to keep it. I can do whatever I want. I control me.
POSH: Is Jada....she's not trying to look like me, is she? She didn't think this was a Posh and Becks themed fancy dress party, did she? This is awkward. Also, I'm hungry.
BECKS: I think Jada's nipple might be popping out of that pillowcase she's wearing. I better look...over there. And think about something else. Like my muscular, manly thighs.
JADA: Is my nipple popping out? Would Victoria check to see if her nipple was popping out? I don't think so. Keep your bitchface on, Jada.
WILL: I'm glad I wore my dancing shoes. Wait until I have the DJ play "Getting Jiggy Wit' It." I WILL be gettin' jiggy wit' it. I can't wait to ditch the rest of these weirdos and have some fun. Although I bet Becks can dance. Look at those legs.