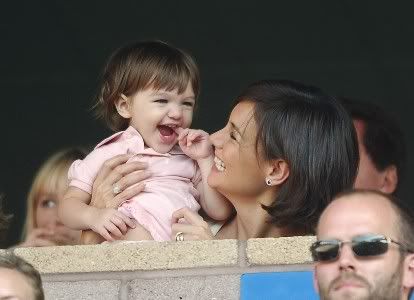 While our days of being as winsome and wrinkle-free as the almost unbearably cute little Miss Suri Cruise are sadly long gone, the glee she is getting from gnawing on that finger is equal to what we're feeling as we announce that we're off again to cover Fashion Week for New York magazine's Web site.
Things will be a little light here on the GFY front while we chase Rachel Zoe through the streets of Manhattan, but please check at Show and Talk blog for all the dish, and keep coming back here for periodic updates and tidbits throughout the week. Nicky Hilton, Gwen Stefani, J. Lo, and Chloe Sevigny are all showing lines this season, so there should be no shortage of sartorial shenanigans.
Whoever scheduled the VMAs for the middle of Fashion Week should be smacked upside the head with a stiletto. Despite the fact of where they fall this year, we'll be back with fresh updates from that hopefully hideous event on Monday, Sept. 10.
Happy Labor Day!