Hayden Panettiere looks AMAZING...from the neck up. Hard for her not to, really -- she's so pretty and young and nubile. Which is why I question her decision to raid Little Dakota Fanbelt's closet: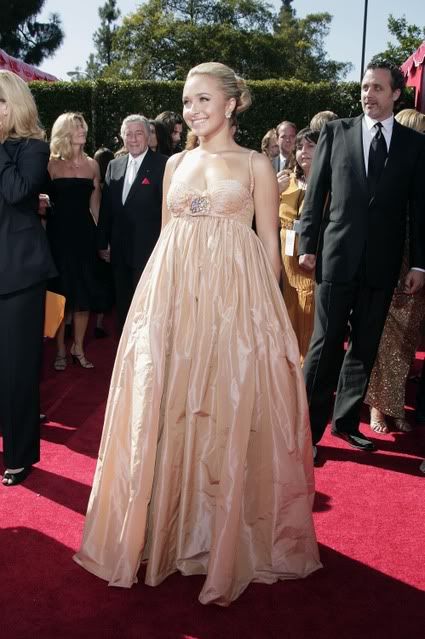 While I absolutely applaud her decision to go modest and demure, if I were as young and nubile as she is, and heading to the Emmys, and recently broken up with my boyfriend, I might have gone for something a bit less Napoleonic Courtier in the Third Trimester and something a little more self-contained. Although perhaps this is all part of her plan: she wanders into the awards and takes a seat near a dreamy young producer (or assistant, or actor -- it's good to be open-minded about these things), who promptly trods/sits on her dress.
"Oh, I'm so sorry" says the dreamy young man.
"It's no problem at all!" says Hayden.
"Say, aren't you....?"
"Why, yes. Yes, I am."
"I love your work. Tell me all about Jack Coleman."
And thus begins a beautiful new relationship. Clever. Very clever indeed.