And, we're done: 40 shows, eight days, several bagels, and two swollen suitcases -- each -- and we're finally heading back home. Our feet are seriously jacked up at this point; this is what two L.A. girls get when they bring their high heels to New York and try to enjoy it as a pedestrian city. There's always that one day where you think you can walk a little further before changing into walking shoes, and you are always grievously wrong. Life is hard.
We're traveling today and will be back for real tomorrow, just in time for the weekend... which, thoughtfully of Hollywood, involves watching the Emmy Awards and praying for widespread insanity to rip through town and addle the fashion judgment of TV's finest.
In the meantime, here's a brief clip show of how we closed out the week in the City That Never Sleeps:
As for Mrs. Marc Anthony, well, we wish she'd spent more of her design budget on the actual clothes instead of the kooky production values: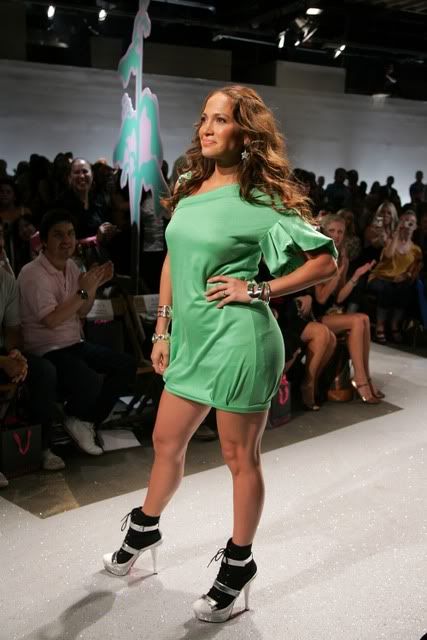 "Madre de Dios, I did it!" she is thinking. "I have beaten Target at its own game! Take your Proenza Schouler and your designer lines and smack them in the cojones, bitches! I can give you cheap hems and nipples and like you've never seen! DRINK IN THE MAJESTY and ask me later how I did it all for $5! Adios! HA HA HA HA! Shit, why is Marc drinking V-8? He knows I hate it when his fangs are red."