Oh my god, M-K. Take a seat, so we can chat. You know I kind of love you now -- I loved your Harper's Bazaar cover, I love that you're not a lazy dilettante, and everyone loves a twin, right? -- but you concern me sometimes. No, no -- I'm not worried about your weight or your love life (I have my own weight and love life to think about, after all). I'm worried about your lip stick, gloss, stain or colorant of your choosing: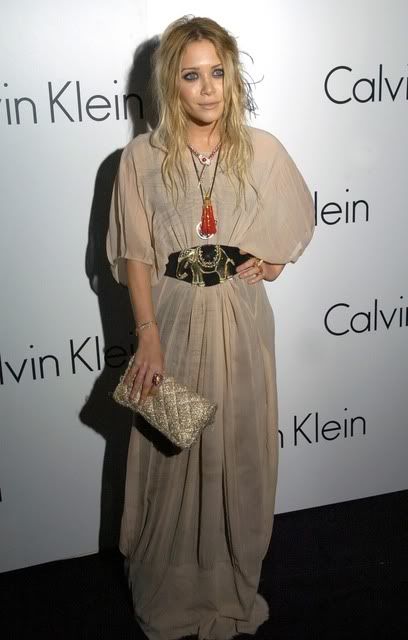 Namely, where is it? I'm not wild about the shroud you're running around in either -- it's inching toward the city limits of Blandsville-- but you do love a nice long frock and it does seem very Calvin Klein-y minimal-y and who doesn't love the whimsical use of an elephant belt, am I right? If only the rest of you didn't look so bedraggled, like your car broke down and you had to walk thirty blocks to the event in really painful shoes, and now you FINALLY made it and you're EXHAUSTED and SWEATY and you chewed off all your lip gloss trying to hail a cab and oh my god, yes, fine, it's true, this dress WAS made from a window treatment, but it was a very SUBTLE and CLASSIC window treatment, so shut up and take the picture already.
And yet....somehow, someway, part of me feels like you almost make this work. Have I accidentally brainwashed myself from reading multiple articles about how you work really hard and aren't all fame-whorey and whatnot? And if so, how do I get deprogrammed? Do I have to lock myself in the bathroom with a pile of Atlantic Monthlys? Because, honestly, that would probably do me some good.
But, seriously, while I'm incarcerated, you've got to get some Revlon on up in there.