Oh, Sharon Stone. You're so crazy/fabulous. I hardly ever seen you anymore, unless you're out being the amfAR spokeswoman and official auctioneer, which is, admittedly, an excellent reason for you to leave the house. And, if I may be frank, I miss you and your glamorous/wacky shenanigans. I sort of wish you were my neighbor, honestly. I feel like you probably secretly cook, and therefore would bring over cookies sometimes, and then we'd stand out by the pool and gossip about how the guy across the street is always wearing short shorts and wonder how his wife puts up with it, and then I'd tell you all my dating woes, and you'd snort that YOU married a guy who got bit by a dragon at the zoo and everyone's always making cracks about having seen you panty-less before it was popular, so I should just shut up and enjoy myself, and then you'd realize you were missing Dr. Phil and we'd both go back inside. If I were Debby Boone, I'd say that you light up my life. If I were Bette Midler, I'd note that you are the wind behind my wings. If I were Dolly Parton and/or Whitney Houston, I would croon that I will always love you, Sharon. But because I am me, I have to first do that and then note that -- whether your wrap here is faux or vrai -- NO ONE needs a fur wrap the size of a king-size duvet, not even you: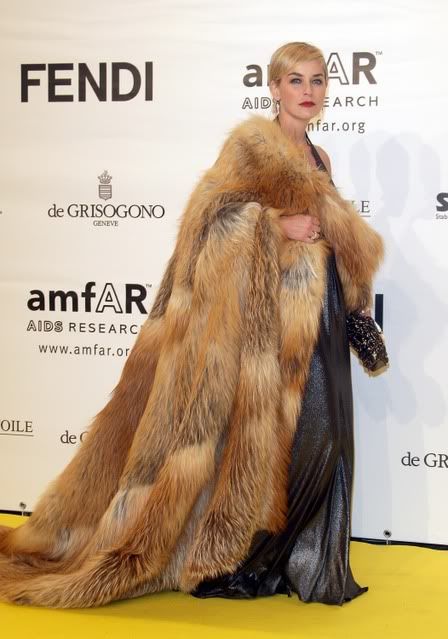 You look...well, crazy/fabulous, of course, but mostly crazy because -- leaving aside the question of how many bears or whatever had to die for that thing and/or how many faux fur makers worked their fingers to the bone stitching it -- that thing is so big, you basically just look like you're lugging your bedspread down to the cleaners after a particularly rough night of extremely formal party hopping.
Not to mention the fact that a wrap larger than some studio apartments, by definition, obscures the rest of your dress, which is actually very chic: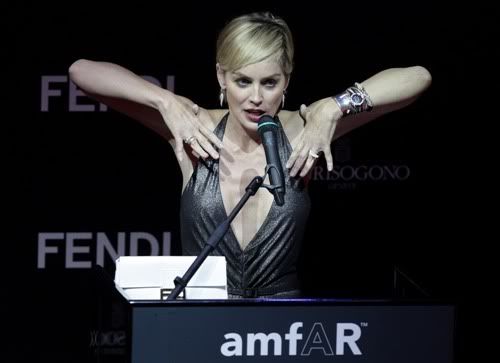 Hee. Sorry, I just really wanted to find a way to use this picture. Although, in all fairness, that dress DOES look fabulous and glamourous. So why hide your light under a bushel of bears, I ask you?