Listen, we all know Beyonce is bodacious -- or bootylicious, if you want to get into quoting Destiny's Child, which I'm sure Those Other Two Girls would appreciate since otherwise they're not getting a tremendous amount of love these days. And I remain eternally pleased that, rather than keep to the Dreamgirls-era stories of "How Beyonce Gave Up Fried Chicken" and "Beyonce's Sexy New Body," Miss B has in fact put the ten pounds back on and returned to her sexy OLD body, because she is not mental, and thereby understands that a life without fried chicken is not a life anyone should have to lead.
Still: Why satin, B?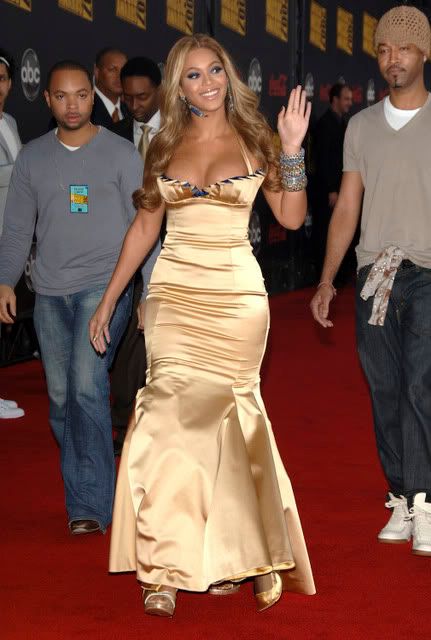 This woman should look glorious in everything, all the time, and instead she gravitates toward the kind of grandiose satiny confections that end up buying property and building a mansion on the trashy side of divalicious. Also, Beyonce, you're all lovely and curvy, so don't detract from that by wearing a dress that bunches and pulls like it's a size too small an your mom struggled to sew you into it an hour ago, and told you not to DARE drink or eat anything, or else GOOD LUCK GOING TO THE BATHROOM.
Not to mention that the poor, brave halter strap is doing heroic work up there. I hope she's encouraging it with a lot of compliments and other positive reinforcement, because the second it feels bitter and taken for granted, it's going to pop and then the club won't be the only thing that's bouncin', bouncin'. (You're welcome AGAIN, Those Other Two Girls.)(Edited to add that, apparently, they won't be thanking me because the club is "jumpin', jumpin," which is a whole different chestal-region issue indeed. Oh well. You get the point: They're going to fall out of there, and I don't like Destiny's Child.)
Apparently sartorial tragedy runs in the family -- no surprise since mama Tina Knowles fancies herself a designer and stylist. Check out what that other forgotten girl, Beyonce's sister Solange, decided to wear: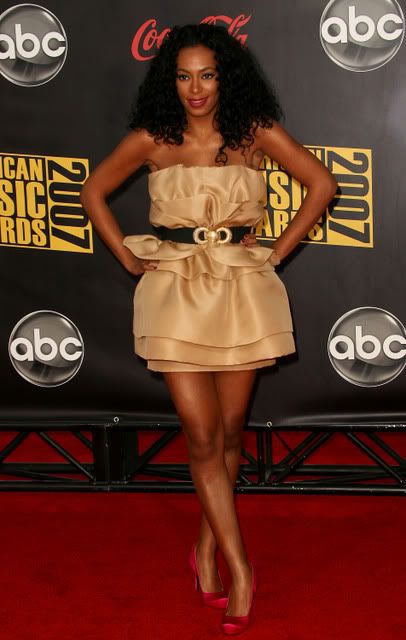 We're all really happy they're letting you out of the house, honey, but don't belt a gift bag and think you're making yourself our Christmas present. For one thing, it makes you look like you could only fit through a door if you side-stepped, which I'm sure is not true; for another, there isn't enough egg nog in the world that could erase the embarrassment of sitting down in the theater and watching your skirt arrange itself around your thighs like a giant gold-leaf wedding cake at Celine Dion's next lavish vow renewal. And let's face it, if Santa popped by to drop you down my chimney, that skirt would fly clear up and all we'd have under our tree would be a pair of legs and some sooty knickers. And nobody wants that. Unless of course we're watching it on Lifetime and it's called Jingle Buns.