We got an email from one of our attractive and insightful readers this morning, along with this photo of Lindsay, remarking that it looks like Lindsay woke up "and went insane," and I have to say that I agree, although perhaps it's closer to the truth to say that she woke up and continued to BE insane: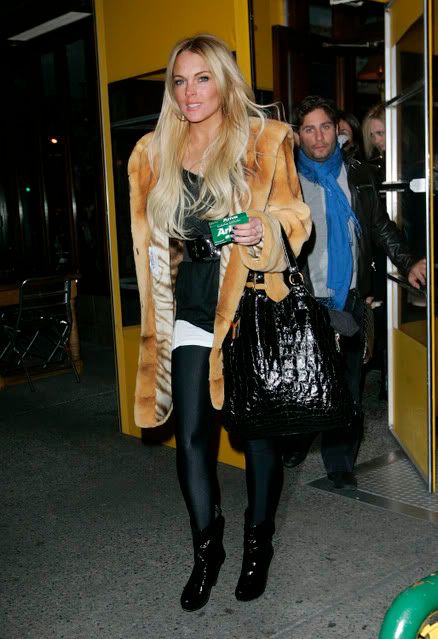 [Photo: infdaily.com]
And yet there is something about this that I almost kind of love. I know, I know, but it's just because she's SO over the top with the HAIR and the FUR and the BAG and the f'ing shiny endless leggings and the PRODUCT PLACEMENT that it's almost hilarious. For one thing, it's so low-rent to accept a surreptitious contract to promote a stop-smoking gum or whatever the heck it is that she's flinging around. For another, I feel like this secret celebrity product placement thing opens up a whole world of possible hilarity for those of us who enjoy celebrity-sighting: ScarJo ostentatiously gulping a Slurpee as part of her secret contract with 7-11, Katie Holmes waving around a package of Tampax, Paris Hilton gallivanting about with a giant bag of Baked Lays over her head.
So potentially, Lindsay has lulled me into an acceptance of her Leggings Habit, as I also think she looks sort of cute here: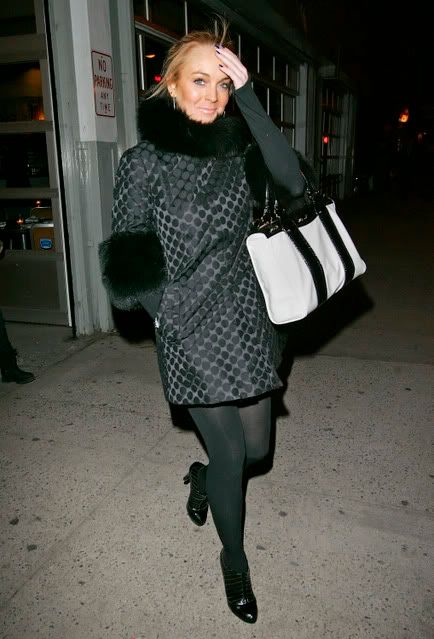 [Photo: infdaily.com]
I mean, those could be tights, right? She totally has a skirt on under there, yes? I can think she looks cute without one of you coming over to GY HQ to shake and slap some sense into me, right? Right? Right? Or do I need to go into rehab of my own?