I have just accepted the fact that crazy-ass Sharon Stone rocks my world. I wish she went out every night, because I feel like that would lead to an ever-increasing stockpile of photos such as this one: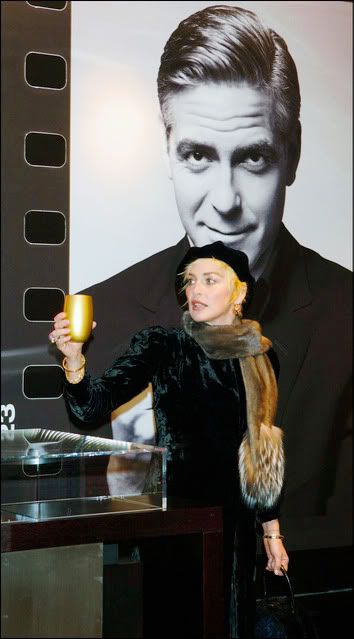 [Photo: infdaily.com]
Why is she wearing a beret and the tail of a now surely peevish beaver, toasting Intern George with a golden cup at the opening of the world's largest Nespresso store? (Which is located in Paris, if you're hankering for some Nespresso, which you will be after you hear the super-porny music on their home page. Apparently, that vaguely General Foods International Coffee-like item just wants to lay you down by the fire and make sweet, sweet caffeinated love to you. Which I guess explains the rakish presence of Cloons. And I guess the "Paris" part explains the beret. Perhaps she also has a baguette hidden in the tail of that there scarf.)
And why is she out wearing this?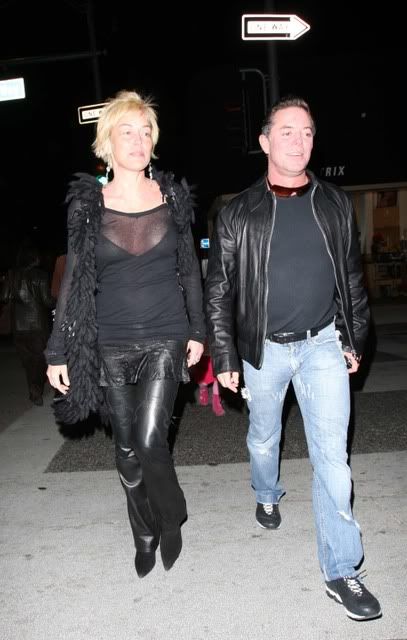 [Photo: infdaily.com]
(Count yourself lucky, by the way, that I didn't inflict the more aggressively nipplicious shots of this particular outfit on you. This one seemed, er, erect enough to do the trick. [That's what she said! ZING!])

So many questions:
A) What did the mighty cow ever do to her? I wear leather too, but Sharon REALLY wears leather. Like the way a professional bull-riding champion wears leather, or, like, the head bartender at a leather bar. In fact, these leather pants appear to come with a wee leather apron, so perhaps she IS off to her night shift at the Fault Line, where she's best known for pouring hella-big tequila shots. Which I actually seriously hope is true, because "Sharon Stone Quits Acting for Alcohol" would be an awesome headline.
B) Could this possibly be some kind of misguided Angelina Jolie disguise? Is she perhaps hoping to catch Brad Pitt wandering around Malibu in a dazed and pre-caffeinated state, without his contacts, at which point she plans to bash him over the head with an ossified Duraflame log and drag him back to her place and have her way with him until he comes to his senses?
C) Why is her companion wearing his sunglasses (at night!) as a necklace? To think the day would come that I'd find myself missing Dawson Leery's giant puka-shell style chokers.