I have some love for Kimberly Williams-Paisley. Have you SEEN her on According to Jim? HILARIOUS.
Not really.
Okay, maybe. In the interest of fairness, I must admit I've never seen According to Jim. She might be awesome on it. But my love dates from Father of the Bride, part of which was filmed close enough to my parents' house that the generator was parked outside my bedroom window for a month. Being a young teen at the time, this was basically the COOLEST THING THAT EVER HAPPENED and it helped that the crew was incredibly nice to all the neighborhood kids. We got to watch them film scenes and stunts, and they answered all our questions and let us act like little PAs and did I mention that we had the run of craft services? It was a fascinating and exciting experience for a kid, and so I have deep fondness for everyone involved with that movie.
Not so much for this outfit, though, Kimmie: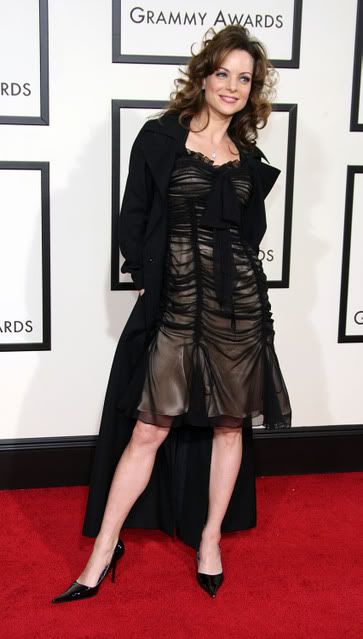 It's not terrible. It just recalls nothing so much as the love child of goth bordello curtains and a pale, weak homage to Gwyneth Paltrow's most universally reviled Oscars look. A reminder: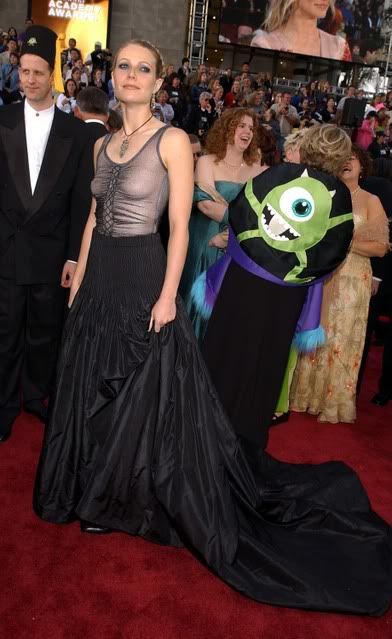 Let me just point out that I have no idea what is going on behind her with the Monsters, Inc., bathrobe/backpack/smoking jacket, but I LOVE IT. Where is that woman when you need her to liven things up, I ask you?