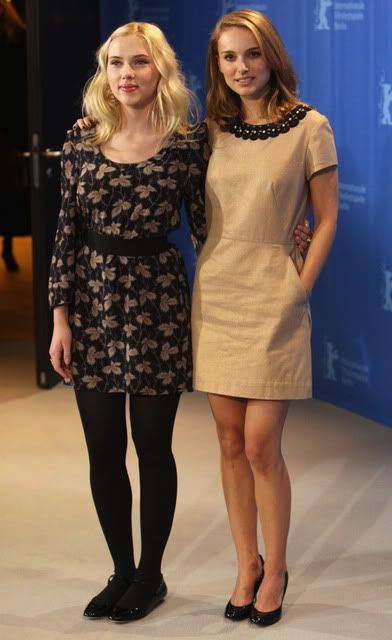 NATALIE PORTMAN: I'm fabulous.
SCARLETT JOHANSSON: I'm stumpy.
NATALIE: Oh, ScarJo. No, you're not! Don't be so hard on yourself. Have a vegan cookie!
SCARLETT: I mean it, Natalie. I look like 1993's national president of the Blind Melon fan club posing with you. What possessed me to wear these flats with this?
NATALIE: Why, I'm sure you have a good reason. Have your arches fallen recently?
SCARLETT: No.
NATALIE: Have you hideous bunions?
SCARLETT: NO.
NATALIE: Are you perhaps just trying to be sensible?
SCARLETT: At a photoshoot?!?
NATALIE: I don't know! I thought it was an homage to the costumes on the pages in our movie, The Other Boleyn Girl, premiering soon at theatre near you!
SCARLETT: NO. God. Do you ever do ANYTHING wrong?
NATALIE: I accidentally killed a lady bug on Tuesday.
SCARLETT: I'm gonna kill SOMETHING.