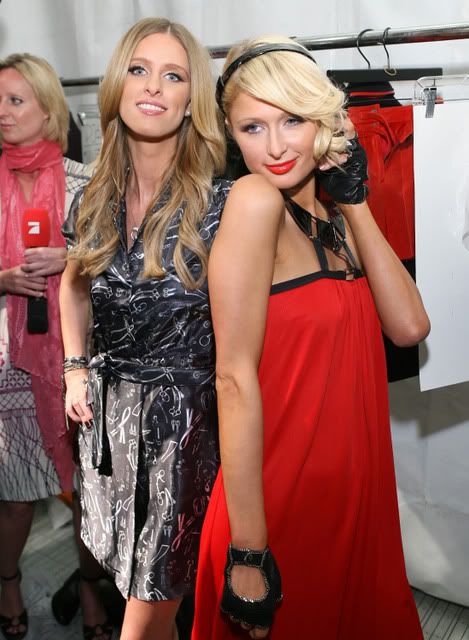 NICKY: So, my fashion show is toni --
PARIS: HEY! HELLO! TAKE MY PICTURE!
NICKY: Hey! I look cute back here, and I'm, you know, the designer, so maybe you might want to have me in the forefront of --
PARIS: How is that angle? Is that angle working for me? Do I pop in this red? I really do, don't I?
NICKY: Um....hello? Do I have to just...strike a pose at random back here? Do I have to remind everyone that this is my night! IT'S MY NIGH --
PARIS: Don't you just LOOOOVE my half-gloves? I know it's like 90 degrees today and it's March and it's Los Angeles, and even Lindsay Lohan tossed these out at some point in January, but I thought I should support my sister by showing up wearing the most plentiful and obnoxious accessories available so that people would be looking at ME in case the clothes were like really terrible and ugly. I was going to wear those crazy-ass Kanye West venetian-blinds-style sunglasses, but I accidentally drove over them with my car on the way here, along with Benji's foot. WHOOPSIE!
NICKY: I would LIKE IT if someone would, for once, pay attention to m--
PARIS: I'm also planning on wearing this red to her wedding one day. DON'T TELL.
NICKY: I'm planning on killing her one day. Don't tell. Oh, wait: no one is listening to me anyway.