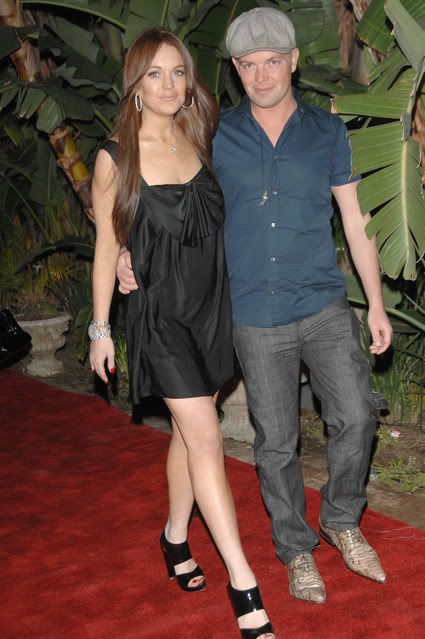 LINDSAY LOHAN: Hi, I'm Lindsay Lohan
CLAUS HJELMBAK: And I'm Claus Hjelmbak. I throw parties. Or something like that. Wikipedia won't tell you, so don't look. But no matter what I do, you have to admit that "Claus Hjelmbak" is a very cool name.
LINDSAY: I'd like to direct your attention to my legs. There are no leggings on them.
CLAUS HJELMBAK: You'd never ever call me "Claus," if we were friends. You would always refer to me as "Claus Hjelmbak." It's that kind of name.
LINDSAY: Also, I have managed to have a red-esque hair color for more than a week. Admit it: you're totally f'ing stoked about this.
CLAUS HJELMBAK: Claus Hjelmbak told Lindsay he didn't want to see any leggings at his party. None! And, for the record, Claus Hjelmbak doesn't believe that Lindsay is ACTUALLY coming out with a line of leggings. Claus Hjelmbak thinks this is all going to turn out to be part of that new Ashton Kutcher show where celebrities place fake stories in the media so that people learn that the media runs fake stories, or whatever that show is ostensibly about, other than potentially making it even harder for PR people to create believable fake celebrity romances for press. Claus Hjelmbak doesn't believe any of it! Also, I have suddenly decided to speak in the third person. Let's all do that tonight! It'll be fun!
LINDSAY: You talk a lot. Can we just focus on the fact that I'm wearing a dress? And not my leggings? Or anyone's leggings? No leggings at all!
CLAUS HJELMBAK: Yeah. It's kind of a BORING dress, though.
LINDSAY: GOD. YOU GUYS ARE SO F'ING HARD TO PLEASE. WHAT DO YOU WANT FROM ME? I HATE EVERYONE. SERIOUSLY.