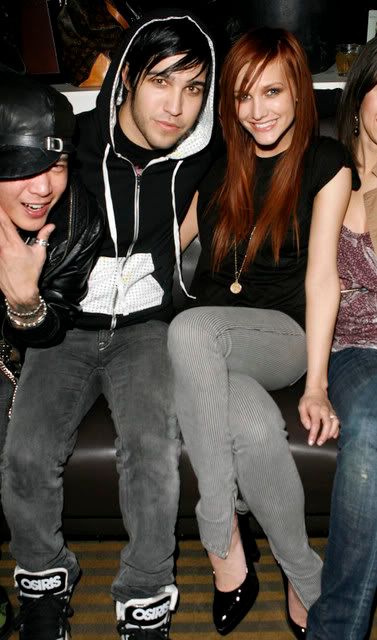 [Photo: INFdaily.com]
ASHLEE SIMPSON: Pete?
PETE WENTZ: What up, baby?
ASHLEE: Do you think we look too matchy-matchy tonight?
PETE: What are you talking about? I think we look fierce, both individually and collectively.
ASHLEE: Sure, but....you know, we're promoting my new album. Shouldn't I stand out more?
PETE: I'm not sure I understand you.
ASHLEE: I mean, don't we want people to pay attention to ME tonight? Not US?
PETE: But I thought YOU were US. I am YOU. You are ME. WE are WE. And I told you, you didn't have to wear the hoodie.
ASHLEE: That was just so we could better show off our matching bangs.
PETE: And? AWESOME.
ASHLEE: I guess.
PETE: Ash, I just want you to be happy. And what says "conjugal happiness and sensitive yet catchy emo/punk rock" like matching outfits?
ASHLEE: Fair enough.
PETE: PS -- am I accidentally sitting next to Bobby Trendy?