Today, dear readers, is a very special, precious, glorious day. Not only is it the kickoff of Memorial Day weekend here in America, and thus the official beginning of summer, it is also marks the 75th anniversary of the birth of one Ms Joan Collins, a woman from whom we have learned everything there is to know about dramatic entrances, giant hats, cutting remarks, and blackmail. In celebration of this glorious event, we leave you with the following instructional photographs: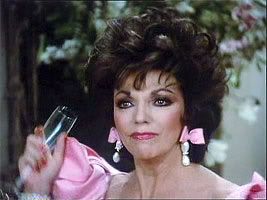 1) When forced to wear hideously twee earrings and giant puffy sleeves (perhaps at a wedding), the best way to keep from screaming is to grit your teeth and throw your champagne flute at the help.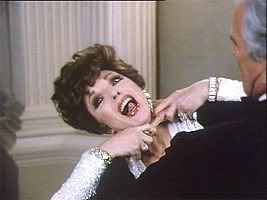 2) If you suspect your ex-husband plans to attempt to choke you out, make sure your bracelets match your earrings for maximum accessorial impact during the big moment.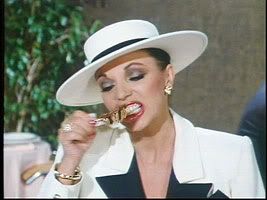 3) And, most importantly over the long holiday weekend: There is no lady-like way to eat fried chicken.
Have a good one, readers! See you on Tuesday. Bring your bitch pants.